The best part about Christmas is the food, right?
These delicious, vegan gingerbread cupcakes are the best way to get your festive spirit on. After the 2020 we had, it's only right that we fully embrace all the joy that comes with the season of giving (and eating).
Boosted with a couple of scoops of our best-selling Vegan Protein Blend and All-Natural Peanut Butter, these gingerbread cupcakes are the sweetest way to indulge while keeping on track this season.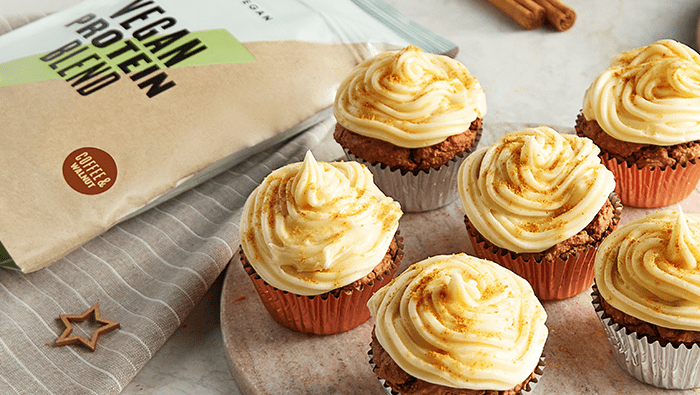 What's more, they're fluffy, subtly spiced, and are made with a handful of natural ingredients so you can enjoy a healthier alternative to shop-bought guilty pleasures. Want to make them extra delicious? Simply top them with vegan frosting and crushed gingerbread!
Gingerbread Cupcakes Recipe
Ingredients 
Method
Blend the rolled oats in a blender.
In a bowl, add the plant milk, shortening, Sugar-Free Maple Syrup, peanut butter – then mix together and set aside.
In a separate bowl, add the Vegan Protein Blend, ground oats, baking powder, ground cloves, ground ginger, nutmeg and cinnamon. Mix together, then pour in the other bowl of ingredients. Mix again.
Evenly distribute the mixture into cupcake cases and bake for 20 minutes.
Leave to cool then top with vegan frosting and crushed gingerbread.