Recipe by Maria Devine (@mimismacros)
These Strawberry & Cream Protein Cookies are the perfect solution when you're in need of something sweet. As well as being vegan-friendly, they make a great addition to anyone's diet, as they contain excellent nutritionals and only take 20 minutes or less to bake!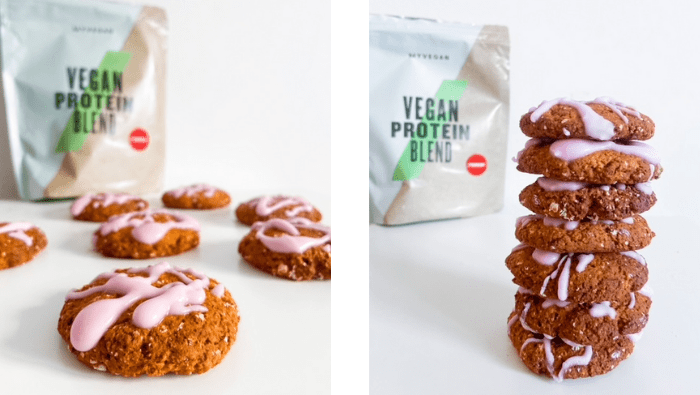 Thanks to our Strawberry Vegan Protein Blend and Instant Oats, each cookie packs in 6g of protein and 11g of carbs, which is a convenient way to hit your daily protein requirements, and support the growth and maintenance of muscle mass.
What's more, the cookies are naturally sweetened with our Strawberry Flavdrops and NKD Living's 100% natural Erythritol – both of which contain zero calories and make great sugar replacements.
Enjoy these cookies as an afternoon pick-me-up or a post-workout treat… having a batch ready and waiting for you is sure to see you through those last reps!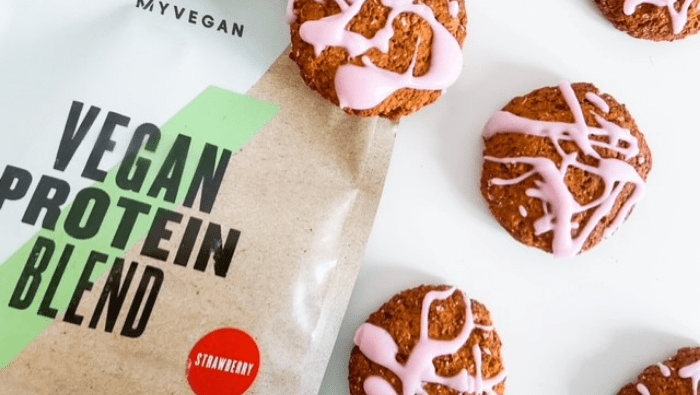 Servings

8
Vegan Strawberries and Cream Protein Cookies Recipe
Ingredients
55 g Instant Oats
60 g plain flour
45 g NKD Living granulated Erythritol
2 heaped tbsp. coconut butter/coconut cream (thick chilled part)/ nooj paste
Approx. 80- 110 ml coconut milk
1 tsp. baking powder
1/2 tsp. bicarbonate of soda
Some NKD Living Powdered Erithryitol (for the topping)
2 tbsp. Strawberry Vegan Protein Blend (for the topping)
Some Strawberry FlavDrops™ (for the topping)
Some water (for the topping)
Method
First, make the cookies by combining the wet and dry ingredients, adding more or less milk until you get a thick but slightly sticky mixture.

Bake for around 15-20mins, and leave to cool.

Once the cookies have cooled down, mix all the icing ingredients together and drizzle over the top to decorate. Enjoy!
Nutritional Facts
Amount per serving
| | |
| --- | --- |
| Calories | 82 |
| Total Fat | 2g |
| Total Carbohydrates | 11g |
| Protein | 6g |