Lemon, Chia Seed and Coconut Protein Muffins
These delicious muffins are a well-balanced treat – definitely right up your street! Whether you are after a tasty afternoon snack or one for on-the-go, these muffins are just the thing to fill that gap until dinner. They are super tasty yet still provide a great amount of protein to keep your body moving and repairing.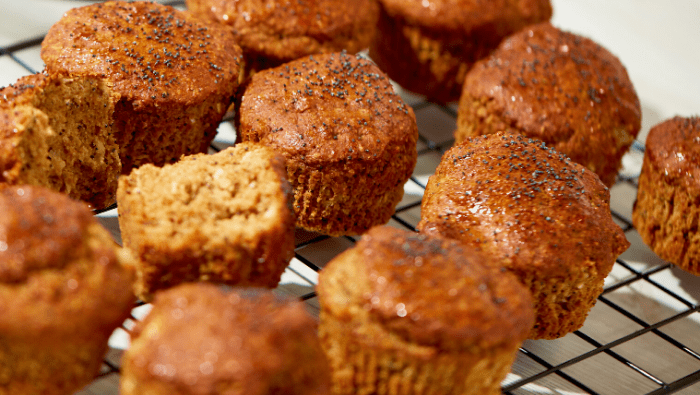 Why are Chia Seeds so good for you?
Despite their compact sizing, chia seeds are jam-packed full of essential nutrients that support a well-balanced diet. Our Chia Seeds are in fact 100% Organic and packed with 20% protein! Chia Seeds are a super simple yet efficient way of ensuring that you are getting enough protein in your diet, therefore successfully growing and repairing your bones, muscles and cartilage. 1  
Here are 5 of the key benefits of chia seeds that are an essential-have when obtaining a plant-based diet: 
1. A Great Source of Omega-3 Fatty Acids 
– Ensuring that you are getting omega-3 in your diet is key, especially when plant-based. Omega-3 Fatty Acids help raise high-density lipoproteins (HDL) cholesterol. HDL cholesterol is the 'good' one that protects you from diseases. Chia Seeds are also one of the highest sources of omega-3 and have anti-inflammatory effects.2
2. Rich in Anti-oxidants 
– Gaining anti-oxidants from food sources has been proven to have positive effects on your health.3 Not to mention, anti-oxidants fight free radical production – these contribute towards many diseases.4
3. Rich in Fibre  
– This being extremely useful for the functioning of the intestine, greatly minimising the risk of constipation. 5 
4. Rich in Essential Minerals 
– Research has found chia seeds to be highly rich in many essential minerals; zinc, calcium, phosphorus, iron and magnesium – these are only a few! 6 
5. A High in Quality Source of Protein 
– Compared to other plants, chia seeds provide a solid protein source and they are also high in amino acids. This meaning that your body has a strong chance of making great use of the protein they provide. Check out our 100% Organic Chia Seeds here. 7 

Tips and Tricks
Storage – Ensure your muffins are kept in tupperware for ultimate freshness!
Serving – These muffins taste delicious hot or cold – pop them into the microwave for 15-20 seconds for a warm treat.
Don't forget the extra trimmings – Why not add a squeeze of maple syrup for an extra kick of sweetness.
Did you know? Chia Seeds can actually resemble an egg! A Chia-Egg! When baking up a storm in the kitchen, if you mix chia seeds with water then it creates an egg-like consistency, allowing the ingredients to combine together and pretty much duplicate an egg. You can actually do this with ground Flaxseed too using the same method!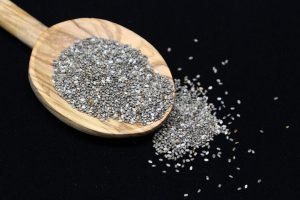 Cook up these delicious Lemon, Chia Seed and Coconut Protein Muffins in 4 simple steps! Discover the full ingredients list and method below: 
Lemon, Chia Seed and Coconut Protein Muffins Recipe
Ingredients
1 cup oat flour (make your own by blending regular oats in a blender)

 

2 scoops Vegan Protein Blend

2 tbsp unsweetened applesauce

 

2 tbsp soy vanilla yoghurt

 

3 tbsp maple syrup

 

1 Tbsp Chia Seeds

 

1 tbsp desiccated coconut

 

1/2 tsp baking powder

 

Zest of one lemon

 

Juice of 1 1/2 lemons

 

1 tbsp icing sugar

 
Method
Heat your oven to 180'c

 

Add in the lemon zest, half the juice and baking powder and mix. In a separate medium-sized bowl, stir together the oat flour, protein powder, apple sauce, soy yoghurt, syrup, chia seeds and desiccated coconut.

 

Add the lemon mixture to the medium bowl and stir well.

Pour into lined muffin tins and bake for about 15-20 minutes or until lightly browned on top.