Desserts derailing your diet? Bored of the same old breakfast? Luckily for you, this berry & maple chia pudding will shake things up a bit. Not only does it look and taste fruity and delicious, but it also boasts amazing nutritionals.
With Organic Chia Seeds being the main ingredient, this little pot is brimming with quality protein to help build and repair new muscle1, essential omega fatty acids to support heart health2, and iron and magnesium to reduce feelings of tiredness and fatigue.3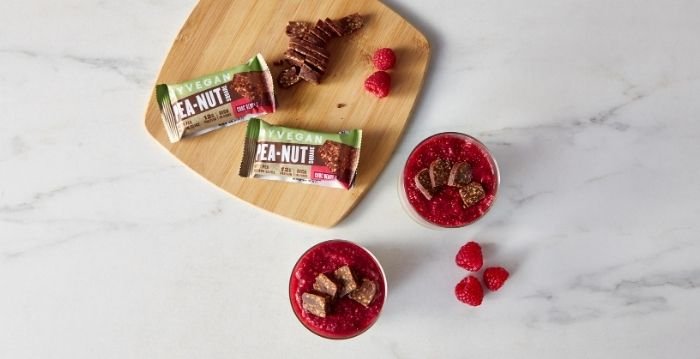 Plus, this chia pudding is topped with our bestselling Pea-Nut Square, a tasty treat loaded with 12g of plant-based protein, 4g of dietary fibre, and 12g or carbs to help speed up recovery after workouts and keep you going throughout the day.4
This recipe is super versatile and can be enjoyed at any time of the day – whether it be first thing in the morning, in the afternoon to avoid energy slumps, or after dinner when you just need something sweet!
Chocolate Chia Pudding Recipe
Method
Divide chia seeds into 3 equal parts (10g each).

Put the raspberries and Sugar-Free Maple Syrup in a small bowl and mash with a fork. Add 10g of chia seeds.

Place the chopped banana and plant-based milk in a blender and blend until smooth. Add 10g of chia seeds and leave to soak.

In a small bowl, add the cubed kiwis and Sugar-Free Maple Syrup, then mash with a fork. Add 10g of chia seeds.

In a wide glass or a small bowl, scoop a few spoonfuls of each of the above mixtures to create layers.

Top with pieces of chopped the Pea-Nut Square.