Super thick and creamy, this is just the thing to warm up your winter days.
---
When it comes to hot chocolate, we don't mess about. Thanks to the addition of our limited-edition Choc Coconut Vegan Protein Blend, this hot drink is brimming with a subtly sweet, indulgent flavour – and of course – plenty of plant-based protein!
Not only this, our Organic Cacao Powder provides a source of fibre, and is packed with key nutrients such as: iron, magnesium and copper which all play an important role in the function of the metabolism.1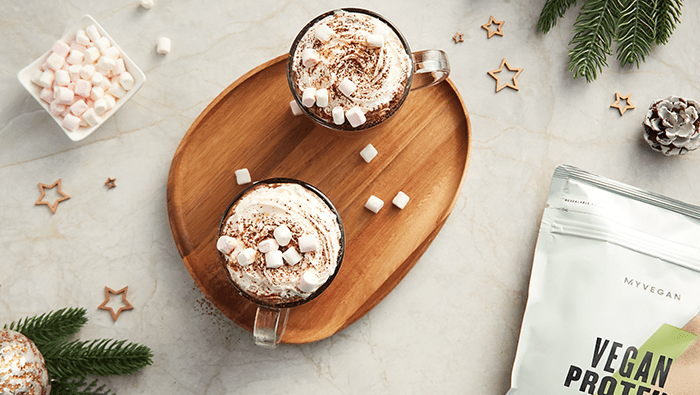 Ideal for a mid-morning break or after-dinner treat on cold evenings, you'll be coming back to this one all winter long, trust us.  
Coconut Hot Chocolate Recipe
Method
Place a medium sized milk pot on a medium heat, and add the plant milk, Organic Cacao Powder, chocolate chips and simmer gently.

When the chocolate chips are fully melted, add the Vegan Protein Blend and stir until completely dissolved.

Pour into glass mugs and decorate with vegan mini marshmallows and a light dusting of Organic Cacao Powder. For an extra treat, top with vegan cream, vegan gingerbread mean, and a drizzle of Butterscotch Sugar-Free Syrup.