If white chocolate is your weakness and you have a thing for Rice Krispies, you're going to fall head over heels for this week's recipe.
---
Can you really go wrong with white chocolate and raspberries? We really don't think so. Maria (@mimismacros) decided to take the already magical combination a step further with these irresistible Rice Krispie bars.
Not only will this indulgent treat satisfy your sweet-tooth, it'll also help boost your protein intake too. Made using our NEW White Chocolate Raspberry Vegan Protein Blend, each bar packs in 6g plant-based protein – ideal for supporting your health and fitness goals in a seriously tasty way.
No baking necessary, all you need is 6 simple ingredients and you'll be away. Let's go make some kitchen magic!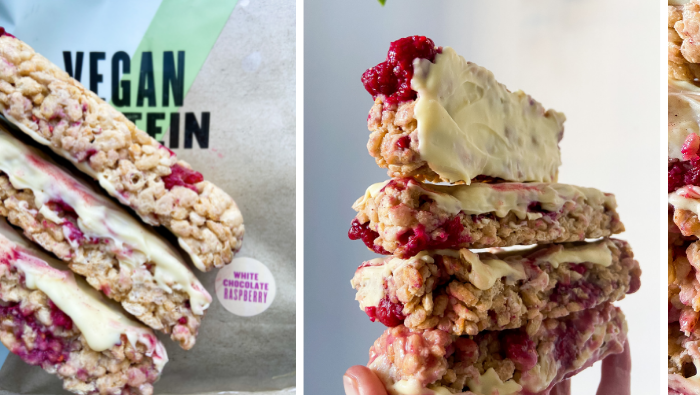 White Chocolate Raspberry Rice Krispie Bars 
Ingredients
100 g vegan marshmallows
100 g Rice Krispies
80 g raspberries
60 g melted white chocolate (vegan)
Method
In a bowl, combine the Rice Krispies and protein.

Heat the marshmallows and Sugar-Free Syrup in a pot.

Once melted, remove from the heat and stir in the rice Krispy mix.

Fold through the raspberries.

Set in the freezer for 10mins then drizzle with melted chocolate.