Bubble tea – the satisfying and fun drink that's taking the world by storm.
————————————————————————————————————————————————————-
Bubble tea (also known as pearl milk tea, bubble milk tea, or boba), is a tea based drink originating from Taiwan. It is made using chewy tapioca balls which are sucked up through an extra wide straw to be enjoyed along with the iced tea.
There are loads of variations of bubble tea, with different ways you can customise it to find your perfect one. Here are some ways you can experiment with your bubble tea:
Flavour – change the flavour of the tapioca pears or tea. Brown sugar has is one of the most popular flavours!
Toppings – add your own ingredients on top other than the classic boba pearls (tapioca pearls). You can use different types of jellies, red bean, and even vegan custard.
Iced – Ice-blended versions of bubble tea are made by freezing and blending it to create a slushy.
This recipe gives a special Myvegan twist to the classic bubble tea recipe, with the Clear Vegan Protein providing a boost of plant-based protein and B vitamins.
You could use any flavour of Clear Vegan Protein – we've used Pineapple and Grapefruit here but you could do the same with the others such as Blackcurrant, Strawberry or Lemon & Lime.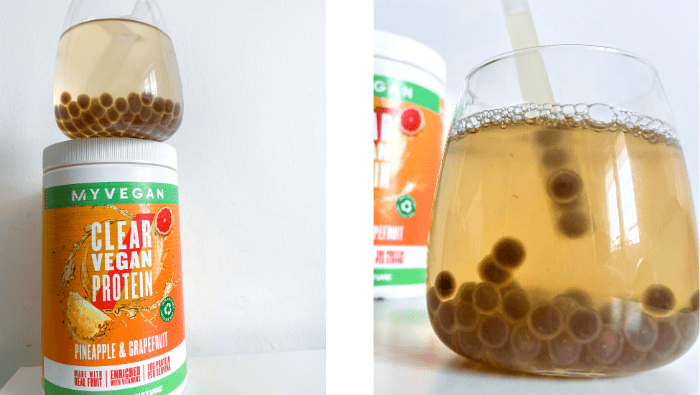 Clear Vegan Protein Bubble Tea Recipe
Serves 2
Ingredients
800ml green tea
1 tbsp coconut sugar
1/2 cup Tapioca pearls
Method
Brew a pot of green tea and let seep for 3 mins.
Pour the tapioca pearls into a pot of boiling water and cook for 15mins or until the pearls are soft and chewy.
Strain the pearls and add one tablespoon of coconut sugar.
Mix the protein and green tea until the mix is dissolved.
Grab a handful of ice, add the Tapioca pearls and pour pineapple green tea