We're super excited to announce the launch of our most indulgent product yet… Vegan Double Dough Brownie!
This irresistible brownie turns two of our nations most-loved treats – cookies and brownies – into a delicious, high-protein snack that's guaranteed to leave you feeling satisfied.
Whether you're a seasoned vegan looking to boost your protein intake, a flexitarian after a plant-based alternative to classic brownies, or a carnivore taking on Veganuary – our Double Dough Brownie is sure to hit the spot. Here's why…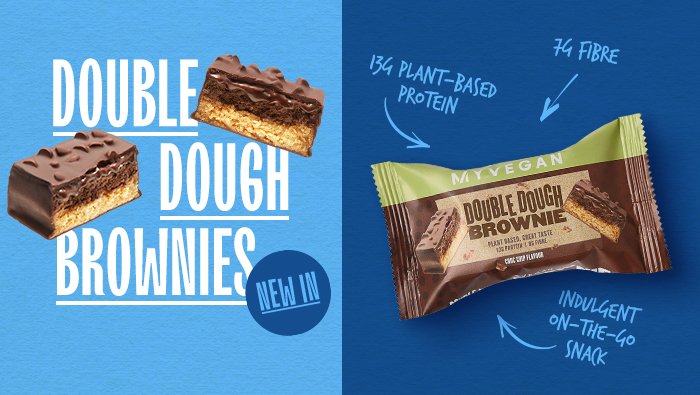 Great taste
Our Double Dough Brownie is packed with layers of taste and texture, including a cookie dough base, a brownie protein dough, topped with low sugar caramel and enrobed in vegan chocolate.
And, it comes in four delicious flavours too. We're talking Caramel Latte, Peanut Butter, Chocolate Orange and Chocolate Chip. Sounds like the perfect treat for those days when you're struggling to peel yourself away from the sofa, right? 
Indulgent yet healthy
Our Double Dough Brownie may taste like the real deal, but its content is far more nutrient dense than the treats you usually pick up in the supermarket. We've made sure to include 13g of plant-based protein per serving to help you hit your daily protein needs, as well a 7g of fibre to keep you feeling fuller for longer.
Helps you avoid too many trips to the vending machine
It's far too easy to give in to the temptation of a vending machine, especially when you're unprepared and in a hurry. This can easily be avoided, though. Whether you're commuting to work, at your desk, or finishing up at the gym – having a Double Dough Brownie in your bag will be a saviour whenever your sweet-tooth kicks in. Even better, you won't even feel like you're missing out.
Take home message
Our Double Dough Brownie is ready to stock up on now, and we promise it'll be one of the tastiest treats you'll ever have! Satisfy your sweet-tooth, stay on top of macros, and dip your toes into the plant-based lifestyle. So… what are you waiting for?