Pineapple Screwdriver Clear Vegan Protein Mocktail
This super tasty Pineapple Screwdriver Mocktail, infused with Pineapple & Grapefruit Clear Vegan Protein is a fruity and refreshing way of incorporating protein into your day. In minutes, you can create this thirst-quenching beverage for you and your friends to enjoy!
Two exciting and innovative NEW flavours of our Clear Vegan Protein has just landed on our website; Myvegan – Apple & Elderflower and Pineapple and Grapefruit. After creating this Pineapple Screwdriver Mocktail, check our other mocktail recipe called Apple Tonic – you won't be disappointed!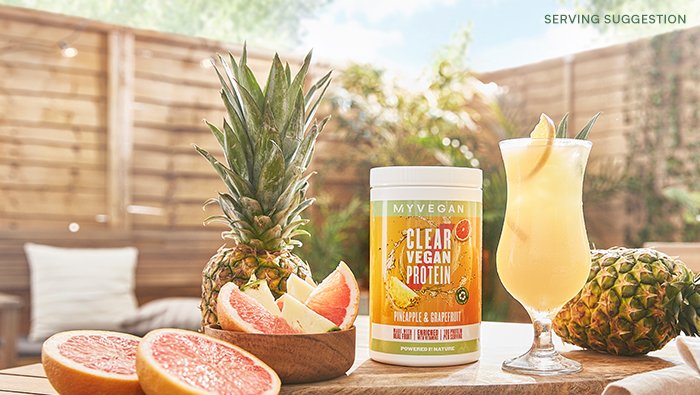 What is Clear Vegan Protein?
Our Clear Vegan Protein is a low-sugar protein shake that contains 10g of plant-based protein sourced from hydrolysed pea protein. It's fully dissolvable and creates a light and juicy drink that can be enjoyed at any time of the day.
Clear Vegan Protein also provides an extremely quick and easy way to do so. It also has the only 1g of sugar and 54 calories in it per serving – you can sip on this all day long and not worry about any hidden added sugars.
If you are not a fan of standard protein shakes that have a thick and milkshake-like consistency, then this is a great alternative for you as Clear Vegan Protein is less heavy.
What are the nutritional values of Clear Vegan Protein?
| | | |
| --- | --- | --- |
| Nutritional Information | Per 100g | Per serving |
| Energy | 1369kJ /337kcal | 220kJ /54kcal |
| Fat | 0.5g | 0.1g |
| of which saturates | 0.1g | 0g |
| Carbohydrates | 16g | 2.6g |
| of which sugars | 3g | 0.5g |
| Fibre | 0.5g | 0.1g |
| Protein | 63g | 10g |
Pineapple Screwdriver Clear Vegan Protein Mocktail Recipe
Ingredients
Method
Add 1 scoop of the Pineapple and Grapefruit Clear Vegan blend and the orange juice to a shaker and shake until combined.
Pour into a glass filled with ice and top up with sparkling water.
Serving
Garnish with pineapple leaves and orange slices – then its time to enjoy your refreshing cocktail!