PSA: This vegan pad thai can be on your table faster than you can even order take out. It's deeply sweet, savoury, and punchy all at the same time and has become our go-to recipe when we're in a hurry or when we fancy a weekend treat.
Mixed in with a delicious peanut buttery sauce, crispy tofu, and all the vegetables, you can enjoy this wholesome meal completely guilt-free.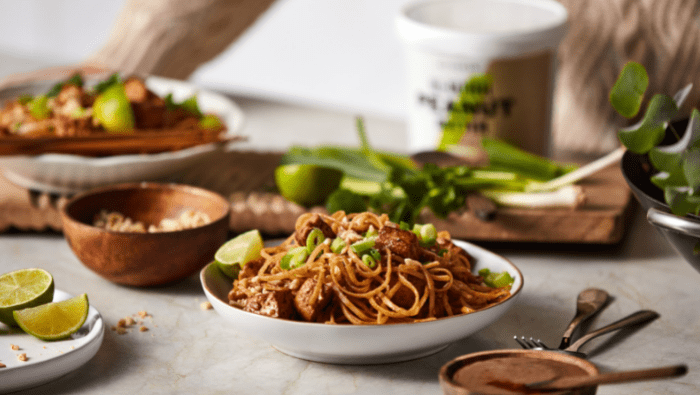 If you find yourself eating the whole batch in one sitting (we've been there), double it up and enjoy the greatest working-from-home lunch that ever was.
Vegan Pad Thai Recipe
Ingredients
200 g rice noodles
120 g Organic Peanut Butter
2 tbsp. soy sauce
4 tbsp. coconut sugar
1/2 tsp. siracha
340 ml coconut milk
3 tbsp. toasted sesame oil
Some ginger
3 cloves garlic
85 ml soy sauce
100 g tofu
Some spring onions
Handful of bean sprouts
50 g peanuts
Method
Cook rice noodles according to instructions on packet.

In the meantime, make the peanut sauce. Combine the peanut butter, soy sauce, coconut sugar, siracha, coconut milk in a small saucepan and slowly bring to boil. Reduce the heat and let it simmer for 2-3 minutes until the sauce thickens. Remove from the heat and set on the side.

Heat a large frying pan over medium-high heat and stir fry the ginger and garlic for 2-3 minutes.

Add in the drained noodles and cook for another 2 minutes until they have softened. Add the soy sauce and coconut sugar, and keep stirring. Add the tofu in and mix well to combine all the ingredients. Cook for another 2-3 minutes.

Add more soy sauce, chopped spring onions, chopped peanuts, bean sprouts and keep on stirring to prevent the ingredients sticking to the bottom of the pan.

Add a dash of water if it looks too dry. Cook for another 3 minutes.

Remove from the heat and serve it with chopped spring onions, coriander, lime slices, sesame seeds and drizzle the peanut sauce on top.