As more and more athletes embrace plant-based diets, the stereotype of the weedy vegan is finally beginning to fade. As you'll discover, plant-based protein sources are abundant and, contrary to what we've been led to believe, animal proteins are absolutely not a necessary part of our diets. Here's why.
What is protein & why do we need it?
Proteins are generally described as the "building blocks" of living things. Our bodies break them down into their component parts – amino acids – and reassemble them in countless essential ways to regulate our body systems and provide us with strength.
Of the 22 or so amino acids humans need, most can be assembled by our bodies for our bodies, but they rely on 9 "essential" ones in order to do this. These essential amino acids must come from food.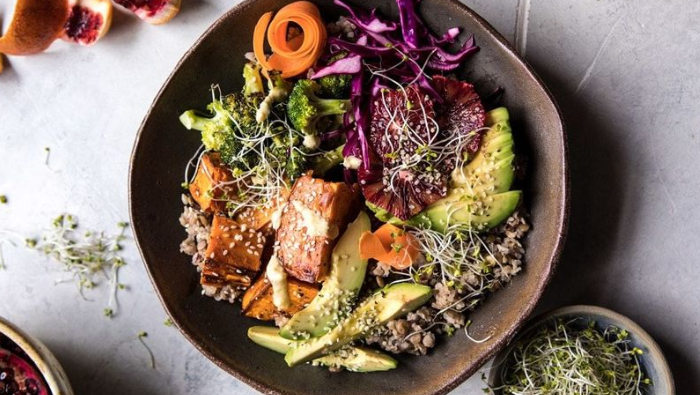 ---
How much protein do we really need?
A common misconception about protein is that our requirements are divided along gender lines. This isn't true. In fact, our protein needs are determined predominantly by our body weight, taking our activity level into account too.
The National Diet and Nutritional Survey states that the average adult in the UK consumes between 75 and 100 grams of protein a day. The average UK adult weighs in between 70.2 kg and 83.6kg so – based on weight – needs between 42 and 67 grams.
The more active you are the more protein you may need but, in general, we need between 0.6 and 0.8 grams of protein per kilogram of body weight, meaning:
What type of protein do we need?
The short answer: a range of plant-based protein sources does the trick.
Animal vs plant protein packages
The "package" your protein comes in is as important as the protein itself. Plant proteins are lower in saturated fat and don't contain any dietary cholesterol. They're also great sources of antioxidants and other vitamins and minerals, including both iron and calcium. Animal proteins, on the other hand, are high in both saturated fat and cholesterol, not to mention antibiotics and hormones.
You just need to eat a variety of foods to ensure you're getting all of the essential amino acids. Over the course of a week this is a cinch.
Complete and incomplete proteins
There's a lot of talk about "complete" and "incomplete" proteins to wade through, too. Complete proteins are those that contain all 9 essential amino acids and are often associated solely with animals products.
But there are plant-based sources of complete proteins too and, most importantly, it's not essential to consume only complete proteins. Nor do you need to 'mix and match' amino acids in every meal to benefit overall. The key? Simply eat a range of protein-containing foods throughout the day.
Other things to consider?
Overall calorie intake:
If your diet lacks calories, your protein sources will be broken down to provide energy for your body rather than the essential amino acids. Therefore, overall calorie intake is super important to ensure you're getting the nutrients you need.
Cooking:
Heat can affect the nutritional composition of many foods. Cooking can therefore have an impact on the amount of protein we digest. When checking nutritional information, it's important to know whether the data is based on raw or cooked foods. As a general rule of thumb, when cooking veggies, do so for the shortest time possible (while ensuring they're cooked through), limit the amount of water used and — if you can — use the water afterwards to retain all the goodness. Gravy and other sauces are a great way to do this.
---
High protein plant-based foods
All things considered, including a variety of high-protein vegan foods in your diet is a great way to make sure you're meeting your recommended allowance. Here are the front-runners. Drum roll, please…
Legumes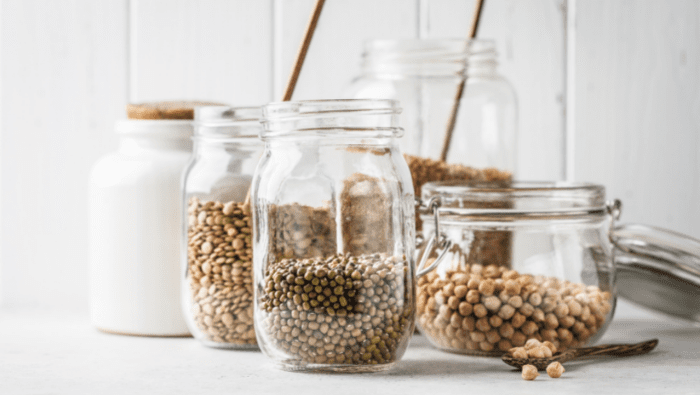 Leguminous plants are those that produce their seeds in pods. We mainly eat the seeds themselves, which are a great source of protein. They're also gluten-free, a good source of unsaturated fats, high in fibre, vitamins and minerals.
Lupin beans:
Lupin beans are popular in Europe and a delicious snack with an ice cold beverage on a balmy evening. Once boiled, they pack a huge punch with 26g of protein per cup.
Soy:
Soy is a brilliant example of a 'complete' plant-based protein, meaning it contains all 9 of the essential amino acids. One cup of: boiled edamame beans provides 17g of protein; tofu provides 20g and cooked soybeans contain 29g. Soy milk contains exactly the same amount of protein as cow's milk too, 8g per cup.
Why not boost your shakes and bakes with our best-selling Soy Protein Isolate Powder? Each delicious serving packs in 27g of protein and it comes in 5 irresistible flavours too.