As more and more athletes embrace plant-based diets, the stereotypes surrounding vegans are finally beginning to fade. As you'll discover, plant-based protein sources are abundant and, contrary to what we've been led to believe, animal proteins are absolutely not a necessary part of our diets. Here's why.
What is protein & why do we need it?
Protein falls under the category of macronutrient, which means it is a food group we need in larger amounts to provide us with energy. Protein is essential, not only for building muscle, but also for energy production at a cellular level within the body. Without protein, there would be limited production of hormones and enzymes, and cells would have difficulty maintaining both shape and function.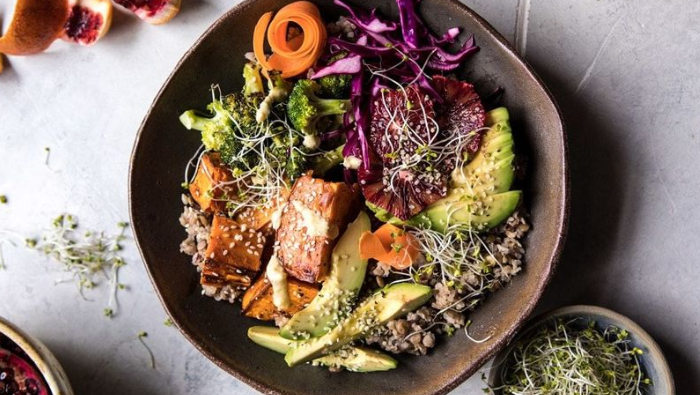 ---
How much protein do we really need?
The protein recommendations for the average sedentary person are 0.8-1.2g of protein per kg of body weight (per day). Protein needs are increased for those who participate in weight training or high-volume training, with the recommendation being 1.2-2g of protein per kg of body weight. Generally, it is recommended to spread protein intake out throughout the day and try to incorporate it into most meals and snacks. A post-workout protein boost can also help support muscle repair and reduce soreness.
What type of protein do we need?
Animal vs Plant Protein Packages
Traditionally, protein powders and supplements contain whey or casein-based proteins (milk-based proteins). However, over the last few years there has been a surge in plant-based supplements, with pea, soy, rice, and hemp proteins all being popular choices. Evidence suggests that plant-based proteins are equally as affective as animal-based protein sources when it comes to supporting protein needs.
Complete & Incomplete Proteins
Proteins are made up of a combination of 20 amino acids; of these amino acids, 9 are 'essential' amino acids. This means the body is unable to synthesise them and must be taken in through diet. A complete protein is one that contains all 9 amino acids – both soy and pea protein fall into this category, as do all animal-based proteins.
What Are The Benefits Of Plant-Based Protein?
Benefit 1
Plant-based proteins are associated with a longer life expectancy: multiple research studies have shown that populations that eat a predominately plant-based diet live longer than populations following a standard Western diet. Furthermore, these plant-based populations tend to have a have a better quality of life in their elder years, and lower rates of obesity and heart disease. (3)
Benefit 2
Plant-based proteins may help with weight loss: plant-based sources of protein are generally higher in fibre than their animal-based counterparts. Higher fibre content generally helps increase satiety which can be useful for weight loss, as well as having a host of other benefits. Examples include improved gut health, reduced risk of bowel cancer, and improved overall immunity.
Benefit 3
Soy based proteins are an excellent source of protein: soy-based proteins are a complete protein as they contain all the essential amino acids. Soy based products have been shown to reduce LDL cholesterol ('bad cholesterol') in the blood and a subsequent reduction in risk of cardiovascular disease and stroke. (4)
Benefit 4
Plant-based proteins are better for the environment: in general, plant-based proteins require less water and less land to produce. They also produce less greenhouse gas during the production process compared to animal-based sources of proteins. (5)
Benefit 5
Plant-based proteins are versatile: if you want to build a more complete amino acid profile, plant-based proteins combine well without affecting the overall texture or flavour. Myvegan's Vegan Protein Blend is ready mixed and combines pea protein and fava bean protein for maximum protein content. Alternatively, you can mix your own – brown rice and pea are a good combination because, together, they form a complete protein.
Other things to consider?
Overall Calorie Intake
Plant-based diets are often lower in calorie and usually higher in fruit, vegetables and unprocessed carbohydrates. This is great if your goal is to lose weight however, if you are keen to maintain or gain weight, it may be worth regularly including higher caloric foods such as avocado, peanut butter or seeds.
Cooking
Over the last few years there has been a flood of vegan meat-like products available, which are usually high in protein and simple to cook. If you prefer to use beans as a protein source, make sure to soak them thoroughly before cooking if you are using dried beans, as this helps to prevent GI discomfort. Tinned beans and legumes just need a rinse prior to use.
---
High protein plant-based foods
All things considered, including a variety of high-protein vegan foods in your diet is a great way to make sure you're meeting your recommended allowance. Here are the front-runners. Drum roll, please…
Legumes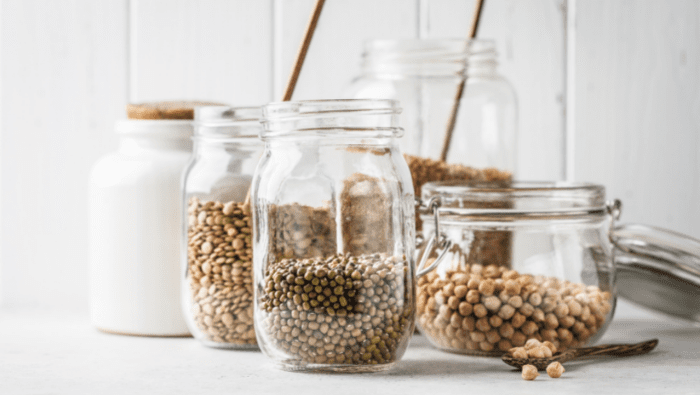 Leguminous plants are those that produce their seeds in pods. We mainly eat the seeds themselves, which are a great source of protein. They're also gluten-free, a good source of unsaturated fats, high in fibre, vitamins and minerals.
Lupin beans:
Lupin beans are popular in Europe and a delicious snack with an ice cold beverage on a balmy evening. Once boiled, they pack a huge punch with 26g of protein per cup.
Soy:
Soy is a brilliant example of a 'complete' plant-based protein, meaning it contains all 9 of the essential amino acids. One cup of: boiled edamame beans provides 17g of protein; tofu provides 20g and cooked soybeans contain 29g. Soy milk contains exactly the same amount of protein as cow's milk too, 8g per cup.
Why not boost your shakes and bakes with our best-selling Soy Protein Isolate Powder? Each delicious serving packs in 27g of protein and it comes in 5 irresistible flavours too.