This vegan chocolate cheesecake is downright magic. Silky-smooth, creamy and rich, it's sure to tickle your tastebuds. 
---
It's a well-known fact that adding cacao powder to your recipes is a sure-fire way to improve it, and this vegan chocolate cheesecake is no exception to that rule. Brace yourselves for a truly decadent dessert that'll go down an absolute treat – whether you're entertaining friends and family, or simply need something sweet after a long day at work (no judgement here!).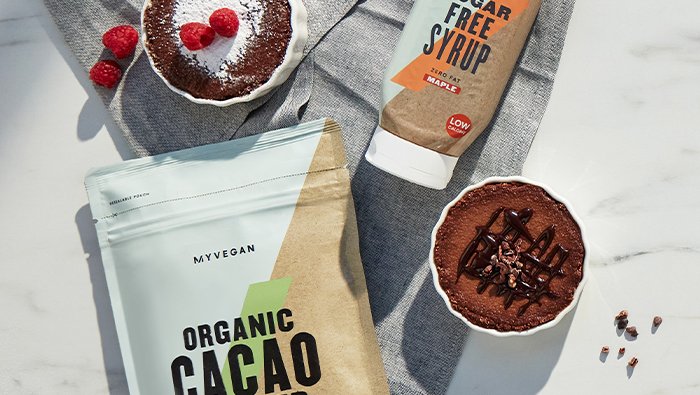 Made with a few healthier alternatives, such as Sugar-Free Maple Syrup in place of sugar and Gluten-Free Rolled Oats in place of digestive biscuits, this vegan chocolate cheesecake is a great source of fibre and complex carbohydrates, to support the recovery process after exercise and help you feel fuller for longer.1
Even better – it tastes like the real deal and comes in single serve size so there's absolutely no guesswork. Warning: One may not be enough!
Vegan Chocolate Cheesecake Recipe
Ingredients
1 cup pitted packed dates (for the crust)
1 and 1/2 cups Gluten-Free Rolled Oats (for the crust)
3 tbsp. Organic Cacao Powder (for the crust)
Pinch of sea salt (for the crust)
1 and 1/2 cups raw cashews, soaked in boiling hot water for 1 hour (for the filling)
1-2 tbsp. lemon juice (for the filling)
1/4 cup melted coconut oil (for the filling)
1 can full-fat coconut milk (for the filling)
7 ounces vegan dark chocolate, chopped and melted (for the filling)
1/4 cup Sugar-Free Maple Syrup (for the filling)
Some chocolate sauce (for the toppings)
Some Organic Cacao nibs (for the toppings)
Some raspberries (for the toppings)
Method
Add dates to a food processor and blend until small bits remain and it forms into a ball. Remove and set aside.

Next, add the oats, salt and cacao powder and blend into a meal. Add dates back in and blend until a loose dough forms – it should stick together, but if too dry, add a few more dates and blend.

Cut out parchment paper into circle shapes of your ramekins.

Divide crust among serving dishes, by using the back of a spoon, allowing some crust to come up the sides.

Add all filling ingredients to a blender and mix until smooth and creamy. If ingredients won't come together, add a splash more coconut milk.

Divide filling evenly among the ramekins. Tap a few times to release any air bubbles, then refrigerate (about 4-6 hours depending on size of dish). After a few hours, place cheesecakes into freezer for 1-2 hours until set.

Run a knife along the edge to remove cheesecakes from the ramekins. Enjoy as it is or serve with your choice of toppings.