Spice up your morning routine with this dreamy chai smoothie, made with bananas and all the spices to power you throughout the day. Ready in a matter of minutes, the result is a super-creamy, lightly spiced blend that will have you swooning year-round.
What is chai?
For many people in Asian countries like India, chai simply means tea. However, in the West, chai tea has become associated with a delightfully spicy drink that is also wildly popular. Known for its delicious blend of herbs and spices that lend to its unique flavor, chai has made a statement on the world stage.
Besides being oh-so-tasty, chai has numerous health benefits –  from helping to improve digestion to alleviating nausea1. Because there's no specific recipe for chai, this flavorful drink may be tweaked and adapted to suit your individual preferences, whether that be full-bodied and heavily spiced, smooth and sweet, or earthy and savory… it is all in the preparation!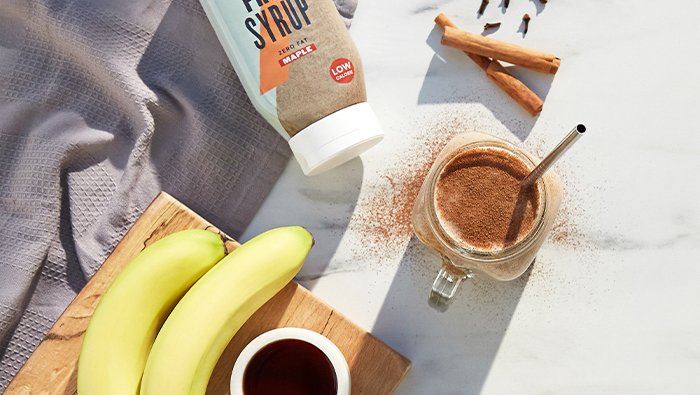 Our chai smoothie is naturally sweetened with our Sugar-Free Maple Syrup to enhance the robustness of the spices, creating the spicy-sweet flavor you love. What's more, the syrup is completely free from sugar and fat which makes this drink a much healthier alternative to the kind you'd buy at a coffee shop.
Be sure to top your smoothie with a dusting of extra cinnamon – because why not?!
Chai Smoothie Recipe
Time: 5 minutes | Servings: 1 smoothie
Calories: 340 kcal| | Protein: 4g
Ingredients
1 tsp Sugar-Free Maple Syrup
500ml almond milk
2 frozen bananas
1/2 tsp cinnamon
1/2 tsp ginger
1/2 tsp nutmeg
1/2 tsp ground cloves
Method
Simply place all the ingredients into a blender and pulse until smooth.

 

Dust with extra cinnamon to serve. Enjoy!