You won't believe just how easy it is to make your own homemade chocolate spread… 
---
Homemade chocolate spread beats store-bought versions any day. Blended with just five simple ingredients including pure Organic Cacao Powder and roasted hazelnuts – our version is deeply rich, nutty, and secretly healthier.
Thanks to the addition of our Organic Cacao Powder (a low-sugar and dairy-free alternative to regular chocolate powder), this vegan chocolate spread provides a natural source of all three macronutrients — protein, carbs, and fat — along with essential minerals such as iron, magnesium and copper which all play an important role in maintaining a healthy metabolism.1 Iron is also great for supporting the immune system, and helping to reduce feelings of tiredness and fatigue.2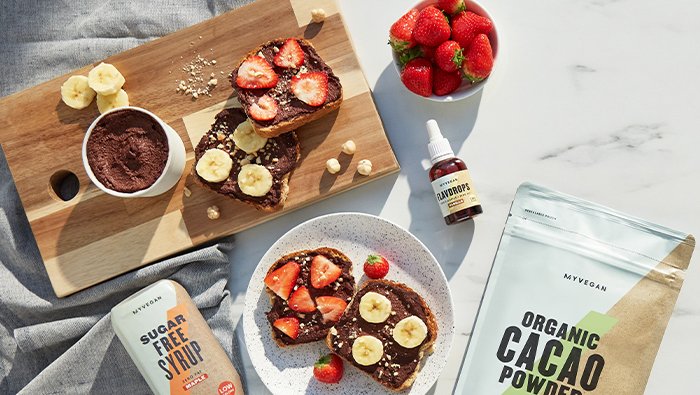 And if you're looking to steer yourself away from sugar, this vegan chocolate spread is sure to be your best friend! Sweet but certainly not sugary, our Vanilla FlavDrops and Sugar-Free Maple Syrup creates a natural, subtly sweet flavour – without ramping up the sugar or calorie content.
This chocolate spread tastes great on toast, as a dessert topping, swirled through porridge – and of course – the classic spoon in the jar method we're definitely not opposed to…
Servings

3 portions
Prep Time

25 minutes
Vegan Chocolate Spread Recipe
Method
Preheat the oven to 180C and line a baking tray with greaseproof paper. Tip the hazelnuts onto the tray, spacing them out with plenty of room. Bake for 6-8 mins until golden, turning halfway. Leave to cool.

Rub the hazelnuts with a tea towel to remove as much of the skin as possible. Add the nuts to a food processor or high-speed blender, and whizz until a thick paste forms.

Add the Organic Cacao Powder, Sugar-Free Maple Syrup, Vanilla FlavDrops and dairy-free milk and continue until smooth. You may need to do this in shorter bursts in order to allow the blender to cool down. Store in an airtight jar for up to a week.*

When ready to serve, spread onto toast and dress with your toppings of choice!
Nutritional Facts
Amount per serving