Life hack: pour your smoothie mix into ice lolly moulds and have ice cream as a snack all week long. You're welcome.
---
We're always on-hand with new and delicious ways for you to make the most of your vegan protein powder — shakes are just the tip of the iceberg.
Using our best-selling Vanilla Soy Protein Isolate and Chocolate Vegan Protein Blend, these super-creamy protein ice lollies are the perfect treat to help keep you topped up on your daily protein requirements, while hitting the spot for any sweet-tooth cravings.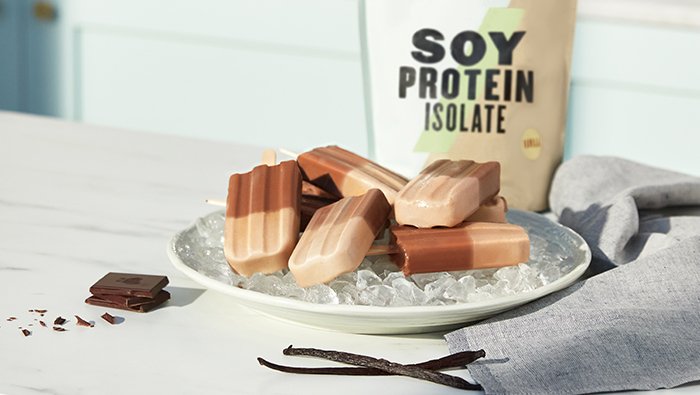 Have a few on stand-by in the freezer for when you're in need of something cooling and refreshing, whether that's when you've got that post-workout glow on, or when the sun is shining and you're finally making use of your garden.
Protein Ice Lollies Recipe
Ingredients
For the vanilla layer:
For the chocolate layer: 
Method
Prepare the vanilla layer: place all the vanilla ingredients in a blender and blend until smooth. Pour into a jug and set aside.

 

Prepare the chocolate layer: place all the chocolate ingredients in a blender and blend until smooth. Pour into a separate jug and set aside.

 

To make the ice lollies, fill each mould half-way with the vanilla smoothie. Freeze this layer for 30 mins – 1 hour (just to partially freeze the layer. This will ensure that the chocolate layer won't sink and mix with the vanilla layer).

 

Once ready, pour the chocolate smoothie over the semi-frozen vanilla layer. Using a skewer or extra lolly stick, gently swirl the 2 layers. 

 

Insert the lolly sticks and leave in the freezer until completely frozen.