Recipe by Laura Holloway (Instagram – @_healthyhappylaura)
It's Peanut Butter Jelly Time!
Peanut butter and jelly (or jam if you're from the UK) is a flavour combination that might take you back to your childhood or student days, when peanut butter and jam sandwiches were the reliable snack you could always count on. Peanut butter and jam are two essentials most cupboards have, and they are both conveniently easy to enjoy with almost anything. The sweetness of the jam and the natural savoury taste of the peanut butter give you a salty-sweet combination that will satisfy the taste buds every time.
This recipe for baked oats makes the most of this iconic flavour duo and adds in some fresh raspberries and chocolate for good measure. You can find all of your main macro-nutrients in here; protein from the Soy Protein Isolate, carbohydrates and fibre from the banana, chia seeds, healthy fats from the peanut butter and almond milk, and a little bit of everything from the oats!
You can enjoy this recipe as a wholesome breakfast, an afternoon snack, or as a healthy dessert substitute – try eating it warm with a dollop of plant-based yoghurt.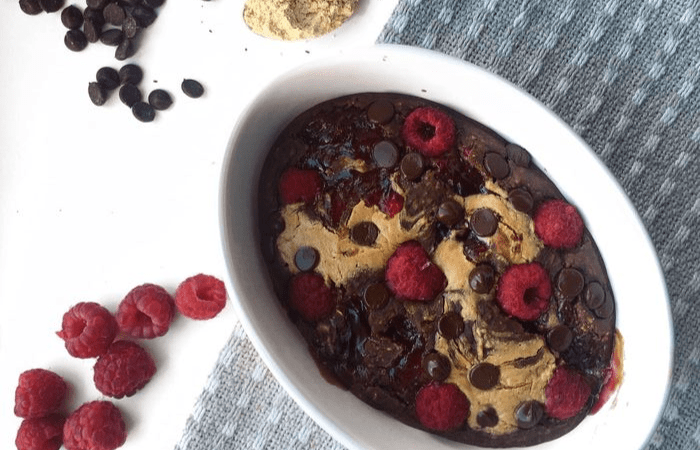 Peanut Butter & Jam Healthy Baked Oats Recipe
Preparation time:  5-10 mins
Baking time: 20-25 mins
Ingredients:
Baked Oats
Toppings
Raspberries
Raspberry Jam
Method:
Preheat the oven to 200°C.
Add the oats, Soy Protein Isolate powder, Organic Cacao Powder, Chia Super Seeds, baking powder, peanut butter powder, banana and milk into a food processor and blend until it forms a mixture with a smooth consistency.
Stir in some chocolate chips and save some for later to sprinkle on top.
Pour the mixture into an oven proof dish.
On the top of the mixture, place small dollops of jam and peanut butter and swirl into the mixture.
Sprinkle on the remaining chocolate chips and some raspberries – press them gently into the mixture.
Bake for approximately 20-25 minutes