Hot chocolate bombs are exploding on TikTok, so we thought we'd give it a whirl too…
What are hot chocolate bombs?
For those of you who've missed the latter trend, you're essentially dealing with hollow chocolate shells (packed full of goodies) that burst open after being dropped into hot milk. And although they're extremely fun to watch unfold, it's not just a novelty thing. The melted chocolate, along with the fillings, makes the creamiest, most decadent drink!
Even more, hot chocolate bombs have become somewhat of a sensation with so many variations including alcohol filled, coffee filled and candy filled, as well as inspired spin-offs like tea bombs and smash hearts.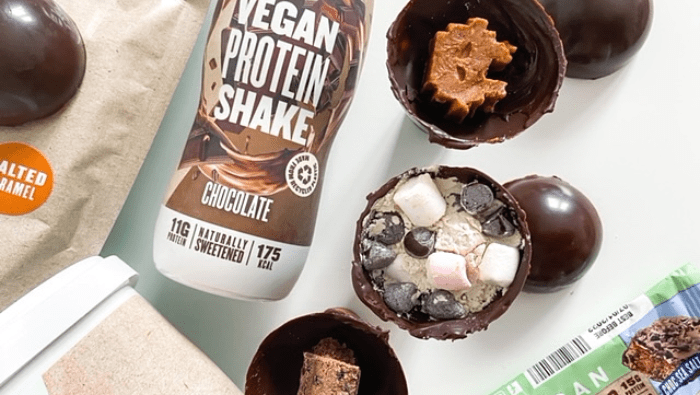 Our vegan hot chocolate bombs, thought up by Maria Devine (@mimismacros), have a dark chocolate shell and are each filled with different treats. From vegan marshmallows and Organic Peanut Butter, to Soy Protein Isolate and Vegan Carb Crusher – this recipe is totally customisable. So, just have fun with it and fill yours with whatever you fancy.
Why not heat up our Chocolate Vegan Protein Shake, drop in your hot chocolate bomb, and watch it melt into a thick, rich and indulgent beverage?
Servings

6
Vegan Hot Chocolate Bombs Recipe
Method
Melt and pour the vegan chocolate into the sphere moulds.

Place in the fridge until set.

Once set, add your fillings into the moulds.

Close the two halves by melting the rim and place into a mug.

Heat up our Chocolate Vegan Protein Shake or plant-based milk, and pour over your hot chocolate bomb.