Mini pancake cereal was a TikTok craze that blessed our timelines way back in the first lockdown of 2020 – and it's definitely up there as one of the best things to have come out of that year in our opinion…
Maria Devine (@mimismacros) is offering up this super indulgent, protein-packed version – made using our delicious Protein Pancake Mix and Vegan Protein Shake – which are both an excellent way to support your fitness goals and keep you cravings in check. Together, these products deliver an impressive 21g of plant-based protein – so if you're looking to boost your intake, look no further!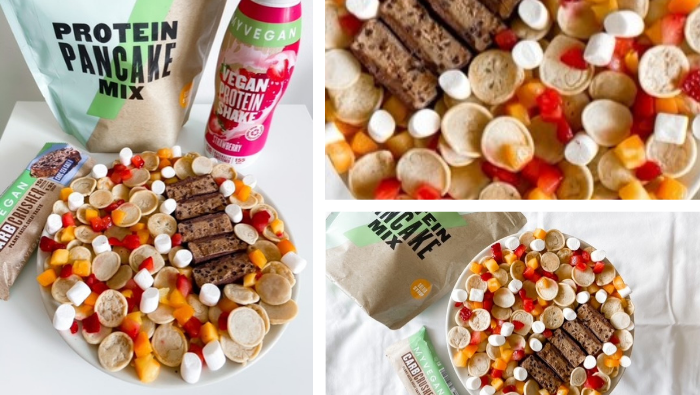 And if that wasn't enough for you, Maria's also gone the extra mile and topped hers with our bestselling Vegan Carb Crusher – a low sugar, high protein and high fibre alternative to your usual chocolatey treats.
Sound too good to be true? Try it out for yourself (and thank us later!).
Mini Pancake Cereal Recipe
Ingredients
Method
Heat a non-stick frying pan over a a low/medium heat and oil as required.

Using a teaspoon, drop even lots of pancake mix into the pan.

Cook on first side for 1 minute before flipping over using a spatula. Cook for a further 1 minute or until golden brown.

Put the mini pancake cereal into a bowl and pour over the Vegan Protein Shake.
Serve with your toppings of choice. Enjoy!