With sustainability becoming such a hot topic (and rightly so), we looked at the top 10 cities in the UK doing their bit to reduce their impact on the environment.
Within the last 10 years, health and sustainability trends have seen incredible growth, as more and more people look for ways to reduce their carbon footprint. But while many across the nation have already started to upskill themselves in different ways of living a more sustainable life, many of us aren't as familiar with activities such as composting, vegetable growing, and upcycling. Luckily, there's plenty of help and advice available online.
Hundreds of thousands of Brits turn to Google each month looking for help, searching for advice on everything from composting to second-hand shopping, but where is searching the most? We decided to look at which cities are showing the most interest in keeping up with these trends to make the UK more sustainable.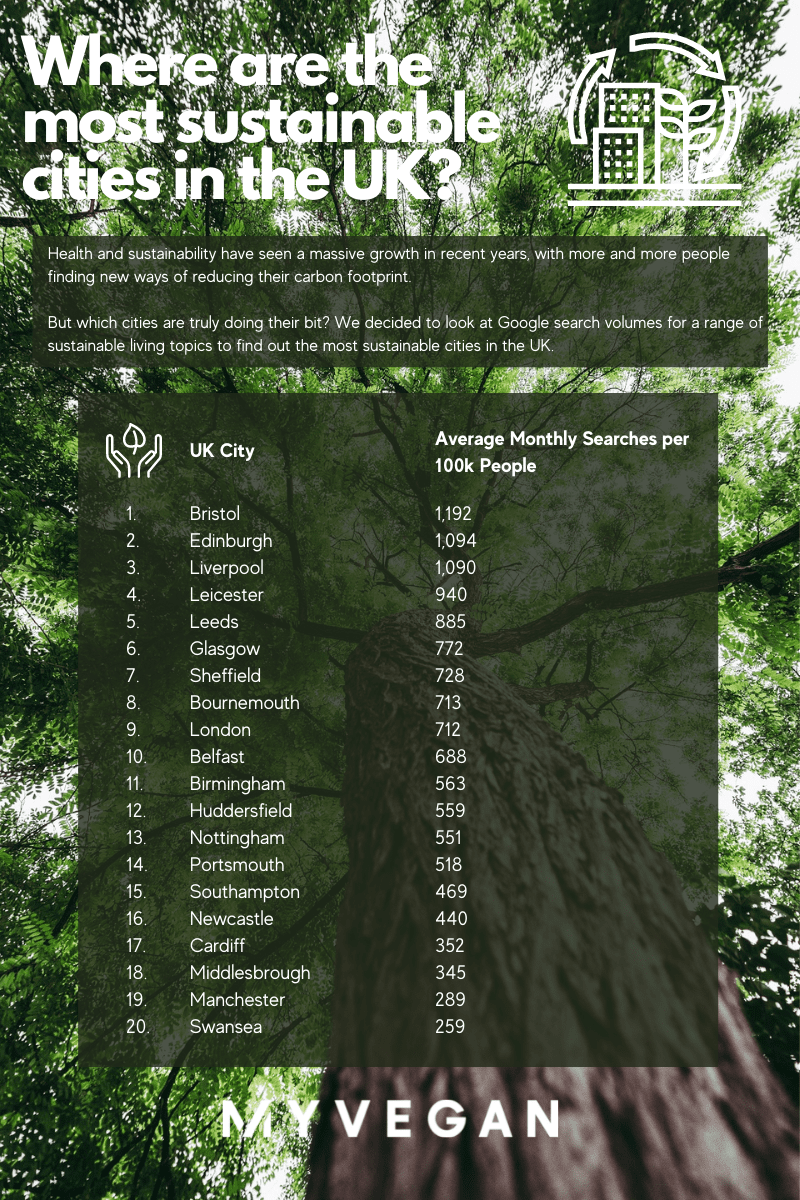 Bristol is the most sustainable city in the UK!
With its impressive search volumes for LED lighting, electric cars, recycling, composting and vegetable growing, Bristol nabs the top spot as the UK's most sustainability-minded city!
Despite its modest population size, Bristol's residents seem to be most proactive in doing their bit for the planet, with almost 1,200 monthly searches per 100,000 people for sustainability-related terms.
It's probably no surprise when you consider Bristol's impressive dedication to eco-living. After winning European Green Capital status in 2015, the city set itself targets to combat climate change and become a low carbon city, focusing on the key pillars of energy, food, nature, resources and transport. While implementing dedicated schemes to make sustainable living that bit easier, it's clear Bristol's residents are also on board with living a greener lifestyle, turning to the internet for help with setting sustainable habits.
Edinburgh comes second in our list, with 1,094 monthly searches per 100,000 people for sustainability terms. They were followed very closely by Liverpool (1,090), Leicester (940), Leeds (885) and Glasgow (772).
Swansea, Manchester and Middlesbrough came off as the least interested in sustainable habits, with 259, 289 and 345 monthly searches per 100,000 people respectively.
Top 10 sustainability trends in the UK
LED lighting: 246,000 average monthly searches
Electric cars: 90,500 average monthly searches
Composting: 74,000 average monthly searches
Recycling: 74,000 average monthly searches
Vegetable growing: 74,000 average monthly searches
Water butts: 74,000 average monthly searches
Solar panels: 60,500 average monthly searches
Smart meters: 33,100 average monthly searches
Renewable energy: 22,000 average monthly searches
Plant based diet: 18,100 average monthly searches
LED Lighting
Perhaps more of a design choice than an economical one, but the popularity of LED lighting has swept the nation, with Brits racking up around 246,000 Google searches a month for the term.
Interest is particularly high in Liverpool, where the topic receives 447 monthly searches per 100,000 people. 'LED bulbs' is also a common search term, with over 18,000 average monthly searches nationwide.
LED lighting is now pretty standard in many British homes, but they were originally adapted for their eco credentials. LED bulbs have been shown to be up to 80% more efficient than standard florescent or incandescent bulbs, using far less energy and saving money too. Add to that the wide availability of LED lighting and the total ease of switching, and it's no wonder that this is the number one way Brits are choosing to help the environment.
Electric cars
Originally a pretty niche concept, electric cars are now becoming a common part of everyday life, with global sales rising 43% in 2020 alone. This is reflected in the 90,500 Google searches the topic receives a month, with searches largely coming from Edinburgh, which has 137 monthly searches per 100,000 people.
It's no secret that electric vehicles are significantly more sustainable than their fossil fuelled counterparts – by a mile. As well as being cheaper to run, they also produce less noise and no pollution. While a series of governments have set dates for the end of sales of fossil fuel-powered cars in the next decade or so, it's also brands like Tesla that are breaking new ground in making electric cars more accessible to the wider public. As a result, their costs are slowly coming down, which means many more Brits are likely to show interest.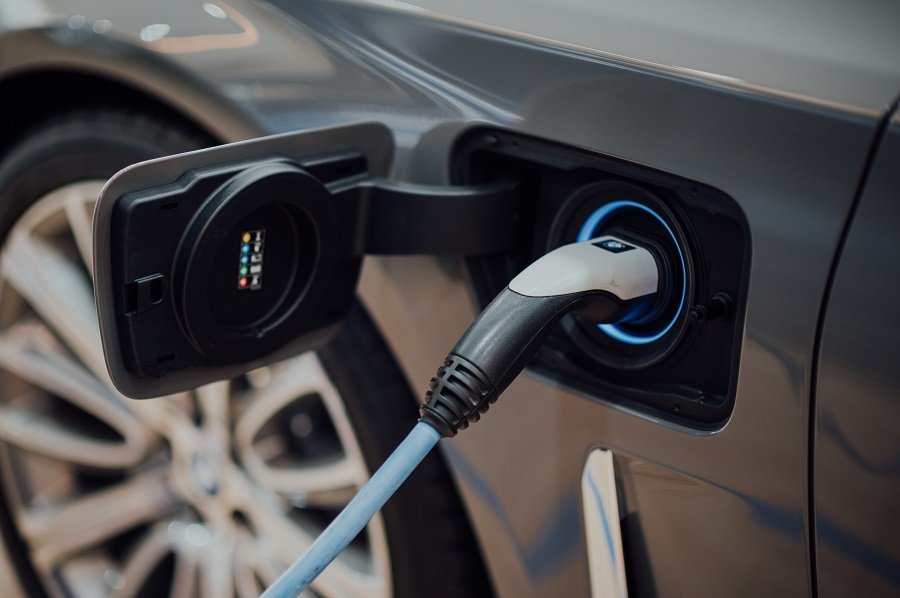 Composting
Composting is nothing new to farmers or green-thumbed gardeners. However, the practice has been brought to mainstream attention in recent years thanks to the 'zero waste' movement and increased awareness around food waste, and as a result receives an average of 74,000 Google searches a month.
Instead of throwing all our food in the trash, where it will be compacted in landfill and become a source of methane gas, composting it actually allows it to biodegrade naturally so it can become food for plants and trees. Home composting is one way of doing it, but food waste collection services also make composting more available to those in cities and urban areas.
Bristol seems to be the most interested in composting, with the city boasting 117 monthly searches per 100,000 people.
Recycling
Recycling has been a standard part of our waste disposal system since the 70s, but it seems Brits are still keen to do more where they can. With an average of 74,000 searches per month, the UK wants to keep its recycling knowledge sharp, with the confusion around varying labels and the recyclability of different materials often being a barrier.
Bristol once again grabs the top spot, with 133 monthly searches per 100,000 people. Reading about recycling is incredibly important as it means residents will have a better understanding of what can and cannot be recycled, therefore, helping the system do its job.
Vegetable growing
News outlets in 2020 reported a 250% surge in seed and compost sales, as many people discovered their green thumb spending so much time at home. While for some it may have been just a light-hearted hobby, others were using it to grow their own fresh produce as a way to avoid the shortages in supermarkets.
It's probably no surprise then that vegetable growing comes in joint 3rd on the list, with around 74,000 monthly searches. Bristol seems to be most horticultural city, with 133 monthly searches per 100,000 people.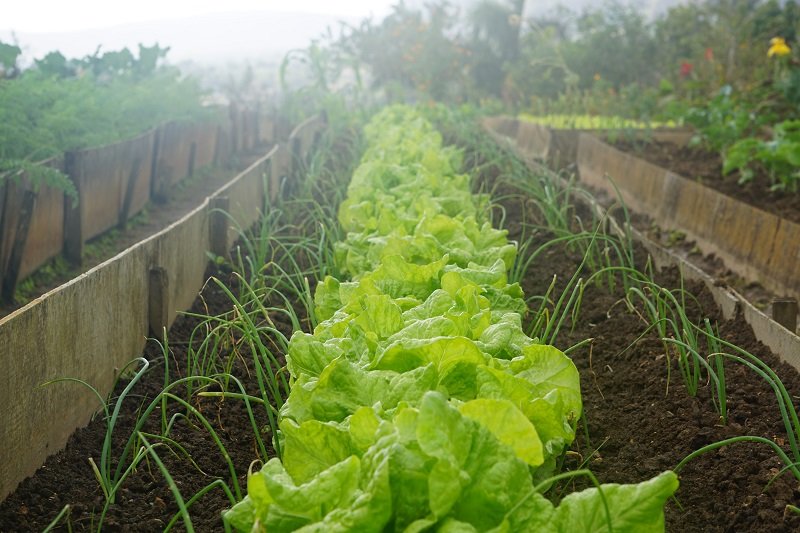 Water butts
Water butts are a tried-and-tested way to cut down on your water bill and make the most of available rainwater. Usually a big tank made from either plastic or wood, a water butt is a great feature to have in the household to save money and keep the plants watered during times of drought.
With an average of 74,000 searches per month, water butts are definitely keeping Brits interested, with newer, more stylish models based on Mediterranean ceramics, rocks and rustic oak barrels coming onto the market. London in particular seem to be the biggest fans of the conservation method, with around 35 monthly searches per 100,000 people.
Solar panels
Whereas rooftop solar panels were once seen as a luxurious commodity, their popularity is now rapidly on the rise. Before a global pandemic slowed things down, the UK was on track to have 10 million solar panels installed in properties by the end of 2020 – meaning about a third of households would be utilising solar energy.
As well as being able to save money in the long term (unlike current fossil fuel energies), they also work on cloudy days – making them perfect for the British climate.
Terms around solar panels reach around 60,500 Google searches a month, with 'solar energy' also hitting 8,100. Once again, Bristol seems to be the most solar power-obsessed city, with around 96 monthly searches per 100,000 people. This could be to do with its commitment to becoming carbon neutral as mentioned earlier. The more support residents have for utilising solar energy, the more likely they are to be open to the change.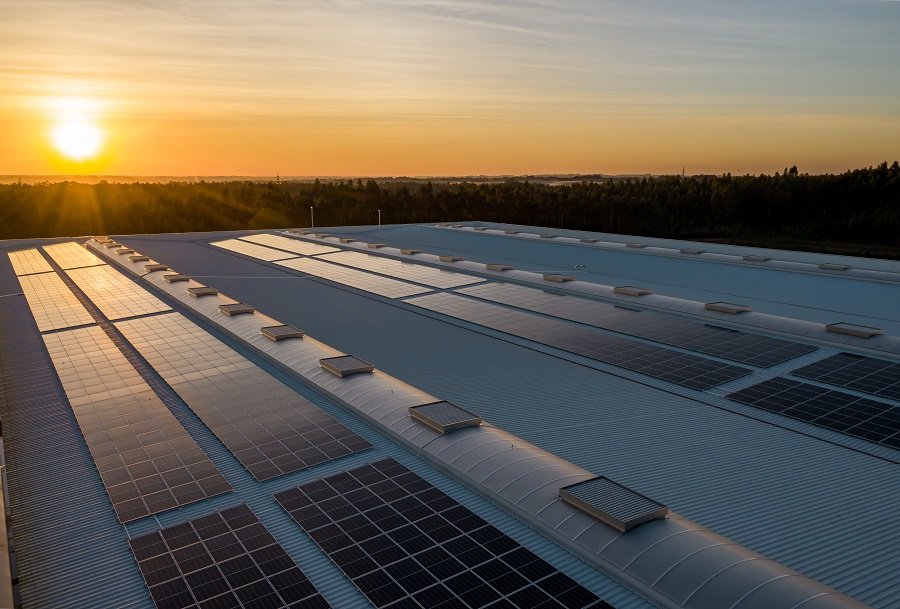 Smart meters
Few of us will be new to smart meters, which have been on a national rollout since 2011. Like traditional gas and electricity meters, smart meters will monitor your energy use, but send the information automatically and in real time to your energy provider. This removes the need to send regular meter readings, and also means you'll be charged more accurately for the energy you use (for better or worse).
Whether you love them or hate them, it's hard to deny smart meters are better for the environment in the long term, as users are able to see where they're using the most energy and make the relevant changes. With searches around smart meters reaching an average of 33,100 a month, the public seems to be warming to the idea of utilising energy effectively (even if it is just because they hate sending meter readings).
Edinburgh seems to be ahead of the curve in this area, with the most monthly searches, at 61 per 100,000 people.
Renewable energy
Slowly but surely, the UK is transitioning to more renewable energy resources such as wind, hydro, biomass and solar. However, it seems the transition isn't fast enough for the UK public, who Google renewable energy terms an average of 22,000 times month.
Whether it's keeping a close eye on the growth of the sustainable energy market or looking for a renewable energy supplier (terms around renewable energy companies reach 2,290 searches a month), Brits seem keen on cleaning up their energy supply. Edinburgh once again seems the most invested, with 49 monthly searches per 100,000 people.
The interest from customers is clearly there. All that's needed is for the industry to catch up.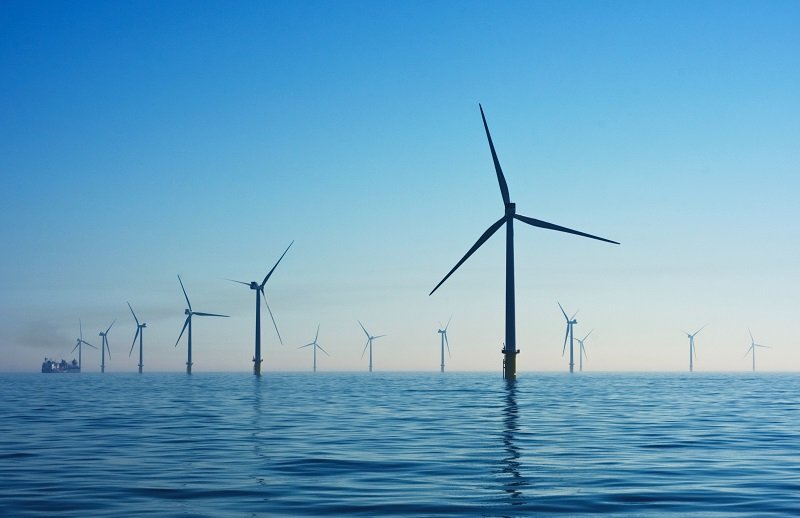 Plant based diets
It's often said that animal-based diets use more water, land, and resources than plant-based ones, and also contribute to significantly more greenhouse gases, a huge cause of climate change. In fact, in a 2018 study by the University of Oxford, it was concluded that going plant-based could cut your carbon footprint from food by up to 73% – making it the single biggest way to reduce our environmental impact (1).
It seems Brits are taking the message on board and showing more interest in plant-based diets, racking up 18,000 Google searches around the term per month. Of course, we should add that leveraging these environmental benefits doesn't have to mean going fully plant-based. Research published in the science journal Nature reported that, compared to baseline projections for 2050, moving to a more plant-based flexitarian diet could reduce greenhouse gas emissions by as much as 52% (2).
Quite unsurprisingly, its Liverpool that takes the top spot for plant-based interests, with 26 monthly searches for 'plant-based diet' per 100,000 people. The multicultural city has long had a strong vegan scene, with numerous cafes, restaurants, pop-ups and health food shops that celebrate the plant-based lifestyle.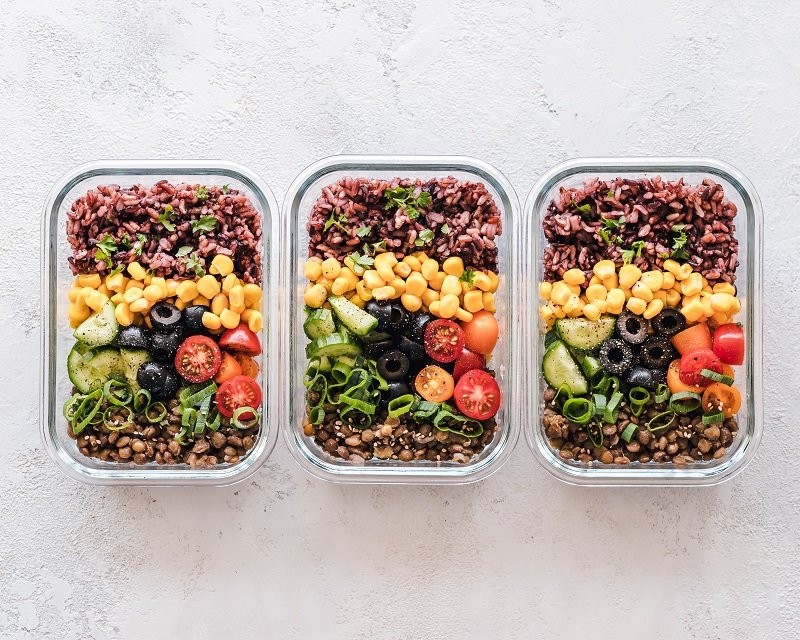 Take Home Message
It's great to see significant numbers in Google searches for terms around sustainable living. Although this isn't an indicator of how well these sustainable habits are being implemented (with various nationwide barriers such as costs, infrastructure, resources and varying demographics), we can safely say that the UK public seem to be doing anything they can – whether it's remembering a reusable coffee cup, taking their own bags to the supermarket, or switching to more eco-friendly ways to power their homes.
We hope to see various industries in the UK continue to level up their efforts in easing our impact on the environment. But in the meantime, we have many willing individuals, and that's a great start.
(1) Poore, J. and Nemecek, T. (2018). Reducing food's environmental impacts through producers and consumers. Science, [online] 360(6392), pp.987–992. Available at: https://science.sciencemag.org/content/360/6392/987 [Accessed 27 May 2021].
(2) Springmann, M., Clark, M., Mason-D'Croz, D., Wiebe, K., Bodirsky, B.L., Lassaletta, L., de Vries, W., Vermeulen, S.J., Herrero, M., Carlson, K.M., Jonell, M., Troell, M., DeClerck, F., Gordon, L.J., Zurayk, R., Scarborough, P., Rayner, M., Loken, B., Fanzo, J. and Godfray, H.C.J. (2018). Options for keeping the food system within environmental limits. Nature, [online] 562(7728), pp.519–525. Available at: https://www.nature.com/articles/s41586-018-0594-0.epdf [Accessed 27 May 2021].