It's back and it's flippin' better than ever… our NEW & IMPROVED Protein Pancake Mix!
What is our vegan Protein Pancake Mix?

 
Our new and improved Protein Pancake Mix is the perfect solution for achieving light and fluffy American-style pancakes every time. As well as delivering a smooth and enjoyable cooking experience, this ready-to-mix formula creates a delicious taste and texture – whilst packing in the amazing nutritionals you loved before.  
The hardest part is probably deciding on which flavour to go for. With a choice of Vanilla, Maple Syrup, Golden Syrup and Unflavoured – there's a taste for everyone!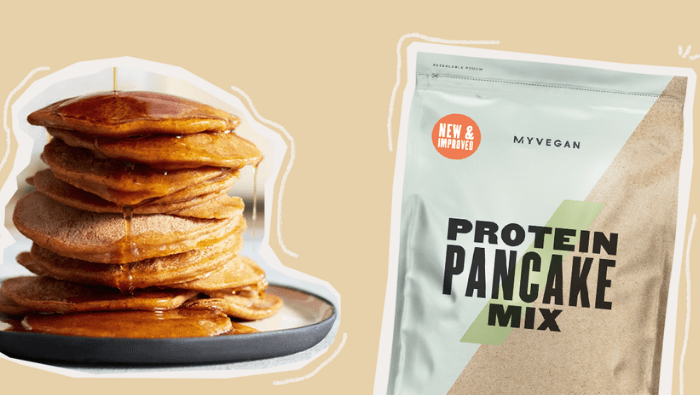 What are the benefits of our vegan Protein Pancake Mix?

 
High in protein
Each stack of freshly flipped pancakes delivers 10g of protein, which is perfect for those training on a plant-based diet. Whether you want to recover faster after a gruelling workout, support the growth and maintenance of muscle, or simply make healthier food choices – our vegan Protein Pancake Mix is a tasty and enjoyable way to support your goals.  
Low in sugar and calories
Gone are the days when pancakes had to be packed with hefty amounts of sugar and calories, just to taste good. Each low-sugar serving of our vegan Protein Pancake Mix contains only 156 calories, which is ideal if you want to kick your sugar habit or maintain a healthy weight.  
For the ultimate breakfast treat, why not spruce up your stack with a helping of our much-loved Sugar-Free Syrups? As the name suggests, they contain zero sugar or fat so you can satisfy your sweet-tooth (without touching the bad stuff). 
Great cooking experience
Hands up whose pancakes have turned out like soggy, misshapen blobs that tear at the mere sight of a spatula? Our vegan Protein Pancake Mix will solve all your pancake problems. All you need to do is simply mix a scoop of powder with your favourite plant milk, and cook in a non-stick frying pan until golden brown. In just a few minutes, you'll have a stack of well-risen, fluffy pancakes – just like the regular stuff!