Transform your protein pudding into an adorable winter wonderland.
---
This Vegan Snowmen Protein Pudding Pot recipe is the perfect high-protein, dairy-free dessert to enjoy over the festive season. Deliciously sweet and decorative, it is a great way to treat yourself whilst getting in the mood for Christmas.
To make the protein pudding mix, we've used our delicious Vanilla Soy Protein Isolate, which contains all the essential amino acids and 27g of protein per serving – great for supporting muscle growth and maintenance.1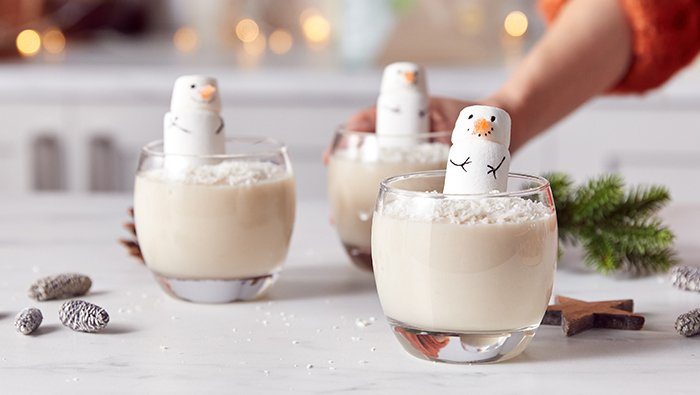 Not only are these adorable desserts a great way to get a boost of plant-based protein in the diet, but they taste incredible too. We've added in our Vanilla FlavDrops for an extra hint of natural vanilla flavouring. The vanilla flavour of these protein pudding pots means you can easily add in your own flavours if you wanted to adapt the recipe to include berries, banana, or even our Sugar-Free Syrups.
The snowmen are simple to make yet extremely effective, especially with a sprinkling of desiccated coconut "snow". They're almost too cute to eat…almost.
Vegan Snowmen Protein Pudding Pots Recipe
Ingredients
Protein Pudding:
Snowman Decoration:
large vegan marshmallows
edible food markers or food colouring
Desiccated coconut
Vegan jelly bonbons for the nose
Method
Step 1: How to make the protein pudding mix
In a small bowl, whisk together 100 ml plant-based milk, the corn starch, and the protein isolate. Set aside.
In a medium saucepan over medium-low heat, whisk together remaining vegan milk and sugar.
When mixture begins to steam, add corn starch mixture.
Cook, stirring occasionally, until mixture begins to thicken and just reaches a boil, about 5 minutes.
Turn down heat to very low and cook another 5 minutes, stirring occasionally until thick.
Turn off heat and stir in coconut oil and Vanilla FlavDrops™
Pour into glasses and cover with cling film. Refrigerate for a couple of hours, until firm and fully cooled.
Decorate with desiccated coconut and marshmallow snowman.
Step 1: How to make the snowman
Draw the  eyes and a mouth on one of the marshmallows.
Cut a short slit for the nose and place a triangular piece of orange or red jelly bonbon.
Draw hands on another marshmallow.
Stick the two marshmallows on a toothpick to form a snowman and set them on top of the protein pudding mix to serve.
Sprinkle the finished pudding with some desiccated coconut and/or icing sugar for an added snow effect.