Recipe by Leila Hannon (AKA @abcdefghijkleila_)
With an innovative new product comes an innovative new recipe. The launch of the world's first Clear Vegan Protein introduced an extremely convenient way to increase daily protein intake. It forms a refreshing, juice-like drink that is easily drinkable at any time of the day, and is especially useful for those who want an alternative to thicker, creamy protein shakes.
Many delicious high-protein recipes have been made using traditional vegan protein blends, however this is our first recipe using the Clear Vegan Protein blend. The light and transparent properties of the product make it an ideal ingredient to use in jellies and tarts.
When mixed with agar agar, a plant-based jelly-like substance, the Clear Vegan Protein makes a delicious, firm filling to this strawberry tart. The base of the tart is also a good protein boost, containing 20g of vanilla Soy Protein Isolate.
This tart can be enjoyed as a sweet vegan dessert or chilled overnight for a protein-packed breakfast.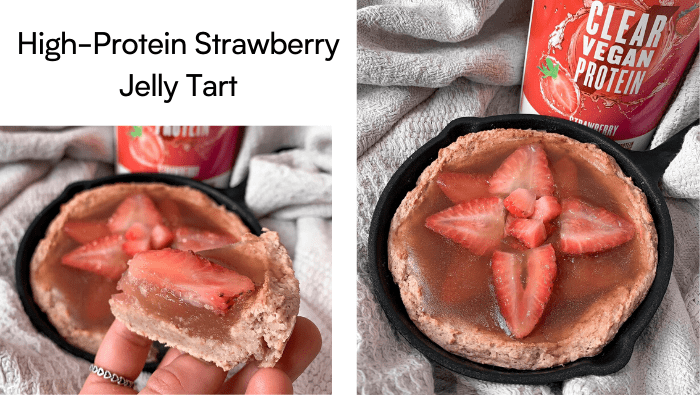 Giant High-Protein Strawberry Vegan Jelly Tart Recipe
Macros: 521kcals | 53 carbohydrates | 46 protein | 3 fat
Ingredients
For the base:
50g spelt flour
15ml almond milk
20g unsweetened soy yoghurt
1/4c water
For the filling:
200ml water
7g agar agar
Strawberries
Method
For the tart base, mix the spelt flour, Soy Protein Isolate, almond milk, yoghurt and water to form a dough and transfer the dough into a skillet or baking proof pan.
Bake in the oven for 15 mins on 180°C.
Remove from the oven and set aside to cool.
Whilst the tart base cools, prepare the strawberry jelly filling by mixing the water and Clear Vegan Protein blend in a saucepan on a high heat. Bring to the boil then remove it from the heat to add the agar agar.
Mix in the agar agar and pour the liquid onto the cooled tart base.
Decorate by pressing in sliced strawberries.
Leave to cool overnight or until the filling has set.
I always think breakfast / cooking is a form of self love ❤️ If you make time for it, enjoy the meals and take time to eat, that's amazing! – Leila