Our ambassador, Johnny Morillo (@johnnymeatless), transitioned to a vegan diet in 2018, while living in Australia. After working one weekend on a chicken farm, he was inspired to learn more about veganism and was challenged by his friend to try out a plant-based diet for a week. Long story short, he hasn't looked back since.
Keep scrolling to find out more about Johnny and his vegan journey…
1. Tell us a little bit about you.
I am Johnny Morillo, I worked in the creative industry editing content for one of the biggest media outlets in England and a freelance food photographer. I create mouth-watering images on my page and easy-go to recipes that anyone can make at home. I have always been a big advocate for health and being, love challenging my body to do more and pushing it to its limits, as of now training in Calisthenics and building an overall engine. Lastly I make 1/9 of the Plantboiis creating feel good videos and breaking the perspective of what a vegan content creator looks like.
2. How long have you been vegan & what influenced your decision?
I have been vegan since January 2018 as I went travelling in Australia, the land of fitness and wellbeing. The vegan lifestyle there was very much different as everyone was slightly more aware of trying to look good and maintain a healthy lifestyle. To extend my visa I worked on a avocado farm and on one weekend on a chicken farm, honestly it was the WORST experience of my entire life without getting into much detail. I really thought to myself this is why people go vegan/vegetarian. Soon after I watched more documentaries on Netflix and wanted to learn a bit more, believe or not I needed that extra push and my friend challenged me I wouldn't be able to stay vegan. I do love a challenge and I said I'll do it for a week, well it's been the longest week in my entire life.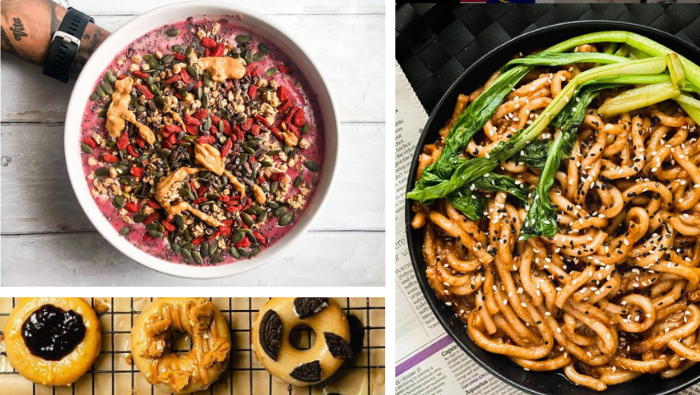 3. What was your transition to a plant-based diet like?
Well for me I have always challenged myself in trying to adapt many different lifestyles such as Vegetarian or Pescartian, so I slightly had knowledge and somewhat good awareness on how to change my eating habits. During my transition I lived in Australia for around 2 years, it's a beautiful country – sun, sea and an overall fitness community. For me it was quite easy to transition because there were so many products and fresh ingredients out there, I lived next to an organic shop and went to shop regularly at the farmers market. I was fortunate enough to live that lifestyle and you obviously wanted to always look good because 9/10 you were at the beach, so yes transition was relatively easy.
4. Did becoming vegan have any positive effects on your health?
Well for me I was a regular gym goer and fitness enthusiast, so I've always been active and outgoing. When I initially started a vegan lifestyle I realised my energy levels were spiking more than usual and I felt so much better. My eating habits changed entirely just because I was more aware there was so much food out there, that I wasn't taking note of before, because I was fixated on meat products. From this, I was able to eat more food rather than getting that bloated feeling, just to feel better about myself that I was getting good food.
I realised my energy levels were spiking more than usual and I felt so much better.
5. Can you tell us about "Plantboiis" and what brought you to create the channel?
The "Plantboiis" is a collective of male vegan content creators, where we wanted to remove the stereotypical representation of vegans. When you think of vegans I am sure you'd have your own perspective of what a vegan will look like and as you may be aware the vegan community is a relatively female dominated industry.
So, late September 2020 a group chat was formed on Instagram, originally called "Vegan Mandems" and straight away got changed to the "Plantboiis", honestly I think we needed each other more than we thought. We say this time and time again, it feels good to have group chat to talk about vegan food or general conversations of what may be happening in the community, without being judged by our peers. We thought amongst ourselves – why don't we put our skills and background together, and start creating content with each other. It's lockdown we have nothing else to do, let's make videos.
6. What are your top tips for someone who is considering going vegan?
You can just gradually reduce your meat consumption by doing meatless Mondays, or just one day being vegan. Nowadays, it's so easy to replace what you eat, as there are tons of meat alternatives you can buy in the supermarkets. You'll easily find that there are tons of supplements you can take, which is far more accessible now. With restaurants soon opening, you'll find out that everywhere has numerous vegan options and vegan restaurants are opening too, which is exciting! Just remember when we first start we are not all perfect, we can easily make mistakes from not knowing there might be milk in a product or finding out something is not actually vegan even though it says it's not.
7. What change-maker/s do you look up to and why?
One of them has to be Lewis Hamilton, he is smashing his sport right now and real advocacy of a vegan diet and tells often he has excelled more since changing his lifestyle, you can see more from him in the documentaries "The Game Changers". I believe he is opening more of his neat burger franchise, which is actually really delicious selling vegan junk food basically. Also I am a big fan of Akon. He recently announced he will be building a second futuristic city in Uganda, which is absolutely phenomenal and great to see the world changing for the better.
8. What are you currently watching?
So without a shadow of doubt I am a complete nerd, I personally love DC or Marvel comics and I am watching tons of programmes that might be associated with those franchises. On Disney you have Falcon and the Winter soldier, Wandavision and MCU timeline. In my line of work I watch tons of Channel 4 content, this could be Married at first sight or Made in Chelsea, so I watch more than I actually should.
9. We know you love getting creative in the kitchen – what's your go-to recipe?
I personally love variations of Mac and Cheese, you can easily be artistic with what ingredients you put in, and everyone has their own preferences. A delicious recipe of mine is Roasted butternut squash with broccoli. You roast the butternut in an oven or air fryer with oil for 15/20 min after that blend that with cheese, nutritional yeast and mustard. Mix the sauce and cooked pasta together with broccoli, sprinkle some seasoned up panko crumbs. Bake it in the oven and there you go, a delicious and hearty mac & cheese.
10. What are your favourite Myvegan products right now and why?
Where do I even start? The Baked Cookies are literally my favourite right now, I probably have one each day. Top tip if you want your mouth to water is to heat them up in the microwave for 15-20 seconds, lord have mercy it's the best thing since sliced bread and if you get the salted caramel one it just melts in your mouth. New products that are released are just game changers, I think I finished 3 BBQ flavoured Popped Crisp in one sitting just because they are addictive. Last but not least, the Clear Protein Swizzles that's definitely bringing me back to memory lane, I've totally converted into those clear proteins just because the flavours on them are so good. Sense of joy runs through my veins when I actually have it.
11. Do you find it difficult to get all the nutrients you need in your diet?
Personally for me I try to maintain a wholefood diet, so staying away from meat alternatives and eating more tempeh, tofu, variations of legumes, fruits, vegetables or whole grain food. Personally it's all about balance at the same time so I will incorporate meat alternatives and binge worthy food. I do regular take vitamins i.e Multivitamins, Vitamin B, D and Omega oils and if I personally know I haven't eaten that much greens, I'll take Vegan Protein & Greens to top it up.
12. If you were stranded on a desert island, what is one thing you'd have with you?
That is actually quite a difficult question and a good one to ask, I will actually bring a Bear Grylls' book because you will actually learn so much on how to take care of yourself. There will be so much useful information that you can take from surviving the wilderness to how to make useful tools.
13. What's been the most rewarding moment of your vegan journey so far?
I would honestly say creating @johnnymeatless, this has allowed me to create such a big community and from this I am getting so many opportunities such as being an Ambassador for Myvegan, working with my best friends the "Plantboiis" and rewarding me with a potential career that I've been loving. Showcasing vegan is not boring and beige, but colourful and mouth watering through the pictures I take. That's my rewarding moment, feeling like I finally belong somewhere without being judged and feeling complete.
Thank you!
Shop Johnny's favourites: