We caught up with Head Chef of Ampéli Restaurant, Oren Goldfeld, for some tasty ideas for nutritious vegan meals.
With a delicious variety of plant-based ingredients, he has created a winning dish that is perfect for lunch or dinner.
You can even just take the recipe for the falafal burger, the bulgar wheat salad, or peanut butter dressing and incorporate them into your own go-to dishes.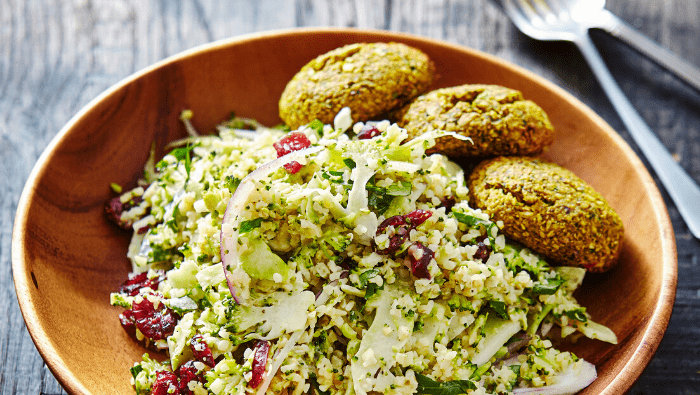 Baked Lentil Falafel Burger with Bulgar Wheat Salad Recipe (& Peanut Butter Dressing)
This recipe is broken down into 3 steps for the falafel burgers, the bulgar wheat salad, and the peanut butter dressing.
1. Falafel Burgers
Ingredients
250g green lentils (soaked in water over night)
90g red onion
30g flat leaf parsley (leaves only)
20g coriander
2 garlic cloves
1 tsp. flax seeds
½ tsp. dried chilli flakes
More ingredients continued below
Step 1. Place all ingredients in a food processor and blitz. You want to achieve a grainy like consistency which is not smooth but not too coarse.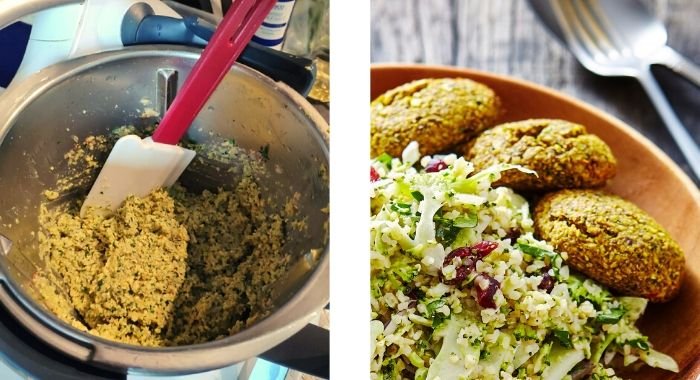 Step 2. Transfer your mixture into a bowl and add the following ingredients:
30g tahini
1 tsp. table salt
1 tsp. sumac
1 tsp. cumin powder
½ tsp. ground coriander
½ tsp. turmeric
½ tsp. sweet paprika
Step 3. Mix all the ingredients to combine and leave to rest for half an hour before baking.
Step 4. Line a baking tray with parchment. Using a paper towel lightly oil the parchment with olive oil (this is not essential but will help to achieve a nice golden colour and crunch).
Step 5. Bake the falafels in a preheated fan oven at 200°C for 7 minutes.
Step 6. After 7 minutes, take the tray out and turn the falafels upside down. Bake for further 7 min until golden brown.
Bulgur Wheat and Broccoli Salad
Ingredients
1 small head of Broccoli (about 240g)
½ red onion
30g dried cranberries
180 cooked Bulgur wheat (90g raw bulgur cooked according to instructions on the packet)
2 tbsp chopped parsley
100g Peanut butter dressing (recipe below)
Salt and freshly ground pepper
Step 1. Prepare all ingredients by cooking the broccoli and the bulgar wheat.
Step 2. Chop the broccoli and parsley and add it into a mixing bowl.
Step 3. Chop the red onion into thin strips and add it to the mixing bowl.
Step 4. Add the other ingredients to the broccoli, parsley and onion. Toss together so the ingredients are well combined.
Peanut Butter Dressing
Ingredients
Step 1. Simply mix all ingredients together.
Enjoy!