When it comes to a healthy diet, there is no one-size-fits-all diet. Nutritional needs vary depending on different factors including age, height, sex, activity level…. The list goes on!
Generally though, most health organisations would consider a healthy diet to be one that contains a balance of macronutrients, is low in saturated fat and added sugars, and high in micronutrient dense fruit and vegetables. In addition, a healthy diet should be supplemented with regular exercise; at least 2.5 hours per week of moderate intensity exercise is recommended to maintain good health.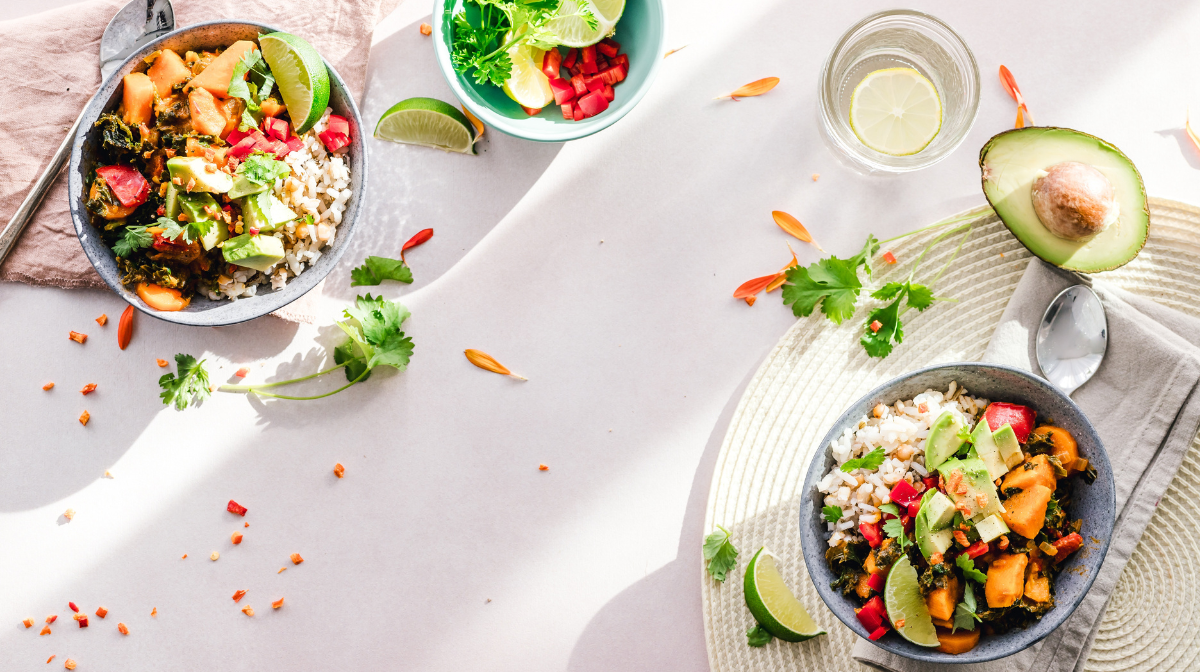 What Is A Healthy Diet?
According to the World Health Organisation, health is defined as 'a state of complete physical, mental and social well-being, and not merely the absence of disease'. So, it makes sense that a healthy diet is one that supports good health. Words that are generally associated with healthy diets include 'balanced' and 'moderation', and these aspects are key; balance is needed to make a diet enjoyable and sustainable, without having a negative impact on physical, mental, or social wellbeing.
There are a few key components to having a healthy diet – these can be broken down into macronutrients and micronutrients. Macronutrients are the predominant dietary nutrients, and include protein, fat and carbohydrates. Macronutrients are a significant source of energy, so are needed in larger amounts. In contrast, micronutrients are needed in smaller amounts, but are still essential to maintain good health. Vitamins and minerals are examples of micronutrients.
On average, a woman requires around 2000 calories (kcals) per day; men require 2500 kcals per day. Calories are a unit of energy and only form part of the picture when it comes to eating a healthy diet. Just as important as calories is the nutrient density of a diet – both macro and micronutrients.
Why Is Healthy Eating Important?
Healthy eating is important to help us feel our best – a healthy diet and lifestyle is one that enables us to feel energised and live life to the full. A healthy diet is one that not only helps to maintain health status, but may also help to prevent the development of chronic conditions and poor health.
The Basics Of Healthy Eating
When building a healthy plate, try to include each of the macronutrients (protein, carbohydrates, fats), along with at least 2-3 portions of fruit or vegetables. However, don't panic if you don't manage this at every meal! Keep reading to understand more about the benefits of each macronutrient.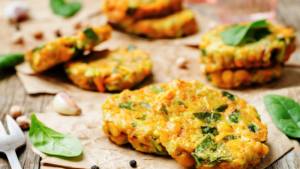 Protein
Protein is made up of smaller molecules called amino acids; 9 of these amino acids can't be synthesised in the body and must be obtained through dietary sources. There are 20 amino acids in total. Protein is essential for cellular repair, and for muscle mass repair and growth. This is especially important for people that workout regularly however, protein is also an important part of a healthy diet regardless of activity level.
Protein is found in almost all animal-based products (meat, fish, eggs) however, many plant-based foods can also be used as a source of protein. Adults need a minimum of 0.75g of protein per kilogram of body weight; most adults will need more than this, so a good number to aim for is 1-1.5g of protein per kilogram of body weight.
High-Protein Foods
Tofu: 10-12g protein per 70g serving.
Tempeh: 15g of protein per 70g serving.
Chickpeas: 7-8g of protein per serving (around ½ a can).
Lentils: 6-7g of protein per serving (around ½ a can).
Edamame beans: 10g of protein per 80g serving
Carbohydrates
Carbohydrates are the preferred energy source for the body and the brain. There are two main types of carbohydrate: simple and complex.
Simple carbohydrates are foods that contain sugars that don't require much processing and act as a quick energy source. Examples include fruit sugars, sugar syrups and table sugars. Complex carbohydrates, like high-fibre foods and wholegrains, offer a more slow-release energy.
Healthy Carbs
Oats: Oats are a great energy source and can be eaten raw or cooked. Oats contain a type of fibre called beta-glucan which can help to support heart health. Ground oats can also be used as an alternative to wheat flour in baking.
Quinoa: Quinoa is not only a source of carbohydrates, but also an excellent source of protein. It is a naturally gluten-free grain, so suitable for those with coeliac disease or gluten intolerance. Quinoa can be used on its own, or mixed with couscous or oats to provide additional texture.
Potatoes: Potatoes are low calorie, low fat and are a source of both carbohydrates and fibre. Sweet potatoes have additional benefits, as its bright colours are associated with increased quantities of vitamin A.
Wholegrain breads: Opting for wholegrain or seeded breads increases both the fibre content and the nutrient density. Opting for wholegrain bread and cereal products is typically considered healthier than white breads and cereals which have been heavily processed. However, if you don't like brown bread, that's okay! Everything in moderation is an important aspect of a balanced diet.
Rice: One of the good things about rice is that it's easy to incorporate into almost any diet! While some carbohydrates can cause digestive discomfort due to their high fibre content, white rice is easy to digest and works well in a variety of meals.