Last Updated:
06/03/2023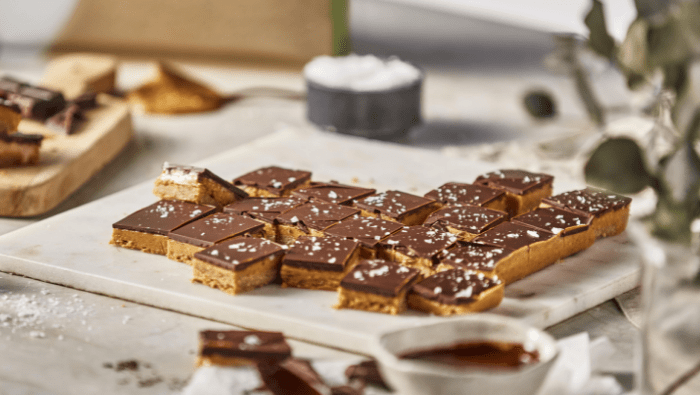 Where Did Millionaire's Shortbread Come From?
Shortbread originated in 12th century Scotland and was first made using oat flour. The simple combination of flour, sugar and butter meant it was a popular and accessible recipe. However, it didn't become popular to add sweet toppings like chocolate, candied fruit or almonds until the 1800s.
It's unclear exactly where the name 'Millionaire's Shortbread' came from, but it likely developed because the chocolate and caramel made it 'richer' than plain shortbread.
Why You'll Love This Recipe
This twist on the classic Millionaire's Shortbread uses a sweetened peanut butter filling instead of caramel. It's also completely vegan!
The added protein powder in the base makes this shortbread well-rounded and extra filling, and gives it a delicious vanilla flavour. And you won't need any fancy equipment either – just a baking tray and a couple of mixing bowls.
How To Make Vegan Millionaire's Shortbread
To make a vegan millionaire's shortbread you need a soft crumbly base, a sweet centre filling, and some smooth dark chocolate to spread on top. The ingredients are separated by layer to make this recipe as straightforward as possible.
This recipe will make approximately 20 Millionaires Shortbread bites when cut into pieces, depending on the size of baking tin used.
Equipment You'll Need
Two mixing bowls
Non-stick rectangular baking tray
Small saucepan and glass bowl (optional – see step 5)
Ingredients
For the base:
30g oat flour
80g agave nectar
For the centre:
30g coconut oil
80g agave nectar
For the chocolate topping:
10g coconut oil
100g vegan dark chocolate
Flaky sea salt (optional)