Craving something fruity? Introducing NEW Clear Vegan Protein summer flavours, in Watermelon and Raspberry Mojito! Refreshingly light and irresistibly juicy, these flavours are the perfect way to stay hydrated and boost your protein intake all summer long.
Whether you're sat by a pool, looking for a lighter post-workout option, or in need of a new summer thirst-quencher, Clear Vegan Protein is for you.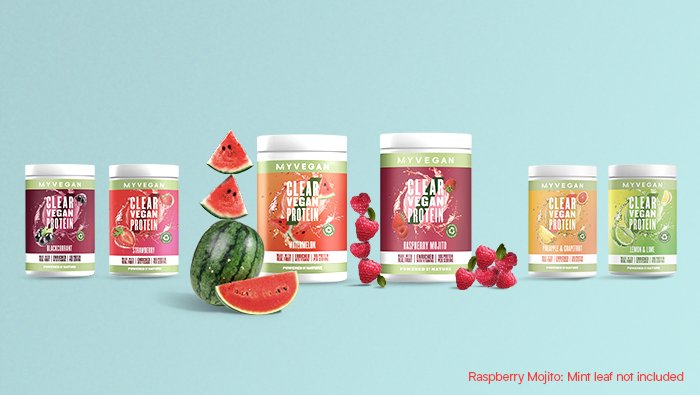 Here's why you'll love Clear Vegan Protein…
10g Protein Per Serving
Clear Vegan Protein is a much lighter and refreshing alternative to classic, creamy protein shakes. Harnessing the power of pea protein isolate, this fully dissolvable protein powder turns into a juice-like drink – packed with 10g protein per serving – ideal for anyone looking to support the growth and maintenance of muscle mass.1
Simply mix with water, shake it up, and thank us later.
Enriched with B Vitamins
Each delicious serving contains half of your recommended daily intake of B vitamins, which plays an important role in your overall health and wellbeing. This includes:
Pantothenic acid (B5) to support mental performance.2
Thiamine (B1) for your heart health.3
Vitamin B12 which plays an important role in immune health.4
vitamin B6 which contributes to a healthy functioning brain and helps to fight feelings of fatigue.5,6
Only 0.8g Sugar
Have a niggling sweet-tooth but want to curb those cravings? That's where Clear Vegan Protein comes in. Containing only 0.8g sugar, our new Watermelon and Raspberry Mojito flavours are a great option if you're trying to steer away from or cut back on sugar-laden drinks, to work towards your fitness goals. And lucky for you, it tastes just as good (if not better) too!
Tub 100% Recyclable 
Last, but certainly not least, the Clear Vegan Protein tub is made using 100% recyclable plastic, so be sure to pop it in your plastic recycling once finished!
Or, why not re-purpose the tub and use it as a storage container for pasta and grains, household objects, makeup, or whatever needs tidying away?
Shop the full Clear Vegan Protein range: