It's our aim to bust the myth that vegans have to settle for second best — especially when it comes to snacking.
Our range of plant-based treats covers every base, whether you're looking for something to brighten up your morning brew, or need options to satisfy those sweet tooth cravings. We've got you.
Here's a quick rundown of what we've got to offer…
The Pea-Nut Square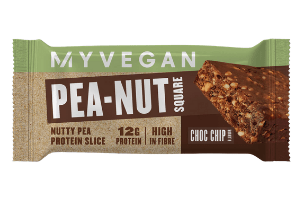 In need of a natural snack to see you through the afternoon? Our Pea-Nut Square is a solid choice that's sure to hit the spot, any time of day.
They're made with quality ingredients like smooth cacao butter, rich chocolate chips, and roasted nuts — plus they're gluten-free and contain zero artificial sweeteners. These are a tasty source of plant-based protein and fibre making them the ideal everyday snack.
Shop the Pea-Nut Square
The Vegan Protein Cookie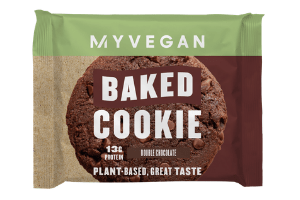 Now this is a cookie with serious bite. Trust us, after one of these there'll be no going back, and there's a high likelihood you'll be caught between wanting to spread the love and wanting to keep the whole box to yourself (we wouldn't even judge if it was the latter).
Rich and indulgent — it's everything you could want from a snack and more.  Oh, and each cookie is boosted with over 13g of plant-based protein, so hitting your daily requirements couldn't be easier.
Choose from 3 delicious flavours: Double Chocolate, Chocolate Chip, and Salted Caramel.
Shop the Vegan Baked Cookie
The Vegan Filled Cookie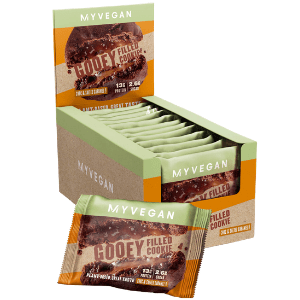 If you like our Vegan Baked Cookie, the you will love our Filled Cookie. Just like our original cookies, these are baked with a rich chocolatey dough, however these are filled with gooey centre – available in either Salted Caramel or Peanut Butter flavours.
This snack is low in sugar, completely palm oil free, and contain 13g of quality plant-based protein. If you didn't know the secret trick yet, microwave the cookie for a few seconds to create an instant cookie dessert with a melted caramel middle (you'll thank us later).
Shop the Vegan Filled Cookie.
The Carb Crusher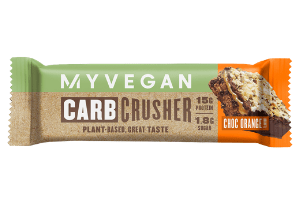 The Vegan Carb Crusher is our indulgent triple-layered bar that's low in sugar and packed with 15g of plant-based protein. Not only that, but it's also high in fibre and available in 4 mouth-watering flavours: Banoffee, Chocolate Orange, Chocolate Sea Salt, and Chocolate Peanut Butter. Which will you choose?
Shop the Vegan Carb Crusher
The Vegan Peanut Butter Cups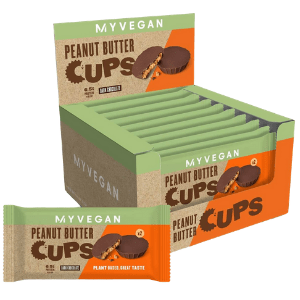 That's right. We've created an incredibly moreish snack that is perfect for those with a sweet tooth. Each Peanut Butter Cup has a soft peanut centre which is coated in a rich, dark chocolate outer shell.
These are completely free from any dairy, palm oil, or preservatives and each cup contains only 3.4g of sugar. As a source of healthy fats and fibre, this is the perfect vegan snack for those who love that salty and sweet combination.
Shop the Vegan Peanut Butter Cups
The Vegan Pancake Mix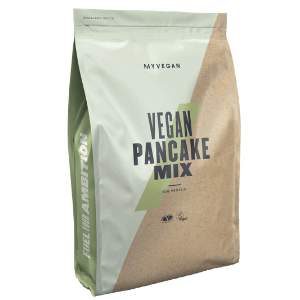 With this mix, you'll be whipping up a delicious stack of pancakes faster than you can say "brunch". Choose from two delicious flavours, Chocolate or Blueberry & Cinnamon, or go ahead and get creative with unflavoured — then get flipping.
You don't have to reserve these for special occasions either, as each serving is just 190 calories and comes packed with at least 20g of plant-based protein. A perfect fit for any diet plan or routine.
Shop the Vegan Pancake Mix
Take Home Message
If that lot hasn't got your mouth watering, we don't know what will. The only thing left to do is fill up that basket (if you haven't already) and get finding your favourite flavours. Whether it's lunch box fillers, cinema snacks, or post-workout pick-me-ups — you'll be sorted for every occasion.