Three ingredients and two minutes is all you need to whip up this refreshing, low-calorie frozen yogurt. Naturally sweetened with mixed frozen berries and Sugar-Free Maple Syrup (a zero-sugar and fat-free sweetener), it's a surefire way to satisfy your sweet-tooth cravings in a healthy, guilt-free way.
Whether you're after a light dessert or refreshing treat to cool-down post-workout, a few scoops of this frozen yogurt will hit the spot and then some.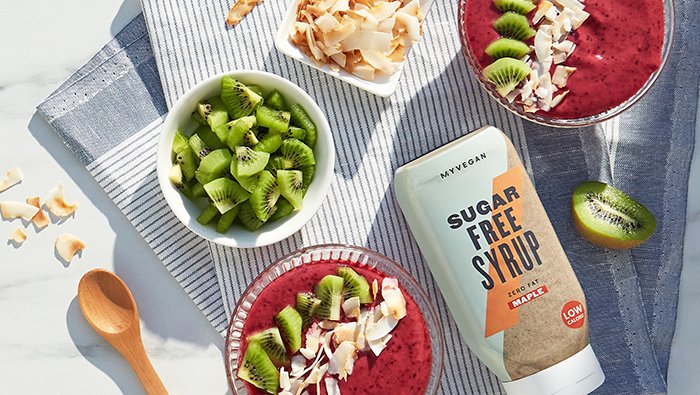 Plus, with a few simple switches you can easily make this recipe your own — just add a scoop of your favourite vegan protein powder, drop a few FlavDrops into the mix, or dress with your choice of toppings. Even the rookiest of cooks can't go wrong.
Mixed Berry Frozen Yogurt Recipe 
Ingredients
150 g frozen berries
65 g dairy-free yoghurt
1 tbsp. Sugar-Free Maple Syrup
Some kiwi (for toppings)
Some coconut chips (for toppings)
Method
Add all ingredients to a food processor – if using a blender then you may need to add more liquid for this to blend well.

Serve immediately or store in the freezer for up to 1 month. Top with kiwi and coconut chips to serve.
*Coconut yoghurt will make a creamier Fro-Yo than soy yoghurt, but either will work well.