Recipe by Maria Devine (AKA @mimismacros)
Celebrate World Environment Week with Myvegan by baking some tasty Protein Hedgehogs and their own Fudge Logs to sit on!
This years theme for world environment week is biodiversity which means the variety of all life on Earth. Nature provides us with a whole host of benefits including the food we eat, the water we drink, the clean air we breathe and medicinal resources. This recipe uses natural ingredients from nature to create an environment-themed recipe.
Packed with plant-based protein and organic superfoods, these sweet treats are almost too good to eat.
With two recipes in one, you can pick and choose which recipe you'd like to try or make both to create the full woodland scene! These vegan snacks are perfect for creating fun and cheerful themed bakes which are sure to bring joy to anyone who gets to make or eat them.
These Chocolate Almond Protein Hedgehogs and Adaptogenic Wood Log Fudge are both:
Vegan
Gluten free
Oil free
Refined sugar free
High protein
Not only do these two recipes use quality plant-based protein for a nutritious boost, but they are also packed with superfoods such as chia seeds, organic cacao powder and organic maca powder.
Both cacao and maca are known as adaptogens – a group of natural ingredients that help the body respond to stress by "adapting" to support the body's physical, chemical or biological needs.
What are the benefits of cacao?
Cacao is a hugely popular superfood due to it's rich source of minerals such as magnesium and copper as well as antioxidants. The Organic Cacao Powder in this recipe is a great low-sugar and dairy-free alternative to regular chocolate powder and helps to give the chocolate fudge it's raw chocolatey taste.
It doesn't just taste great – the iron, magnesium and copper found in cacao powder play an important role in the function of the metabolism.1 Iron also supports the immune system and can reduce tiredness and fatigue — helping you to stay feeling your best.2
What are the benefits of maca root?
Nicknamed the "superfood of the Andes", maca is derived from a small root vegetable which is typically grown at altitudes over 3,500 metres. It has long been used as an ingredient for its caramel-like flavour and associated health benefits.
The Organic Maca Powder in this recipe contains vitamin C which helps reduce feelings of tiredness and fatigue whilst supporting the immune system.3,4 Maca powder is also a great source of copper which is know to support connective tissue health.5
Discover the full two recipes below!
Chocolate Almond Protein Hedgehogs Recipe

Makes 12-16 hedgehogs
Macros: 1 of 16
125 kcal | FAT: 5g | CHO: 17g | PRO: 4g
Ingredients
1/2 cup almond flour
1 tbsp Organic Chia Seeds (crushed) + 3 tbsp water to make chia egg
3/4 cup Instant Oats
1 scoop Chocolate Vegan Protein Blend
1/2 cup coconut sugar
1/4 cup almond butter
1 tsp baking powder
1 tsp vanilla extract
squeeze of lemon juice
pinch sea salt
1/3 cup unsweetened almond milk
1/4 cup sliced almonds (for the spines)
Dairy free dark chocolate to dip the nose and form eyes
Method
Preheat your oven to 180°C and line a tray with non-stick baking paper.
In a large bowl, whisk together the lemon juice, vanilla, almond milk and the chia egg. Set aside for 10-15 mins.
Add the remaining ingredients (apart from the sliced almonds) and mix until smooth.
Start forming your hedgehogs and press the sliced almonds into the back to create the spines.
Transfer the hedgehogs onto your prepared baking tray and bake for 12 mins.
Leave to cool and enjoy!
Adaptogenic Wood Log Fudge Recipe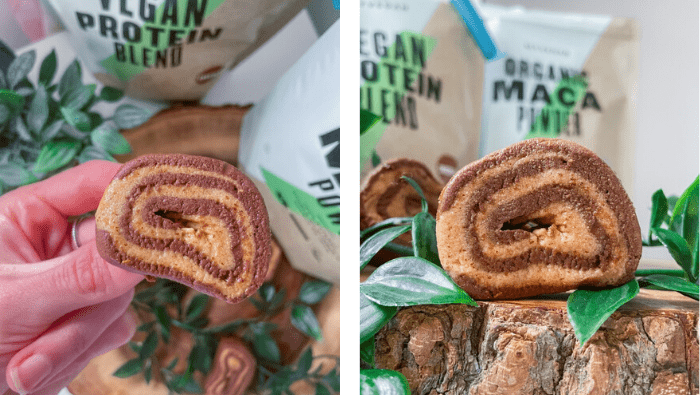 Makes 12-16 fudge pieces
Macros: 100 kcal | FAT: 4g | CHO: 11g | PRO: 6g
Ingredients
Chocolate cacao fudge:
Vanilla maca fudge:
Method
In one bowl combine all ingredients for the chocolate fudge and in another bowl combine the ingredients for the vanilla fudge (you may need to use your hands to form a dough).
Take some non-stick baking paper to place the chocolate fudge on.
Lightly dust a rolling pin with oat flour and roll out the chocolate fudge mix into a long rectangle.
Place the vanilla fudge mixture on top and roll to cover (the thinner you can roll the fudge, the more "tree rings" you will get inside).
Lift up the bottom piece of baking paper and begin rolling from one edge until you've made a solid log.
Refrigerate for at least 20 minutes so the fudge firms up.
Once slightly firm, remove and cut into circles and place back into the fridge for approximately 40 mins.
These fudge pieces are freezer friendly! Store in the fridge and enjoy at room temperature!