Easter is the perfect time to try a new recipe or two! Here are some of our favourite sweet treats to bake at this time of year, with a few top tips for each one.
Easter Overnight Oats
This recipe was made by @alicelovesbreakfast over on Instagram, who loves chocolate in the morning any day of the year!
Why You'll Love This Recipe
Chocolate is always great, but when you pair it with speculoos something really magic happens. If you're wondering what speculoos is, it's a flavour blend made with cinnamon, ginger and other warm spices.
How To Make Easter Overnight Oats
Overnight oats are super simple and easy to make in big batches to save for later. This recipe is only for one serving, but you can always scale it up if needed.
Equipment You'll Need
Ingredients
For the topping:
2tbsp dairy free yoghurt
75ml plant based chocolate sauce / pudding
Handful of vegan mini eggs
Method
1. Mix together the oats, cocoa powder, protein powder, maple syrup, dairy free yoghurt and dairy free milk
2. Leave to set in the fridge for a few hours or overnight
3. Top with 2 tbsp of yogurt and then your chocolate sauce / pudding
4. Finish with mini eggs and enjoy!
Baking Tips
You can used flavoured yogurt for an extra yummy twist.
Experiment with different flavours of protein to give yourself some variety.
Storage
Keep refrigerated in a glass or jar overnight.

Vegan Hot Cross Buns
No Easter weekend is complete without hot cross buns! So, of course, we had to include a vegan version of this classic recipe here.
Why You'll Love This Recipe
These delicious buns are lightly spiced and completely plant-based. Serve them toasty warm with a generous amount of jam or vegan spread for the perfect Easter breakfast.
How To Make Vegan Hot Cross Buns
This recipe makes 12 vegan hot cross buns. The recipe says to use raisins, but feel free to use any dried fruit you like, such as sultanas, dates or even candied orange peel.
Equipment You'll Need
Saucepan
Large mixing bowl
Baking tray
Piping bag
Ingredients
600g strong white flour
70g plain flour (for the cross)
300ml unsweetened plant milk
50g vegan butter
One sachet (7g) fast-acting yeast
70g caster sugar
100g raisins or mixed dried fruit
3 tsp cinnamon
½ tsp salt to taste
Jam, to serve
Method
Gently heat the plant milk and vegan spread in a saucepan until well combined and warm, but not simmering. Set aside.
Mix the string white flour, yeast, sugar and cinnamon in a large mixing bowl.
Make a well in the centre of the dry ingredients and slowly add the milk and butter mixture. Combine well until a sticky dough is formed.
Knead the dough on a floured surface until smooth and springy. Shape the dough into a ball and leave it to prove (rest) for at least an hour.
Add the raisins, knead again until evenly distributed, and leave it to prove for another hour.
Divide the dough into 12 equal portions and shape into buns. Mix the plain flour with a small amount of water to make a paste, then pipe a cross onto each bun.
Bake in the oven at 220°C for 15-20 minutes until golden brown.
Serve warm with jam or vegan butter.
Baking Tips
Add a teaspoon of nutmeg, speculoos blend, or pumpkin spice as well as the cinnamon for even more flavour.
Almond milk works best with the slightly nutty flavour of these hot cross buns.
Storage
Hot cross buns are best served fresh, but keep any leftovers in an airtight container in a cool, dry place.

Vegan Easter Biscuits
Use festive cookie cutters to add an Easter flair to this simple vegan biscuit recipe. Use icing to decorate them as rabbits, chicks, Easter eggs, flowers, or whatever you like!
Why You'll Love This Recipe
The best part about this recipe is how much room there is for creativity. Once the dough is ready, it's completely up to you how to shape and decorate the biscuits.
How To Make Vegan Easter Biscuits
This recipe makes approximately 16-18 biscuits depending on the size of cutters used.
Equipment You'll Need
Mixing bowl
Rolling pin
Cookie cutters, or paper templates and knife
Vegan icing and baking decorations
Ingredients
100g vegan butter or margarine
50g caster sugar
150g plain flour
10 drops Vanilla FlavDrops
Method
Cream together the vegan butter or margarine with the caster sugar.
Add the flour and stir together to form a dough.
Refrigerate the dough for about half an hour. Meanwhile, preheat the oven to 160°C.
Roll out the dough on a floured surface to a few millimetres thick. Use the cookie cutters or templates to cut out your desired biscuit shapes.
Bake for 12-15 minutes until golden brown.
Decorate with the icing and baking decorations, and enjoy!
Baking Tips
The recipe uses vanilla flavouring, but you could also add orange zest for a citrus twist, or a tablespoon of cacao powder for chocolate biscuits.
When cutting out the biscuits, any scraps can be kneaded together and re-rolled to avoid waste.
Storage
Store the biscuits in an airtight container in a cool, dry place.
Vegan French Toast
French toast, also known as eggy bread, is a sweet, satisfying breakfast guaranteed to keep you full all morning. Serve this plant-based take on French toast with syrup, berries or crumbled up Easter chocolate.
Why You'll Love This Recipe
Chia seeds form the vegan egg substitute in this 'eggy' bread. It's flavoured with cinnamon and vanilla to make it go perfectly with your favourite sweet toppings.
How To Make Vegan French Toast
The batter recipe makes plenty for one serving, but just add more plant milk and chia seeds to thicken if you want to scale it up. We've suggested 2 slices of sourdough bread per person.
Equipment You'll Need
Mixing bowl
Large frying pan
Ingredients
Method
To make the 'egg' mix, add the plant milk, Organic Chia Seeds, Vanilla FlavDrops and cinnamon to a bowl, and whisk well. Set aside for 5 minutes.
Dip the bread into the 'egg' mix, making sure both sides are thoroughly soaked.
Add your spread or oil to your frying pan, and heat until melted. Add your bread to the pan (it should sizzle as you put it in the pan) and fry for 5-6 minutes until golden brown. Flip the bread and cook on the other side for another 5-6 minutes.
Top with berries and a drizzle of Syrup-Free Maple Syrup.
Baking Tips
If you don't like the texture of chia seeds, experiment with different plant-based egg substitutes – just remember that some might change the flavour.
Putting the chia 'egg' mix aside for using it is what makes it set, so if the batter looks too runny, leave it for another couple of minutes.
Storage
Vegan French toast tastes best when served freshly cooked, but you could make the chia egg mix in advance and keep it refrigerated in a jar. This will make the mix slightly thicker though, so you may need to add a little more plant milk.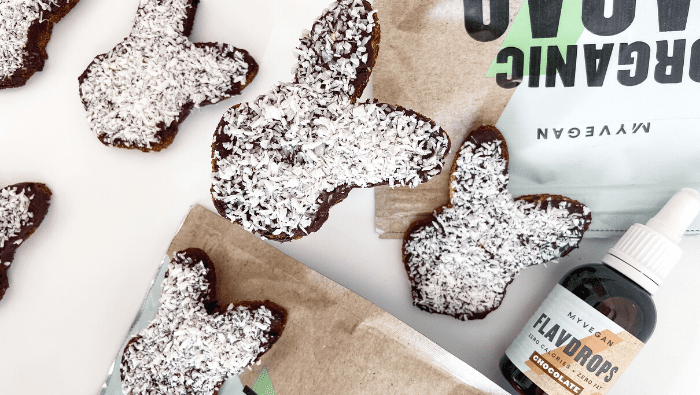 Bounty Bunnies
Is it really Easter without some bunny-shaped treats? These sweet snacks are flavoured with chocolate and coconut like the classic Bounty bar.
Why You'll Love This Recipe
These Bounty Bunnies are soft, smooth, creamy, and completely plant-based – what's not to love? The dough also includes a scoop of our Chocolate Vegan Protein Blend to make them super satisfying and add some extra nutrition.
How To Make Bounty Bunnies
This recipe makes approximately 10 Bounty Bunnies, but it will depend on the size of cutter/template you use.
Equipment You'll Need
Mixing bowls
Rolling pin
Bunny-shaped cookie cutters, or a paper template and a knife
Glass bowl and small saucepan (see step 5)
Baking tray
Ingredients
50 g coconut flour
20 g Organic Cacao Powder
30 g icing sugar / erythritol
1/2 tsp. baking powder
1 tbsp. dairy-free chocolate (melted and cooled)
180 g thick vegan yogurt
50 g dairy-free chocolate
20 g desiccated coconut
Method
Combine the wet and dry ingredients, until a dough is formed.
Flour the surface and roll out the dough.
Cut into desired shapes and bake in the oven for 16-18 minutes at 180C.
When ready, leave to cool completely.
Meanwhile, break the dairy-free chocolate into pieces and place into a heatproof bowl. Sit over a pan of barely simmering water and allow the chocolate to melt, stirring occasionally.
Decorate the bunnies with the melted chocolate and desiccated coconut. Enjoy!
Baking Tips
It's best to mix your dry and wet ingredients in separate bowls until well combined, before adding the dry ingredients to the wet to form the dough.
You can also melt the chocolate using a microwave if you prefer, just be careful that the chocolate doesn't burn.
Storage
Keep your Bounty Bunnies refrigerated in an airtight container or on a plate/tray covered with cling film to keep them soft.

Take Home Message
Whether you want to bake an Easter classic, or just fancy a delicious Sunday breakfast, we're sure you'll love these recipes.
If you bake any of these and share them on social media, remember to use the hashtag #myvegan so we can see your creations!
For more plant-based recipes, expert advice, and exclusive offers, subscribe to the Myvegan mailing list.
FAQs
When is Easter 2023?
Easter Sunday is on April 9th 2023.
What do people traditionally bake at Easter?
There are two main baked goods associated with Easter: Simnel cake and hot cross buns.
Simnel cake is a fruit cake with marzipan that was traditionally baked during Lent on Mothering Sunday, but has become common at Easter too. Hot cross buns have been baked on Good Friday since medieval times
What are classic Easter foods?
Besides the baked goods, the most iconic Easter food is the chocolate Easter egg. These days there are plenty of vegan and plant-based options available in white, milk or dark chocolate.