It's the time of year where we take a moment to celebrate the amazing women and motherly figures in our lives. Mother's Day is a special day dedicated to motherhood as a whole; this means being thankful not just for the mother's that brought us into the world but their mothers, grandmothers and any maternal bond that acts as a positive influence on our lives.
Traditionally, Mother's Day falls on a Sunday also known as Mothering Sunday, and although this has religious ties for some people, for many it has become a day simply to honour all things motherly.
To celebrate Mother's Day, the day often starts with showing the person you are thankful for that you care, by bringing them their favourite breakfast in bed or preparing them a surprise treat in the morning. We've compiled a list of some of our favourite vegan breakfast recipes for Mother's Day below. From decorative smoothie bowls to warm cinnamon rolls – find the perfect breakfast for that special someone.
10 Vegan Breakfast Ideas for Mother's Day
1. Pink Berry Banana Smoothie Bowl
Ingredients
2 frozen bananas
100g frozen mixed berries
1 scoop Coffee & Walnut Vegan Protein Blend
splash of oat milk/coconut water
Method
1. Blend everything together using a hand stick blender or regular blender until smooth and creamy!
2. Top with your favourite toppings!
2. Dairy-Free Cinnamon Rolls

If you want a Mother's Day breakfast that will also make the house smell amazing, then this is the recipe for you. The delicious smell of warmed cinnamon is enough to start any day well and not only that, but these rolls taste incredible too. These Cinnamon Rolls are completely dairy-free, plant-based, high in protein and also free from any refined sugar making them a tasty AND guilt-free breakfast treat.
Find the full recipe here.
3. High-Protein Vegan Blueberry Pancakes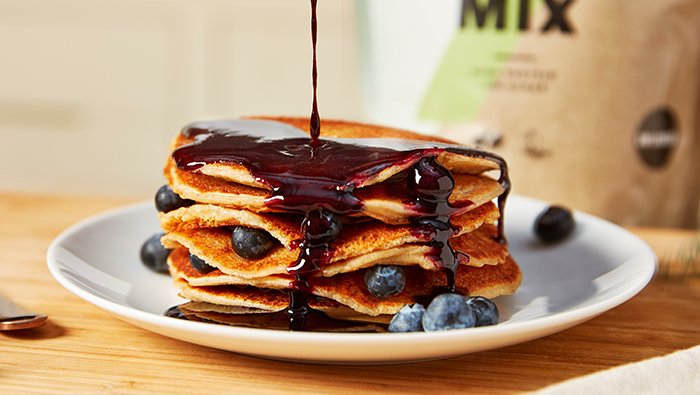 Ingredients
For the pancakes:
2 scoops Vegan Pancake Mix
150-200ml water or plant milk
1 tsp flaxseeds or Chia Seeds (optional)
coconut oil
For the blueberry coulis:
250g blueberries
100ml water
50g caster sugar
1/2 tsp lemon juice
Organic Maple Syrup
Method
Prepare the blueberry coulis for topping your pancakes by mashing the blueberries in a saucepan.
Combine the blueberries with the sugar and some maple syrup.
Add the water and lemon juice. Bring to the boil over a high heat, and stir occasionally.
Reduce the heat and simmer for approximately 15 minutes or until the coulis has thickened.
Remove from the heat and allow to cool.
For the pancakes, heat up a pan with a small bit of oil.
Blend together the ingredients to create a smooth pancake mix.
Pour small circles onto the heated pan and leave to cook.
Once the top of the pancake starts to change colour and bubble slightly, test the edges with a spatula to see if the pancake lifts easily. This means it's ready to flip. Avoid flipping the pancake too early!
Once both sides have cooked, stack your pancakes on a plate and add the coulis and your desired toppings.
Watch a video of this recipe here.
4. Apple, Cinnamon & Walnut Oats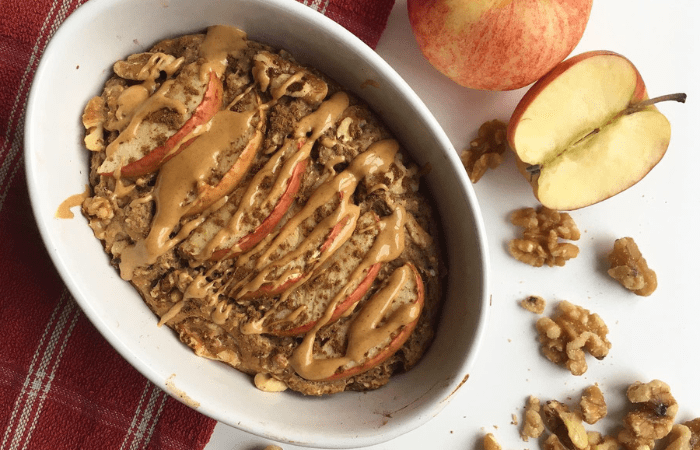 Apple and cinnamon is a well-known and well-loved flavour combination. This Apple, Cinnamon and Walnut Baked Protein Oats recipe creates a warming, comforting and nutritious breakfast that will go perfectly with a cup of tea or coffee.
Discover the full recipe here.
5. Granola Bowl
Ingredients
2 cups whole rolled oats
1/2 cup raw nuts (chopped)
1/4 cups sunflower and/or pumpkin seeds
1/2 cup dried fruit (chopped)
2-3 tbsp. Organic Maple Syrup
2 tbsp.  coconut oil
pinch of salt
Method
Preheat the oven to 150°C.
Mix together all the ingredients in a large mixing box until well combined.
Spread the granola mix into a thin layer on a baking tray lined with parchment paper.
Bake for 10 minutes until lightly toasted and leave to cool before serving.
Serve with plant-based milk and top with the chopped Peanut Butter Carb Crusher.
6. Instant Berry & Banana Cheesecake Oatmeal
Tight for time or left it last minute? Don't worry! This breakfast requires no baking, no refrigerating – it's read in minutes and tastes just like a breakfast cheesecake. If you Mum has a sweet tooth but wants something healthy and nutritious, this recipe is packed full of plant-based protein and topped with a banana and berries for some fresh fruit.
Ingredients
20g oats + water (about 75 ml)
20g Strawberry Cream Soy Protein Isolate + water
1 banana
1-2 biscuits
berries and/or sugar-free berry syrup
Method
Microwave the oats and water to make your oatmeal.
Mix the Soy Protein powder with water until it becomes a pudding-like consistency.
Mix the protein "pudding" and oatmeal together.
Top with banana, berries/sauce and crushed biscuits.
7. Fruity Chocolate Smoothie Bowl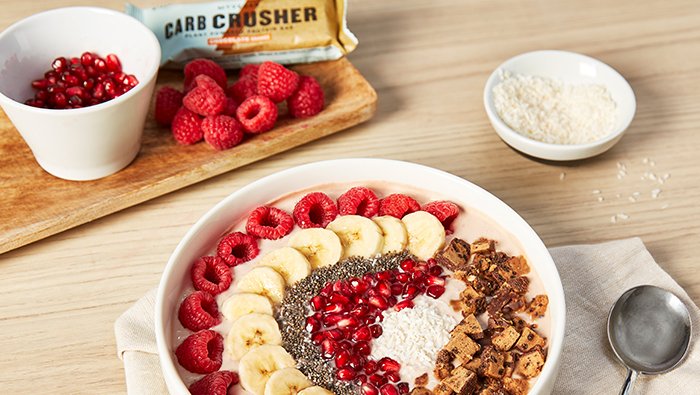 A smoothie bowl is the perfect breakfast to personalise as you can change the flavours and toppings to just about whatever you know your Mum loves most. In this example, we've gone for a chocolate smoothie topped with healthy chocolatey bites, berries, pomegranate seeds, chia seeds, and desiccated coconut.
You could even try decorate your bowl to have a message, heart or smiley face in it for an extra personal touch!
Discover the full recipe here.
8. Chia Pudding
Chia Pudding is an extremely nutritious breakfast thanks to the main ingredients – chia seeds which are nutrient dense and an all-round superfood. Chia Puddings can be made the night before Mother's Day, so you don't have to worry about getting up to early to make something fancy! Just bring it out the fridge in the morning, decorate with some tasty berries and a dollop of peanut butter, then serve with a fresh juice, smoothie or warm brew.
Ingredients
40g oats
30g Banana Vegan Protein Blend
10g Organic Chia Super Seeds
Method
Add everything into a jar or bowl and mix with water or plant-based milk.
Refrigerate over night and top with your favourite berries and our All-Natural Peanut Butter.
9. Acai Berry Bowl
This breakfast is vibrant, colourful, fresh and delicious. Freeze the fruit and cauliflower the night before and it will be chilled as soon as you blend it up the next morning. This acai berry bowl is packed full of protein and nutrients – acai berries are believed to be rich in antioxidants. This breakfast bowl is easy to make but will guarantee to impress.
Ingredients
Açai berry powder
1 frozen banana ⠀⠀
A handful of frozen cauliflower ⠀⠀ ⠀⠀
A handful of frozen mixed berries
1 scoop Soy Protein Isolate (Strawberry flavour)
150ml almond milk/water
Toppings:
Vegan Pea-Nut Square (Choc Berry flavour)
Blueberries
Organic Cacao Nibs
Method
Blend together all the ingredients and pour into a bowl.
Top with the berries, chopped Pea-Nut Square and Cacao Nibs.
10. 3-Ingredient Brownie Bites

These super-simple brownie bites can be whipped up in a matter of minutes and are a great little breakfast bite if the person you are making them for doesn't want something too big. Alternatively, you can turn them into an edible gift – wrap the brownie bites in a little box lined with tissue paper to give your loved one a sweet and home-made present.
Using just 3 — completely natural — ingredients, you can be confident that this recipe will satisfy your Mum's sweet-tooth cravings in a healthy, plant-powered way.
Discover the full recipe here.