Who isn't immediately transported back to their childhood with the taste of an Eton Mess? This plant-based recipe uses ingredients like aquafaba, coconut yoghurt and Strawberry FlavDrops for an ingenious alternative to the classic British dessert.
What is Eton Mess & is it vegan?
Eton Mess is a super-simple dessert and just consists of meringue, whipped cream and summer fruits. For vegans, it's off limits for a few reasons: eggs provide the base for the meringue and cream binds the dessert together.
Fortunately, we've mastered the perfect vegan Eton Mess that'll satisfy your sweet-tooth and it's surprisingly easy to make, too. 6 ingredient kind of simple.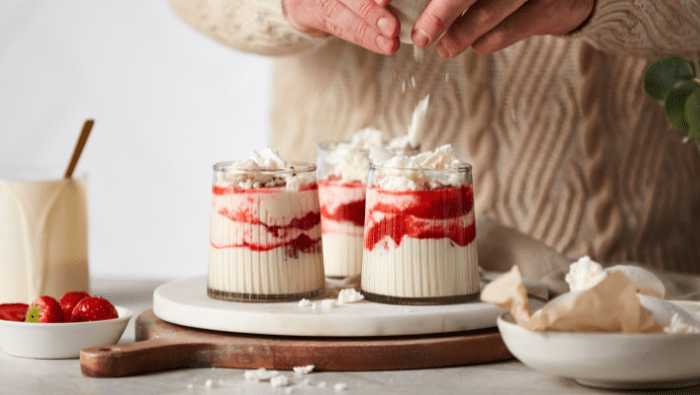 Feel free to use any other fruits in this recipe. Eton Mess is all about no rules, having fun, and making something delicious. Guaranteed to please both kids and adults alike, this recipe is too good to miss.
Vegan Eton Mess Recipe
Ingredients:
For the meringues: 
1/2 cup aquafaba
1 tsp. cream of tartar
4 tbsp. caster sugar
Remaining ingredients:
Method:
Make the vegan meringues: 
Preheat the oven to 100º C and line a baking tray with a fresh sheet of baking paper.

 

In a bowl beat chickpea water

along with cream of tartar

with an electric whisk until you get stiff peaks.

 

Add sugar very slowly, tablespoon by tablespoon, whipping well after each addition. Continue until all the sugar has been added. By now, the mixture should become beautifully glossy, thick and sticky.

 

Spoon the meringue mixture into a piping bag. You can also use a large ziplock bag, which you can then wash, dry and reuse for the same task in the future. Hold the bag perpendicular to the tray and squeeze small blobs of the mixture onto the tray and quickly pull away after each blob.

Bake for about 90 minutes, then turn the oven off but leave the tray with meringue drops inside with the oven's door slightly open for another 90 minutes for the meringues to dry out fully. Keep the meringues in an airtight container.
Assemble: 
Make the strawberry layer – in a bowl, chop the strawberries into small chunks, add the Strawberry FlavDrops and roughly crush with a fork.

 

Layer the coconut yogurt, some strawberries and crumbled meringue in serving containers. Lightly stir to "mess" up a bit!