This year, Green is the new Black.
Celebrate the power of plants and go green this Black Friday by joining in us in our biggest one yet! This doesn't just mean offering some of the best deals we have ever offered, but also launching some brand new and exciting products.
These brand-new innovations are game-changers when it comes to vegan and sustainable lifestyles, and we are excited to share them with you.
Whether you're looking to up your nutrition-game this World Vegan Month, stocking up of treats for Christmas, or just want to get your hands on the latest Myvegan creations, we guarantee this Black Friday won't disappoint.
Discover the full range here where you can find quality vegan supplements, plant-based protein powders, mouth-watering snacks and much more – all at amazing value.
We've listed some of our top picks for you to add to your shopping basket, including our new releases.
1. The Limited-Edition Discovery Box
We get it. Black Friday is overwhelming! So many new things and it can be hard to know what to choose. We've got you covered though, with our Limited-Edition Discovery Box. We have designed this collection to include 10 of our latest products and bestsellers so you're guaranteed to find something you love.
What's exactly inside? Each box contains samples of delicious snacks, proteins, supplements and we are also adding a Myvegan shaker with every box! The Discovery Box will let you try our brand new Blackcurrant Clear Vegan Protein, a fruity and refreshing protein drink. It also contains our new Vegan Protein Shake which is a convenient and delicious, ready-to-drink shake. You will also receive a selection of other popular vegan snacks, a sample of our classic Vegan Protein Blend, and 2 tubs of essential vitamins – Vitamin D3 and Iron & Folic Acid. It's really got everything you need!
Shop the Limited-Edition Discovery Box here.
2. The Eco-Bottle
Say hello to our latest Myvegan accessory – the Eco-Bottle. This is unlike anything we have ever launched before. Every bit of this bottle is created consciously and with sustainability in mind. It's Swedish design uses 98% sugar-cane biomass, which would otherwise have become waste, and a natural cork top.
What's more, each bottle is manufactured using more than 70% renewable energy, resulting in its carbon footprint being at net zero. This is the perfect present for yourself, or friends and family, and is a great way to stay hydrated throughout the day whilst doing your bit to be more environmentally-conscious.
Shop the Eco-Bottle here.
Related article: The Eco-Bottle | A Plastic-Free, Plant-Powered Bottle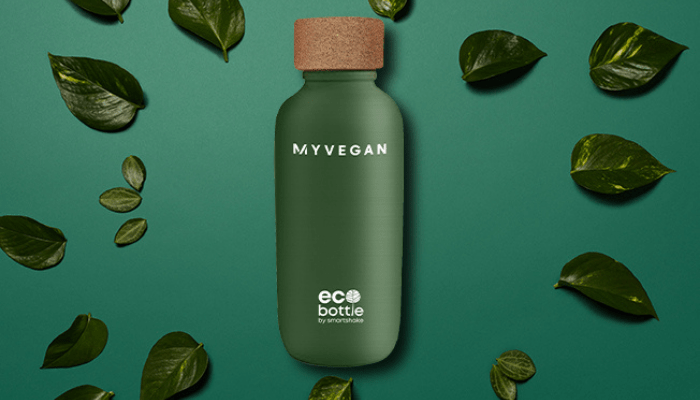 3. The Clear Vegan Protein – Blackcurrant edition
The Clear Vegan Protein just got darker…
Introducing the Blackcurrant edition – the 5th and latest addition to the Clear Vegan Protein collection. This game-changing protein drink is a world first, and is revolutionising the way people think about protein shakes and vegan protein.
Each serving contains 11g plant-based protein that has been formulated into a fully-dissolvable, refreshing, juice-like protein shake. It is also enriched with B vitamins including pantothenic acid (B5) which supports mental performance, and thiamine (B1) for your heart health.1,2
Shop the Clear Vegan Protein Blackcurrant here.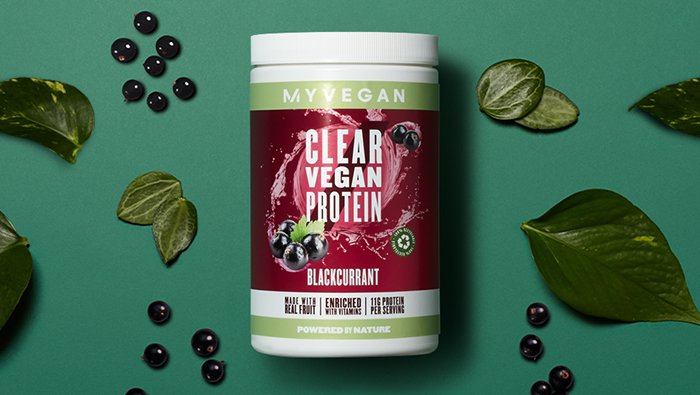 4. The Vegan Protein Shake
Brand new to the Myvegan range, the ready-to-drink Vegan Protein Shakes are the first we have ever launched. These are a convenient plant-based pick-me-up for when you're feeling peckish or don't have time to make an elaborate smoothie bowl.
Each delicious serving is made using a blend of quality almonds and pea protein, providing 11g of plant-based protein to help fuel your day, with under 175 calories.3
Choose from two delicious flavours – Chocolate and Strawberry. Both are naturally flavoured with either real fruit or cocoa solids, plus are sweetened with stevia and all-natural cane sugar, so you know they taste amazing as well as being nutritious. Which flavour is your favourite?
Shop the Vegan Protein Shakes here.

5. The Gooey Filled Cookie – Peanut Butter
You may or may not already be familiar with our bestselling vegan cookie range, but if you're not, you can thank us later. Our Gooey Filled Cookies were actually first launched this time last year to celebrate Black Friday 2019, but we have since added a new flavour to the range – Chocolate and Peanut Butter.
That's right, this rich, soft-baked cookie dough is filled with a creamy peanut butter filling to give the perfect balance of salty and sweet.
Each cookie is high in protein, low in sugar and completely free from palm oil, making it the perfect vegan snack to support an active lifestyle or simply to curb those sweet treat cravings.3
Shop the Gooey Filled Cookies here.

Summary
When Black Friday meets World Vegan Month, it's the perfect opportunity to try some new and innovative plant-based products. We've upgraded our protein collection with the addition of our Vegan Protein Shake. The world's first Clear Vegan Protein now has a 5th flavour – Blackcurrant! Plus, we have launched our first sustainably-made Eco-Bottle. If you aren't sure which products you want to try, then don't worry, we've thought of that too. The Limited-Edition Discovery Box has been designed to include a selection of 10 of our new products and bestsellers, so you're guaranteed to find something you love. So…what are you waiting for?