Black Friday, the holy grail of online discounts, is here once again. With huge offers across the range from delicious vegan protein powders and snacks, to essential vitamins and supplements, there's serious savings to be made.
We've rounded up our top picks for you to add to your shopping basket this Black Friday, including a handful of our best-sellers and latest product drops. Check them out below:
1. Clear Vegan Protein Powder
Craving something fruity? Choose from our range of Clear Vegan Protein Powders. This WORLD FIRST innovation makes a much lighter and refreshing alternative to classic, creamy protein shakes and fully dissolves into a juice-like drink – packed with 10g protein per serving, as well as half your recommended daily intake of essential B vitamins.
Shop the Clear Vegan Protein range here.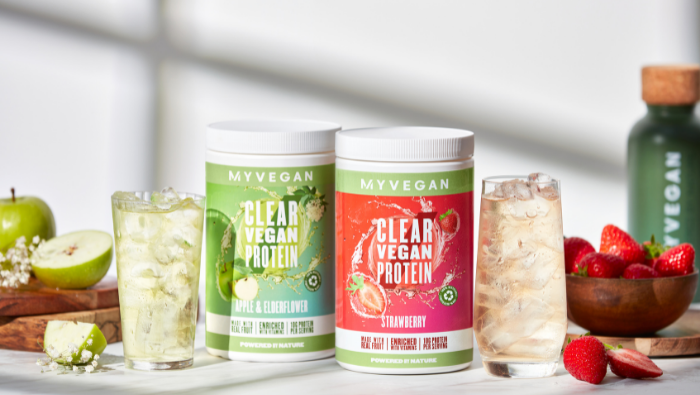 2. Gooey Filled Cookies (12 Pack)
Once you try one of these, there's no going back. You'll never want your biscuit tin to be without a Gooey-Filled Cookie again. With an oozy centre and a generous sprinkling of dark chocolate chunks, this is the perfect plant-based treat to satisfy your sweet-tooth and support your fitness goals all in one.
Available in two irresistible flavours – Salted Caramel and Peanut Butter – each cookie packs in 14g protein, is a great source of fibre, and contains only 2.63g of sugar.
Shop the Gooey Filled Cookies here.

3. Limited-Edition Christmas Gift Boxes
We get it… Black Friday is overwhelming! So many new products, it can be hard to know what to choose, whether you're shopping for yourself or a friend. We've got you covered though, with our limited-edition Christmas Snack Box and Sample Box. Each box will arrive in a festive sleeve and is filled with a selection of our plant-based goodies, so you can try a bit of everything from the range.
What's inside the Snack Box?
Vegan Carb Crusher
Pea-Nut Square
Gooey Filled Cookie
Baked Cookie
What's inside the Sample Box?
Pea-Nut Square
Vegan Carb-Crusher
Vegan Baked Cookie
Vegan Gooey Filled Cookie
Vegan Protein Blend
Vegan BCAA Sustain
Clear Vegan Protein Blend
Optional Myvegan Shaker
Shop the Limited-Edition Christmas Snack Box and Sample Box.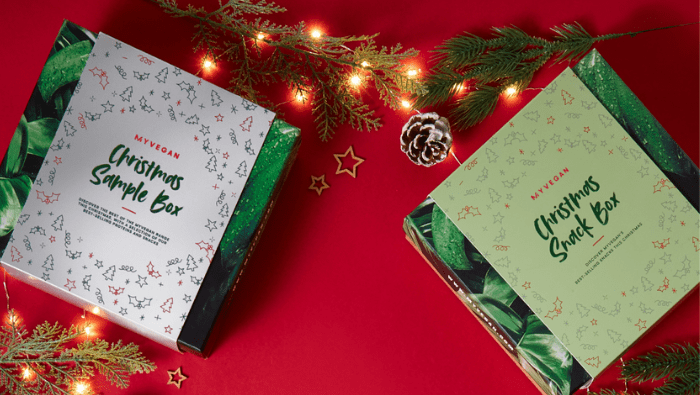 4. Choc Chew (18 Pack)
Small but mighty, our Choc Chew is a delicious plant-powered snack with a crunchy chocolate coating and a delicious caramel centre. Each bar is high in fibre, packed with 7.5g protein and contains only 95 calories – making it the ultimate guilt-free treat when hunger strikes.
With two sweet flavours to choose from – Caramel and Orange – you really are spoilt for choice.
Shop the Choc Chew here.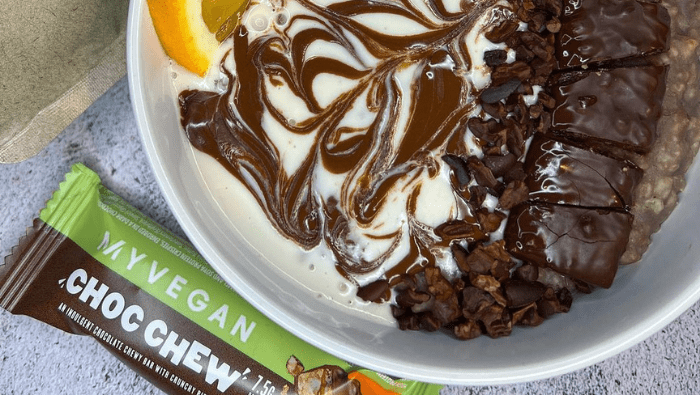 5. The Eco-Bottle
Stay hydrated with the Myvegan Eco-Bottle. Designed in Sweden and made in a factory which operates on more than 70% renewable energy – this is the perfect gift for yourself, or friends and family who're taking steps to become more environmentally-conscious.
What's more, the Eco-Bottle is composed of 98% sugar-cane biomass waste, it has a natural cork top, and is carbon negative in production.
Shop the Eco-Bottle here.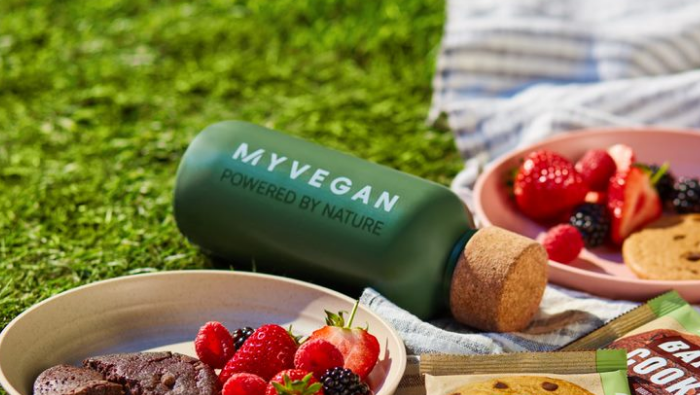 6. Vegan Protein Blend
Our best-selling Vegan Protein Blend is a sweet and simple way to help you hit your daily protein requirements, with a whopping 22g protein per serving. This complete protein source contains all nine essential amino acids that our bodies need, but can't produce on their own – as well as 5g of naturally occurring BCAAs – perfect whatever your fitness goal.
From classic Vanilla to indulgent White Chocolate Raspberry, the Vegan Protein Blend is available in 13 unbeatable flavours so you can mix things up depending on your cravings.
Shop the Vegan Protein Blend here.