Believe it – these Vegan Peanut Butter Cups are about to be your new go-to fridge/freezer snack.
---
Luscious, chocolatey, and filled with all-natural peanut butter, our 4-Ingredient Peanut Butter Cups are an incredibly easy homemade version of your favourite store-bought peanut butter cups. They are every bit as divine, and of course, vegan!
As well as tasting incredible, these vegan peanut butter cups are a great source of plant-based protein and healthy fats, thanks to the addition of our All-Natural Peanut Butter. Perfect if you're looking to support the growth and maintenance of muscle mass and feel fuller for longer, we guarantee that your workouts will be a little easier to get through when you have these little bites of heaven waiting at the end of them.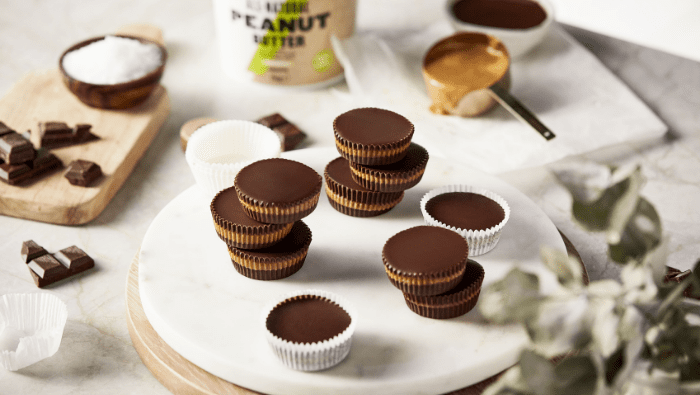 Whip up a batch ahead of your busy week and pop them in the fridge for whenever your chocolate cravings come calling (if you can keep them around that long!).
Peanut Butter Cups Recipe
Ingredients
Chocolate Layer 
1 cup dairy-

free

chocolate chips

 

1 tablespoon melted coconut oil

 
Peanut Butter Layer 
Method
Line a muffin tin with paper or silicone liners.

 

Melt chocolate chips and coconut oil over boiling water.

 

Using a spoon pour enough chocolate (about 1-2 teaspoons) to cover the bottom of the liner into each liner. Place tray into the freezer for about 5-10 minutes for the chocolate to set.

 

In another bowl, add Organic Peanut Butter, Sugar-Free Maple Syrup, coconut oil and sea salt (if using). Heat over boiling water and stir until fully melted and glossy. 

 

Remove cups from the freezer and pour peanut butter mixture evenly over each cup. Place back in the freezer to set for about 5 minutes.

 

Pour remaining chocolate over each cup, using just enough to completely cover the peanut butter layer. At this point you can also sprinkle flaked sea salt on top of the chocolate if you want.

 

Place tin back in the freezer for about 30 minutes to an hour to set completely. Remove from freezer and store in the refrigerator until ready to serve.