Recipe Maria Devine (@mimismacros)
Need a quick energy boost post-workout? Handy pre-workout snack? These soft and chewy stuffed date cookies are super easy to make, and will provide you with the ultimate energy and protein release. And with only 5 ingredients needed, even the most novice bakers will be able to pull this one out the bag.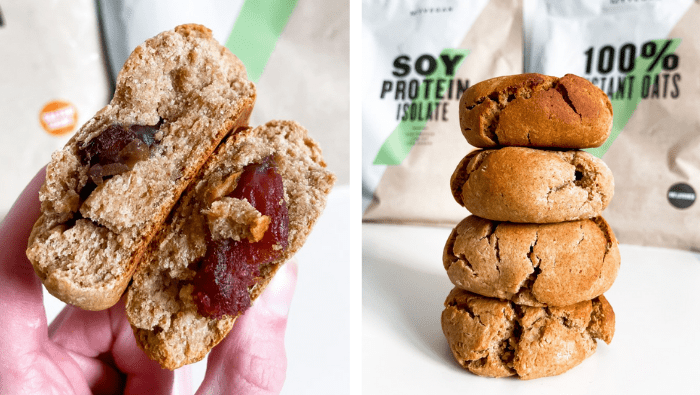 The sweetness from the dates, coupled with our delicious Salted Caramel Soy Protein Isolate, is a winning combo – providing an unbeatable taste and impressive nutritionals. Each cookie delivers 5g of protein and comes in at just 100 calories, which is ideal if you're looking to indulge while supporting your fitness progress too, as protein is key to the growth and maintenance of muscle mass1. What's more, dates might be small, but they naturally contain large amounts of:
Dietary fibre which is key to digestive health
Carbohydrates for a boost of energy
Make a batch of these stuffed date cookies ahead of time to prevent an afternoon slump or to enjoy as fuel pre or post-workout!
Stuffed Date Cookies Recipe
Serves 16
Macros: 100kcal | 17g carbs | 1g fat | 5g protein
Ingredients
Method
Preheat the oven to 180 degrees.
Pit and soak the dates in boiling water for 10 minutes.
Blend the mix (including the water) until a paste forms.
Add the oat flour, Salted Caramel Soy Protein Isolate and baking powder (adding more or less water) until you form a cookie dough.
Roll into balls and stuff the cookies with half a date.
Bake for approximately 20 minutes or until golden.