When you're hungry and looking for the perfect comfort dish, this creamy vegan mac & cheese is just the answer!
---
Plant-based, lactose intolerant or just looking to cut back on dairy? We've collaborated with Moving Mountains to create this creamy, dreamy mac that stands up to the real thing.
Made with wholesome ingredients such as velvety cashews, Flax Seed Powder, and topped with Moving Mountains' world-famous meatballs, you'll be going back for seconds and thirds.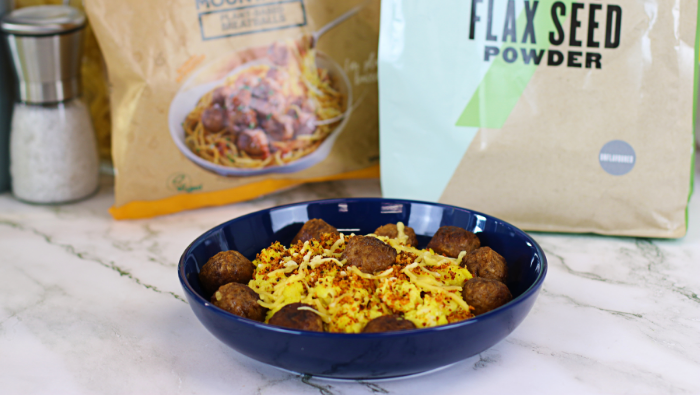 It's hard to believe this vegan mac & cheese is totally plant-based. It tastes just as indulgent and delicious as the classic, only completely free from any dairy products. It'll take you one forkful to be convinced, trust us.
Vegan Mac & Cheese Recipe
Serves: 4 | Prep Time: 10 minutes | Cook Time: 30 mins
Ingredients
1 pack Moving Mountains Meatballs
1 cup Myvegan Flax Seed Powder
Handful cashews
Macaroni pasta
1 cup flour
2 tbsp nutritional yeast
1 tsp paprika
1 tsp turmeric
1 slice vegan butter
1 cup premade breadcrumbs
2 cloves garlic
Method
Begin your mac & cheese by boiling your macaroni pasta and baking your Moving Mountains meatballs for 15 minutes in an oven dish. Whilst this cooks, make your cheesy sauce.
To start making the sauce, blend a handful of cashews and a cup of water to make the cashew milk. Then melt your vegan butter and garlic in a pan and add 1 cup of flour to form your paste. Add the blended cashew milk and slowly stir until a smooth sauce starts to form.
Next add your Myvegan Flax Seed Powder, nutritional yeast and turmeric to the sauce and stir until smooth. This will make the sauce extra thick and cheesy.
Once complete, add your cooked pasta and meatballs to the sauce, pour the mac & cheese into a baking tray. Top with shredded vegan cheese and bake for 15 minutes at 200 degrees, or until your cheese starts to bubble.
Whilst the mac & cheese bakes, grab a fresh pan and toast your premade breadcrumbs with your paprika. This will top your mac & cheese.
When your mac & cheese is ready, serve with your breadcrumbs and enjoy!