Leah Grace (@leahgracefitness) is a fashion student and fitness influencer documenting her health journey. New to the vegan world, Leah tells us how she was initially hesitant about going vegan, concerned it may impact her training. Now, however, she believes going vegan is actually very easy and she enjoys combining her passion for fitness and food to create delicious plant-based meals.
Read Leah's story below and discover what she finds easy and difficult about going vegan.
When and why did you choose to become vegan?
I've been vegan now for a month. It's definitely something that I have been thinking of doing for a while for the environment and animal welfare. The one thing stopping me was that I thought it would get in the way of my training as I thought I wouldn't be able to get enough protein in my diet. After speaking to other people within the fitness community about their positive experiences, it gave me the final push I needed to give it a go.
Did you notice becoming vegan had any positive effects on your health?
I definitely feel as though I am recovering a lot faster, and I seem to have more energy. In the past, when I ate a big meal, I would feel groggy and tired. Since turning vegan, I haven't had this issue anymore; each meal gives me energy.  
I am recovering a lot faster, and I seem to have more energy.
Do you find it difficult to get all the nutrients you need in your diet?
I'm personally finding it really easy as every day, I try and eat as many whole foods and fruit and veg as I can, which gives me the range of nutrients I need. In terms of protein, I'm still eating the same amount as I was before becoming vegan. I just focus on eating more legumes and high protein vegetables as well as having some soy products, which enables me to get the protein I need. I also take B12 and iron supplements to make sure I am getting enough of both of them.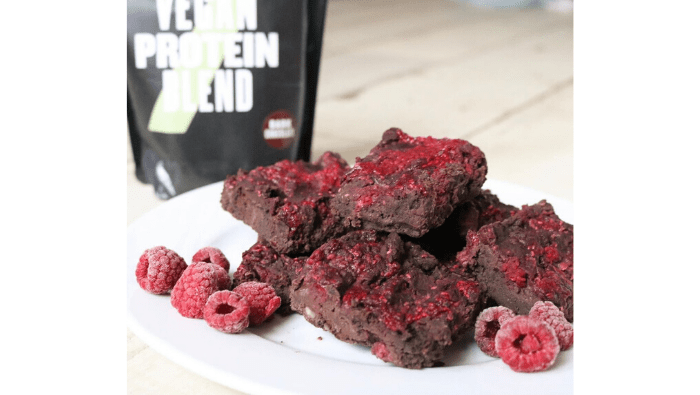 Dark chocolate and raspberry brownies – @leahgracefitness
What are your top 2 tips for someone who is considering trying veganism?
I think the thing that made it easiest for me was that I cut out dairy a few months before and sometimes ate vegan meals. I think this made my transition a lot easier as the only thing that I changed when I finally went vegan was I cut out meat, fish and eggs. I think if you take the time to slowly transition, you are much more likely to stick to it. My other tip is to create vegan alternatives to your favourite meals as it makes things a lot easier as you don't feel like you're missing out. 
Create vegan alternatives to your favourite meals.
What is your go-to Myvegan product and why?
It has to be the chocolate vegan protein blend. I honestly get through so much of it as I have the biggest sweet tooth, so love using it for baking with or adding into my oats as it means I get my chocolate fix while also sticking to my macros.

If you could give one piece of advice to your followers, what would it be?
I think if you're unsure whether or not to become vegan, it's a good idea to just try it out for a month. It makes it a lot easier when you set yourself a smaller goal as it seems much more manageable. Then, you can see for yourself whether it's something you'd like to continue. It really is a lot easier than you think! 
Finally, what's your ultimate favourite vegan meal? 
I've been really enjoying cooking vegan bolognese and adding in lots of beans and veggies. If you top it with nutritional yeast, you get the same cheesy flavour and is super delicious topped off with some crispy roasted kale!