Time for a challenge that lasts…
To celebrate hitting 25K followers on Instagram, we partnered up with Alexander Parr  (@alexandermillennial) – certified PT, founder of the Millennial Training Academy, and member of Team Myvegan. Together, we've launched the '25 For 25 Challenge' – a lockdown fitness challenge with a twist!
Unlike many other short, one-off challenges, this challenge is designed to create lasting and meaningful changes to your lifestyle. It takes approximately 21 days to form a new habit, which is why the 25 For 25 Challenge is designed to help you form a new habit you can continue past the 25 days. By being physically active consistently every day, will help towards maintaining a healthy, active lifestyle – even whilst stuck at home!
We have created 3 different versions of difficulty so anyone at any fitness level can take part.
This challenge is ultimately for you, however we know everyone needs a little motivation now and then which is why we introduced our BIGGEST EVER giveaway prize at the end of the 25 days PLUS extra prizes throughout the challenge [competition now closed].
Read on to find out everything you need to know about the 25 For 25 Challenge. Let's do this!
How to form a new habit?
You know what they say – Rome wasn't built in a day. To make true, meaningful changes to your lifestyle that are sustainable for the long-term, you cannot cut corners or take short-cuts. Persistence and discipline are key if you want to start something and continue it.
But don't let this put you off! The good thing about not being able to rush forming habits means you don't need to put yourself under the pressure of time. Simply make changes that are small and manageable so that they don't seem too daunting, however the one golden rule to stick by is consistency. Repeat these small and manageable changes every day, and the idea is that after 21 days you will have ingrained this new behaviour and it will be much easier to maintain for the long-term.
What is the 25 for 25 Challenge?
It takes approximately 21 days to form a habit, so we want to encourage our followers to get into a healthy routine at home by forming a new fitness habit that is achievable and also something fun to do in isolation.
Habits are all about consistency, so followers will have to do 25 reps of 2 exercises, every day for 25 days.
The 2 exercises are 25 burpees and 25 jump squats.
There are 3 levels of difficulty that you can do the 25 for 25 Challenge at, so anyone can challenge themselves – whether you're new to fitness or a seasoned athlete.
Beginner
Walk Backs – place your hands on the ground, walk your legs backwards and then back in to meet your hands, then stand up.
Squats – Stand with your feet shoulder-width apart, push your hips back, lower your body down then stand back up.
Intermediate
Burpee – Stand with your feet shoulder-width apart. Push you hips back, bend your knees, and lower into a squat. Place your hands on the floor and jump your feet back so you're in a plank position. Jump your feet back to either side of your hands, lift your hands above your hear and explosively jump into the air. When you land, immediately go back into the next squat and continue the exercise.
Jump Squats – After you've lowered yourself into a regular squat, push through the legs to explosively jump into the air. When you land, go straight into the squat of the next rep.
Advanced 
Burpee & Tuck Jump – A regular burpee with chest and thighs touching the floor and a tuck jump.
Jump Squats & Tuck Jump – A regular jump squat jump however tuck the thighs up the the chest as you jump.
Don't count the days. Make the days count.   – Muhammad Ali
25 for 25 Challenge FAQs
How do I win a prize? [

competition now closed

but feel free to still tag us and we might share it!]
Maybe you're doing this to form a healthy habit, or maybe you just want to win an epic prize. Either way, we are giving away some of our best ever prizes.
Follow @myvegan and @alexandermillennial on Instagram.
Join in the 25 for 25 Challenge by doing 25 burpees and 25 jump squats every day for 25 days.
Tag us (@myvegan and @alexandermillennial) and use the hashtag #25for25Challenge of you doing the challenge for a chance to win some special prizes! We'll be rewarding people who we see are challenging themselves and are getting involved in the community.
At the end of the 25 days we will be giving away our BIGGEST EVER prize as well as extra prizes over the 25 days!
Disclaimer: You can take part at any time in the challenge and still be in for a chance of winning a prize. Prizes will not be given based on fitness ability, but for effort, support and determination!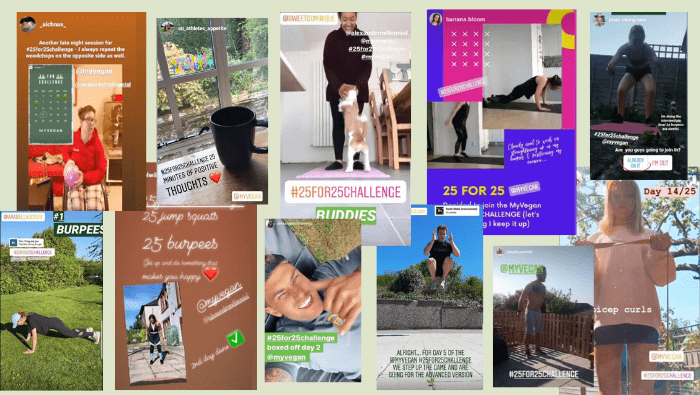 What if I missed the start?
 It doesn't matter! The most important thing about taking on this challenge is that you are doing it for yourself. You can start at any time and still mark off your progress each day. You can even share your progress on Instagram at any time too.
What if I can't do burpees/jump squats?
Don't worry! The 25 for 25 Challenge is ultimately about setting yourself a goal to create a new, healthy habit. We picked these two exercises because they are great compound movements meaning they use multiple different muscle groups. These are common challenging exercises that can be incorporated into many workouts or done on their own.
If you absolutely can't do burpees or jump squats, you can try the beginner variations or set yourself your own 25 for 25 Challenge. As long as your are challenging yourself, you can definitely still take part!
What if I miss one of the 25 days?
One of the biggest reasons people give up on forming a fitness habit is because they slip up, have a few days off and then lose motivation. However, the important thing to realise when this happens is that you are still further along than you ever were the day before, or 2 days before, or 5 days before. It is much better to allow the odd missed day and pick up where you left off, than to let a day off be the end of your work so far.
Whilst it's important to not be too harsh on yourself, there needs to be some discipline to push you through when it gets tough. The longer the pause is from forming your new habit, the harder it will be to get back into the routine and more of the progress that had been made so far will be lost.
So, get over that missed day or two and carry on!
You can use the below checklist (also in our Instagram stories) to track and share your progress. Simply cross off each day as you do it! Don't worry if you miss a day, but try your best to keep it up!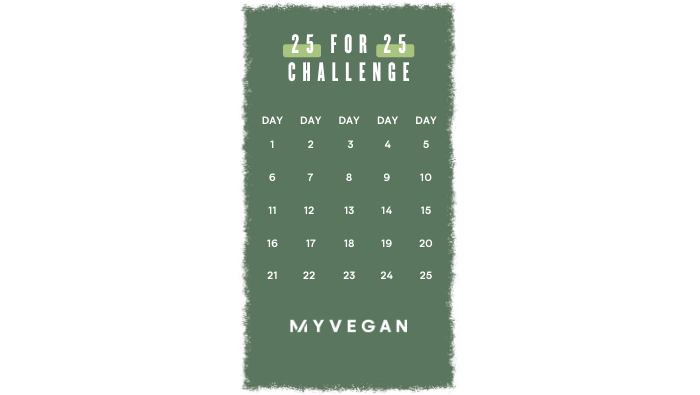 Well done to those who have already smashed it and good luck to anyone who wants to give it a go!