The quickest, easiest, and tastiest way to get your daily protein has arrived.
---
We are pleased to announce the launch of the newest ready-to-drink vegan protein shakes, available in Strawberry and Chocolate.
What are RTDs?
Ready-to-drink beverages, commonly known as RTDs, are prepared drinks that can be consumed immediately. This makes them an especially convenient snack choice for people on-the-go or who don't have time to prepare something. RTDs are often carefully formulated to have a specific nutritional composition, whether that be as a nutritionally-balanced meal replacement or a high-protein drink such as our Vegan Protein Shakes.
What are the Myvegan Vegan Protein Shakes?
Our Vegan Protein Shakes are RTDs that offer a tasty and healthy pick-me-up when you're feeling peckish. They are also an extremely easy and delicious way to get a boost of plant-based protein in your diet. This is important as the body requires protein in order to build and repair muscle tissue – especially important for anyone leading an active lifestyle.
We've launched our Vegan Protein Shakes in two classic and popular flavours – Chocolate and Strawberry.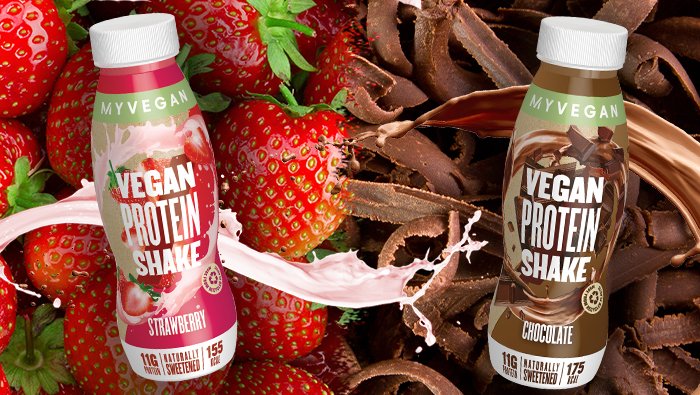 What are the benefits of the Vegan Protein Shake?
You wouldn't believe how many benefits are crammed into one 330ml bottle! The incredible team in our product development department have created a recipe that not only tastes delicious but has excellent nutritionals too. It's a healthy snack that won't derail your health or fitness goals.
So what's really so good about these plant powered shakes?
1. Did we mention that they're ready-to-drink?
This means no washing up the blender, no messy shakers, no measuring out ingredients – it's all done and prepared for you.
2. They're the perfect size.
You can pop a bottle in your bag and enjoy it conveniently on-the-go! Each bottle is 330ml which is just enough to fill you up without making you feel uncomfortable before the gym.
3. They're high in protein
Each bottle contains 11g of plant-based protein sourced from almonds and peas.
4. They're less than 175 calories
Unlike many sweet shakes, these Vegan Protein Shakes are less than 175 calories per shake​ meaning you can enjoy them whilst sticking to your macros and hitting those fitness goals. They also only have 1.3g saturated fat per serving which is great if you are looking to lose weight or cut down on fats.
5. They're palm oil ​free
You won't find any palm oil in these shakes. They're still thick and smooth without it.
6. They're naturally flavoured
Both flavours are flavoured with 100% natural flavourings. We've sweetened them using stevia, a sugar substitute derived from the leaves of the plant species Stevia rebaudiana. We've also added real fruit and cocoa solids for an extra tasty, all-natural flavour.
7. They're Informed Sports Tested
If you're an athlete, you can be confident that these Vegan Protein Shakes are tested and approved by the Informed Sports quality assurance team.
8. The bottles are 100% recyclable
Did you know these bottles are made from recycled plastic? This means they're also 100% fully recyclable, so you can make sure no waste ends up in landfill once you've enjoyed your drink.
9. They're Vegan Society Approved
Of course, these have the stamp of approval from the Vegan Society themselves. Only the best for the Myvegan community.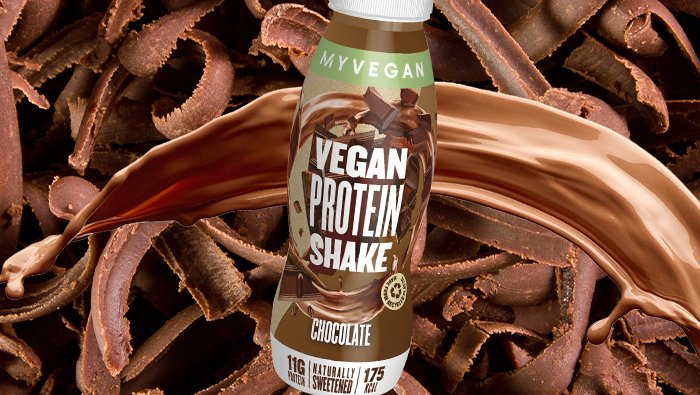 Who are Vegan Protein Shakes for?
Vegan Protein Shakes are perfect for anyone wanting a dairy-free, high protein, low fat drink. We've also made sure they are Informed Sports Tested which means they are tested and approved for any banned substances that might prevent athletes from competing. Being Informed Sports Tested means that anyone can enjoy them, regardless of what level of sport or fitness you are at – from professional footballers to hiking hobbyists!
When and Where to Drink them
The Vegan Protein Shakes can be enjoyed at any time of the day, anywhere. They make an excellent pick-me-up for when you're wanting a healthy snack. They're also good before or after a workout to supply your muscles with the protein they need to build and repair.
Top tips we recommend to enjoy your Vegan Protein Shake:
Shake well before opening (but with the lid on!)
Keep them chilled in the fridge for an extra smooth and tasty drink
Store them in a cool, dry place away from direct sunlight.
Once opened, keep them in the fridge and consume within 24 hours.
Once finished, put your bottle in the plastic recycling!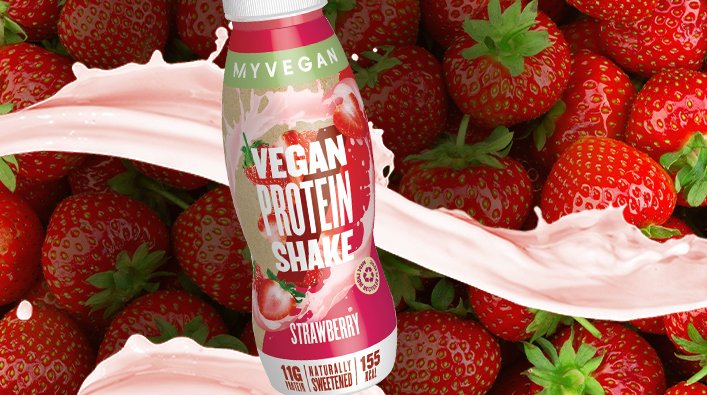 Vegan Protein Shake Nutritional Information
Per 100ml
Per Serving
Energy
223kJ/53kcal
736kJ/175kcal
Fat
1.9 g
6.3 g
of which saturates
0.4 g
1.3 g
Carbohydrates
5.2 g
17 g
of which sugars
5.0 g
17 g
Fibre
0.8 g
2.6 g
Protein
3.4 g
11 g
Salt
0.14 g
0.46 g
*Nutritional information based on the Chocolate flavoured product. When choosing other flavours, nutritionals may vary.
---
So what are you waiting for? Pick whichever flavour you like most (or both) and get ready to sip on your new favourite, sweet, healthy, creamy, plant-powered protein shake – what a mouthful!