Happy birthday to us!
That's right – Myvegan is officially 1 year old. That's 365 days of innovating and sharing game-changing vegan nutrition products. We've achieved a lot in our first year and it's all down to putting quality and innovation at the heart of everything we create, whether it's tasty new protein snacks, or the world's first ever Clear Vegan Protein.
To celebrate our birthday, we're holding a week-long party with some of our best ever deals as well as launching some brand new additions to our range of vegan products. When it came to creating something for our birthday, we couldn't think of anything better than returning to where it all began with our original bestseller, the Vegan Protein Blend.
The Vegan Protein Blend is our ultimate low-sugar, smooth-mixing plant protein and is incredibly versatile – it can be added to protein shakes, smoothie bowls, and even baking. Our range of flavours just got even more impressive, because to celebrate our 1st birthday we've introduced 3 new irresistible flavours.
3 new Vegan Protein Blend flavours
All three flavours contain 22g of quality plant protein, great for supporting muscle growth and repair.1 Not only that, but the protein contains all the essential amino acids your body needs making it a fantastic source of complete protein.
Discover the new flavours below:
1. Carrot Cake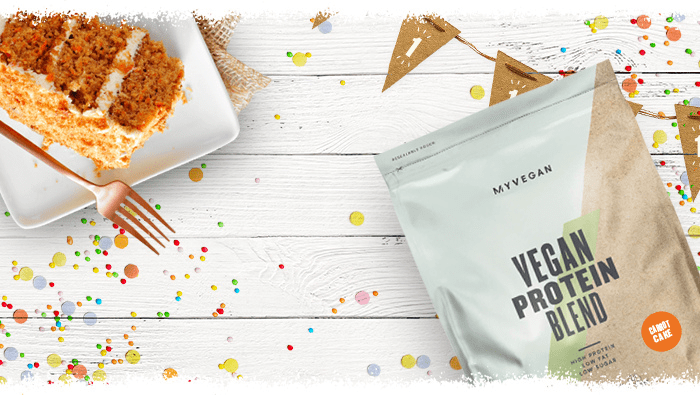 Every birthday starts with cake, which is why we had to include a cake flavour of our own. The Carrot Cake Vegan Protein Blend takes a classic cake flavour and transforms it into our sweet vegan cake shake.
The Carrot Cake Blend has a natural, subtly spiced sweet flavour that tastes exactly like the real thing – it's hard to believe there isn't an actual carrot cake in there! For those of you who like baking, this flavour is a must-have for creating high-protein, low-sugar bakes. You could even make an actual low-sugar carrot cake that you can enjoy eating whilst still working towards any fitness goals.
Shop the Carrot Cake Vegan Protein Blend.
2. Blueberry and Cinnamon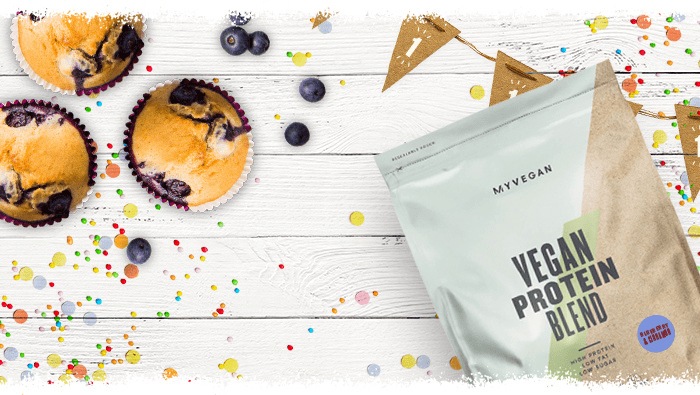 Blueberry and Cinnamon has to be one of the most classic flavour combinations there is. We all know that blueberry and cinnamon muffins are the best ones you can get, which is why we took this powerful flavour duo and created a Vegan Protein Blend flavour that is made for everyone.
This Vegan Protein Blend uses the real fruit juices from blueberries and compliments it with a warming taste of cinnamon – perfect for that comforting flavour of sweet and spice.
Try mixing it with plant milk for an extra creamy protein shake that will become your favourite afternoon snack or post-workout treat.
Shop the Blueberry & Cinnamon Vegan Protein Blend.
3. Cacao and Orange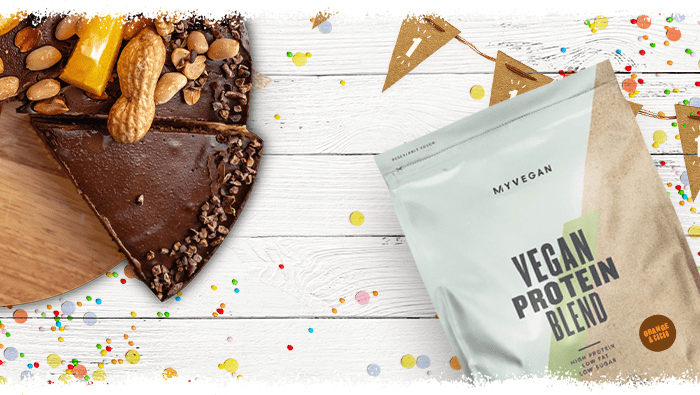 Okay, so when we said blueberry and cinnamon was a classic flavour combo, here's one that's even better. Cacao and Orange takes the indulgent chocolatey taste of real cacao and blends it with the natural sweetness of real orange juice. By using two incredibly delicious raw ingredients, this protein blend has an unrivalled taste and texture that will make it anyone's new favourite.
Just like the other two new flavours, the Cacao and Orange Vegan Protein Blend is fantastic for using in desserts and bakes, but also for adding a tasty sweetness to your morning porridge oats.
Shop the Cacao & Orange Vegan Protein Blend.
Limited-Edition Birthday Bundle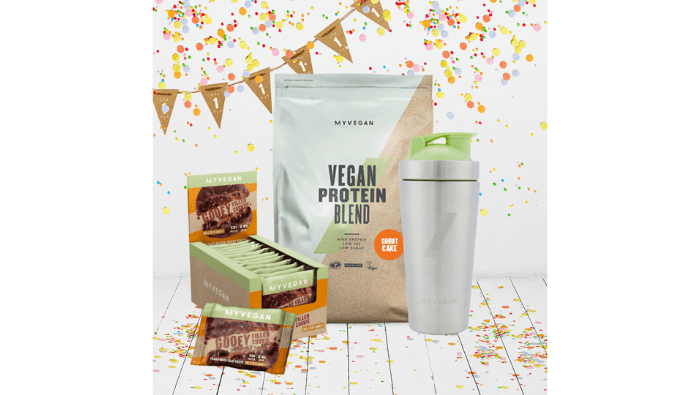 If three new Vegan Protein Blend flavours wasn't enough, we created a limited-edition bundle to commemorate our special day. The Birthday Bundle includes a bag of our new Carrot Cake Vegan Protein Blend as well as a shiny new Metal Shaker to enjoy it with. The bundle also contains a whole box of our hugely-popular salted caramel Filled Cookies because birthdays should be full of delicious treats!
This bundle is £48.97 but is actually worth £57.97 making it fantastic value for money. If you plan on trying out our new Vegan Protein Blend and stocking up on some protein snacks at the same time, then this bundle is a no-brainer money-saver.
Shop the Limited-Edition Birthday Bundle.
Summary
We're so excited to celebrate our 1st Birthday with not one, not two, but three new sweet flavours of our classic Vegan Protein Blend. These brand-new additions to the range are three of our most indulgent flavours to date and are perfect for creating healthy, high-protein desserts or breakfasts. These flavours were created for those with a sweet tooth but who also love the natural taste of spices and fruit.
Discover the rest of our full range here where you can find all 8 of our Vegan Protein Blend flavours, as well as our collection of quality vegan supplements, vitamins, and snacks.
Let the festivities begin!