Looking for a hearty vegan lunch or dinner? This Sweet Potato & Bean Burrito hits all the spots! 
---
If you're a fan of the Mexican cuisine, then you're sure to love this quick and easy vegan burrito recipe. Packed with delicious, nutrient-rich ingredients such as our Sweet Potato Powder and black beans, it's a great way to get more fibre into your diet, so you feel full and satisfied throughout the day! 
As well as being high in fibre, our Sweet Potato Powder is a great addition to a healthy balanced diet as a convenient low glycemic index carb source.1
The glycemic index (GI) is a measure of how quickly carbohydrates are broken down and absorbed by the body. Foods with a low GI foods take longer to be absorbed and can cause a slower rise in blood sugar, rather than a spike.  Carbohydrates are important as they help with muscle recovery after exercise or general physical activity.2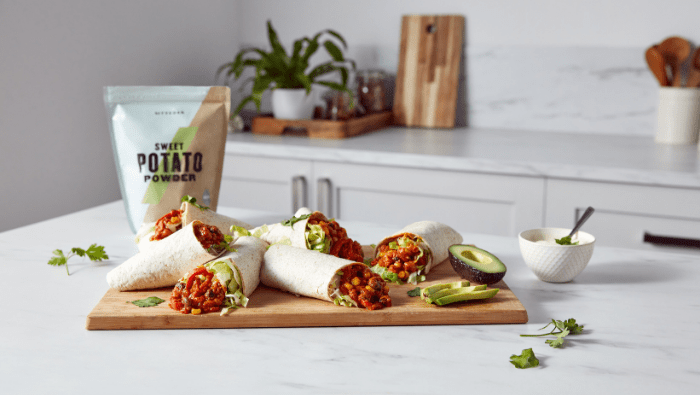 In addition to being a good source of fibre and carbohydrates, this burrito recipe is packed with plant-based protein from the black beans and healthy fats from the avocado. Avocado is typically high in the monounsaturated fat known as oleic acid (also found in olive oil) which is considered to have benefits to your overall health.3,4
This Sweet Potato & Bean Burrito is super affordable, and perfect to make ahead of time or on evenings where you're pushed for time.  With some simple cupboard essentials and a few fresh ingredients, this balanced meal is full of flavour and texture. This is a recipe you'll come back to again and again.
Sweet Potato and Bean Burrito Recipe
Ingredients
2 large wholegrain tortilla wraps
400 g black beans, soaked & rinsed
1 big yellow onion, finely diced
340 g sweetcorn
1 red bell pepper, diced
1 green chilli, deseeded and finely chopped
150 g chopped tomatoes
2 tbsp. Sweet Potato Powder
½ tbsp. cumin
1 tbsp. smoked paprika
Some salt
Some vegetable oil
100 ml of water
1 large ripe avocado
1 iceberg lettuce
5 tbsp. vegan mayo
Some coriander leaves
Method
In a big pan heat 3 tbsp. olive oil. Add the onions and fry until soft. Add red pepper, and sauté for another five minutes.

Add the chilli, beans, corn, tomatoes, and all the spices, stir well, cover and simmer for 5 min. Add the sweet potato powder and keep stirring until the mixture is thickened. Set aside.

Heat a shallow pan and warm each tortilla a minute at each side. When nice and warm place on a board and start assembling the burrito adding from the filling across the middle of the tortilla: First add and iceberg leaf, next to it and lightly on top add generously from the mixture, then few slices of avocado, drizzle with 2 tbsp vegan mayo and coriander leaves.

The filling shouldn't reach the edges of the tortilla because these are going to be folded over. Once those edges are folded, we fold the back of the tortilla up over the filling and then roll it up until there is a nice cylinder.

Cut it in two and serve.