Although dips are a great way of adding more variety and flavour to any meal or snack, many store-bought versions come with excess salt, sugar and preservatives. But what if you're looking to make healthier food choices – without compromising on taste? These easy vegan dips have you covered!
These vegan cream cheese and hummus dips are unique as they're made using a combination of superfoods and wholesome ingredients, to give you a real nutrient boost. And the good news is, they require absolutely no cooking or mess, and be whipped up in just 10 minutes!
1. Vegan Cream Cheese Recipe:
This recipe is the perfect vegan substitute for cream cheese. And whether you're plant-based or not, we encourage you to give it a try! Made using our Organic Hemp Seeds, it's never been easier to get more healthy fats, protein and essential minerals into your diet – without any fuss. It's super smooth and creamy in texture, and is a great way to enhance your savoury meals and snacks.
Ingredients: 
250g 

My

vegan

 

Organic 

H

emp 

S

eeds

 

Juice of 1 lemon

 

Juice and zest of 2 limes

 

1 clove garlic minced

 

Salt 

& 

black pepper to taste

 

1t

bsp

 high quality extra virgin olive oil

 

1/4 cup dill, tarragon, parsley

 or 

any herbs 

of your choice

 
Method: 
In a food processor

,

blend

M

yvegan 

Organic 

H

emp 

S

eeds, lime zest and juice, olive oil, and lemon juice until smooth.

 

Add salt

&

pepper to taste, one minced clove garlic and any greens you like to 

flavour

 the mixture

. 

Blend until smooth.

 

Serve as a dip with crudites.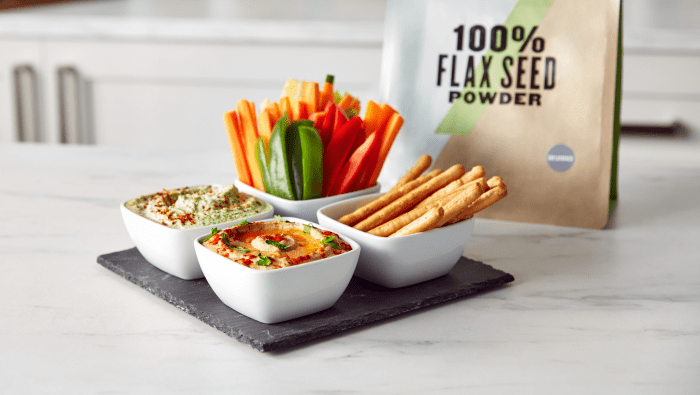 2. Chickpea Hummus Recipe:
This chickpea hummus recipe is perfect for spreading in sandwiches, dolloping on top of your lunch, or dipping in vegetables & crackers as a snack! Thanks to the addition of our Flax Seed Powder, this recipe provides an excellent source of fibre, protein and essential fatty acids, which play all an important role in our overall health.
Ingredients: 
2tbsp Myvegan Flax Seed Powder
2 x 400g cans of chickpeas (reserve the liquid and a few chickpeas for decoration)
4tbsp tahini
2 garlic cloves, crushed
1tsp salt
4tbsp extra virgin olive oil (plus extra for drizzling)
4tbsp freshly squeezed lemon juice
Smoked Paprika (optional)
Coriander or parsley leaves (optional)
Method: 
Rinse the chickpeas in cold water and

place

into the food processor. Add the tahini, crushed garlic, salt, lemon juice, 6 tablespoons of the reserved liquid from the chickpeas, the olive oil and

My

v

egan

 Flax 

S

eed 

P

owder.

 

 

Blend

ingredients until the hummus is fully combined and smooth, and tip into a serving dish.

 

Drizzle with some more extra virgin olive oil and decorate with a few whole chickpeas.

Sprinkle with paprika and finely chopped coriander or parsley leaves. Serve with crudites.