Introducing the latest edition to our delicious, plant-based snack range: the indulgent, yet guilt-free Choc Chew bar available in Caramel and Orange.
With a crunchy, chocolatey coating and chewy, caramel centre – this bar is the perfect pick-me-up at any time of the day – whether you're at your desk or on-the-go.
And the best part? Not only does our Choc Chew deliver on both taste and texture, it boats impressive nutritionals too! Here's everything you need to know…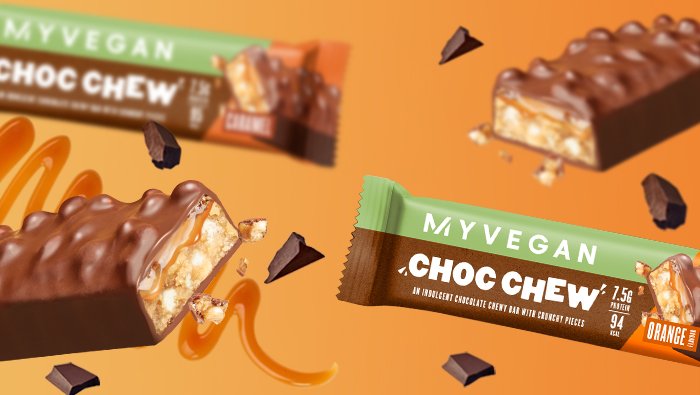 High-Protein
If you're looking for an easy and delicious way to boost your protein intake, look no further! With 7.5g protein per bar, Choc Chew is an ideal post-workout snack to support the growth and maintenance of muscle mass.1
Want to get even closer to your fitness goals? Pair Choc Chew with your favourite vegan protein shake and you'll be well on your way to hitting your daily requirements!
Less Than 100kcal
We all know that making it through the afternoon without reaching for a handful of something can be a little challenging. But, instead of reaching for unhealthy vending machine nibbles, try our 95kcal Choc Chew – the ultimate, guilt-free treat when hunger strikes.
High-Fibre
Did you know, we should be aiming to consume 30g fibre per day as part of a healthy and balanced diet? Despite this, most adults are only eating an average of 18g per day, meaning it's super important to find ways of increasing our intake.2
If, like many, you struggle to meet the recommended daily requirement, Choc Chew can be a great option for you. With 6.8g of fibre per bar, it's never been easier or tastier to get an extra boost of this essential nutrient!
Which flavour will you chews?
Our Choc Chew is ready to stock in your cupboards now, so pick your favourite flavour (or go for both!). Satisfy your sweet-tooth, stay on top of your macros, and dip your toes into the plant-based lifestyle… So what are you waiting for?