Say hello to our ambassador, Zanna Van Dijk (@zannavandijk). 
Zanna is a Yorkshire–born content creator and co-founder of Stay Wild Swim, a sustainable and ethical clothing brand. Since launching her blog many years ago, Zanna has become one of the most recognised voices in health and fitness, offering inspiration and valuable resources for a more healthy, sustainable, and adventurous lifestyle.
We caught up with Zanna so you guys can get to know her a little better, and so she can give you some useful nuggets of advice – from transitioning to a plant-based diet to living more sustainably.

1. Tell us
a little about you.
I'm Zanna, a 28-year-old content creator and co-founder of Stay Wild – a sustainable and ethical clothing brand. I live in Surrey with my boyfriend and cat. I am passionate about getting outdoors, moving my body and eating more plants.   
2. How long have you been plant-based
&
 what influenced your decision? 
I have eaten a plant–based diet for over 3 and a half years now. My beliefs first got challenged when I watched a series of Netflix documentaries – the usual culprits such as Cowspiracy. Then I went on a deep dive into books, articles and podcasts. One book which really changed my life was Eating Animals, the day I finished the last page was the day I went vegetarian.  
3. What was
your transition to a plant-based di
e
t
 like?
It was slow and steady. Before I moved to a plant–based diet I was a heavy meat eater with the mentality that a meal was incomplete without meat, so it took some time to shift my perception! I first started by reducing, then going veggie and slowly moving towards fully plant based – which probably took about a year. Then I went on a trip for three weeks and challenged myself to eat fully plant–based while I was out there, it was a success and I have stayed plant–based since then, that was three years ago.   
4. Have you experienced any health
 benefits
 from 
eating more plants
?
If I am 100% honest, since my transition was so slow it was hard to notice any distinct impacts of eating more plants. I feel the same as I did when I ate a standard Western diet – energised and healthy. A couple of things I have definitely noticed change though are my hair, skin and nails – which have improved – and also my recovery time from workouts. I bounce back super-fast after training and my body feels very resilient.   
5. W
h
ich are your
f
avourite
Myvegan
 product
s
 right now
?
The Salted Caramel Baked Cookies are my current go-to snack, and for protein I am loving the Coffee Walnut Vegan Protein Blend in a morning smoothie with a shot of espresso. Dreamy.   
6. How did you first become interested in sustainability?
It was a natural progression from going plant–based, once your eyes open up to all the issues in animal agriculture, you then start questioning everything! Many of the books I read about farming discussed the environments so it started there. I have a tendency to throw myself into things I find interesting, so I disappeared into a black hole of sustainability content, books and podcasts for a couple of years. Now I have a more balanced approach to sustainability and keep myself up to date with the latest developments, but I am not obsessed like I used to be!   
Once your eyes open up to all the issues in animal agriculture, you then start questioning everything!
7. Can you give your top tips for l
i
ving more sustain
ably? 
Switch to an ethical bank, so your money isn't funding unsustainable industries.

 

Move to a reusable energy supplier at home.

 

Eat more plants and less animal products.

 

Buy secondhand where possible.

 

Reduce your single use plastic consumption.

 
8. Pitta and hummus or peanut butter & jam
on
 toast?
GUYS! You can't ask me that, that is like choosing between my two favourite foods in the whole entire world!! If I absolutely had to… pitta and hummus.   
9. Tell us about Stay Wild Swim and what brought you to create the brand
.
Stay Wild is my passion project – a sustainable and ethical clothing brand which produces its pieces in London. My business partner and I saw a gap in the market for a premium sustainable brand in this space so we jumped at the chance. We focus on swimwear and beachwear but recently branched into ethical underwear too! Every single element of Stay Wild has the planet in mind from the stitching and fabrics through to carbon neutral shipping and compostable hygiene liners. 
10. How did you get into fitness?
My boyfriend at university was into bodybuilding so he introduced me to the gym. He showed me the basics of lifting weights and taught me about the "clean eating" movement which was happening at the time. We broke up a few months later but my interest in fitness stuck around.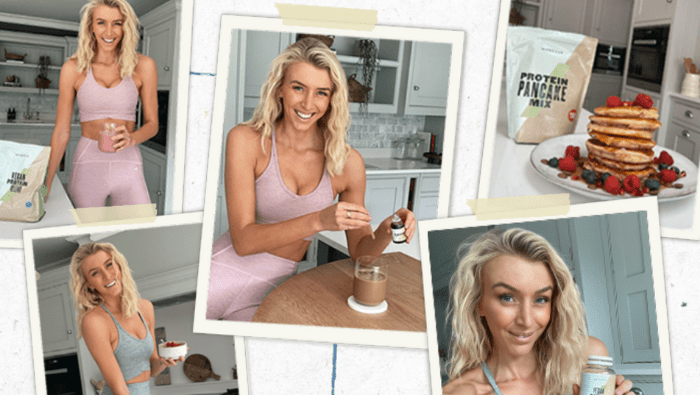 11. H
as your relationship with fitness changed over the years
, and what is your current routine like
?
It has changed hugely over the years. When I first started out, I had an approach focused around bodybuilding, clean eating and tracking my macros. There's nothing wrong with that lifestyle, but fitness soon went from being my whole life to just an element of my life. After years of evolution, with phases focused on heavy lifting, running and gymnastics in the mix, I have ended up where I am now. I have a relaxed and intuitive approach to fitness. I train around 5 days a week and do what feels good, which is usually 2 strength sessions and 3 circuit-based sessions. I haven't tracked my food in years and I also love long walks as a form of exercise. 
12. What are you reading right now?
Ghosts by Dolly Alderton – I am a big fan of Dolly's work so can't wait to finish the whole book!   
13. You have a passion for travel – what
 do you love most about 
it? 
Travel is one of my biggest passions and I love nothing more than exploring new destinations. Perhaps my favourite element is discovering the natural beauty of a country. Whether that's hiking through mountains, scuba diving in crystal blue oceans, skydiving over expansive lakes or kayaking through dense mangroves. Nature is always the highlight of my trips. Nature and the people you meet in it! 
14. Where is your dream destination and why?
Canada. For the epic mountains, hiking and helicopter rides.

 

Japan. For the culture, food and natural beauty.

 

Tonga. To swim with wild humpback whales.

 

 
15. Finally, w
hat's 
one promise you'd like to make for future Zanna? 
I promise myself that when the pace of the world picks up, I will still allow myself space to breathe. The current situation means that I have more time to look after myself, to get outdoors and to do the things I always wished I had time to do – take baths, call my parents, watch TV with my boyfriend. When the world goes back to "normal" I want to promise myself to keep a little time aside for these things, as they're good for my soul. 
Shop Zanna's Favourites: