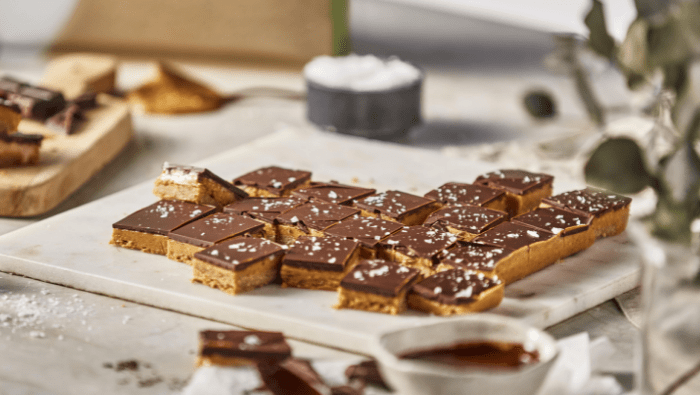 Made using our best-selling Vanilla Vegan Protein Blend and Organic Peanut Butter, these little bites of heaven are the perfect way to curb your sweet cravings and hit your protein requirements in a (seriously) tasty way.
Scrap whatever you had planned for today, these deserve to be top of your to-do list.
High-Protein Millionare's Shortbread Recipe
Ingredients:
For the base: 
30g oat flour

 

4 tablespoons agave nectar

 

120ml almond milk

 
For the caramel: 
30g coconut oil

 

80g agave

 
For the chocolate: 
10g coconut oil, melted

 

100g dark chocolate, melted

 
Method:
Combine the base ingredients and bake in the oven at 180 for 8 minutes.

 

Wait until the base has cooled then mix together caramel ingredients and drizzle on top, freeze for 20 minutes.

 

Melt the chocolate and coconut oil together until smooth, pour over the bites and pop back in the freezer for another 20 minutes (or until the chocolate has hardened).

 

Sprinkle with sea salt crystals, slice and enjoy!