Recreate a takeaway classic — but with a healthier twist.
---
Spring rolls make the perfect light dinner option or even as a side dish. You can make your very own spring rolls with your favourite fillings plus a home-made satay sauce to dip them in.
With this recipe, you can enjoy the flavours of a delicious takeaway whilst keeping to a healthy, varied diet. These vegan spring rolls use a mix of colourful, fresh vegetables mixed with vermicelli noodles and herbs.
This satay sauce recipe will become your absolute favourite – it is packed full of flavour and is incredibly moreish. It goes perfectly with these spring rolls, plus there's something satisfying about dipping the spring rolls in your own home-made sauce.
You can impress friends and family who will be fighting over the last spring roll. You can even make these spring rolls with them and make a fun experience out of building and rolling up your own spring rolls!
Get experimenting with your own fillings and add in your own favourite veggies.
Happy rolling!
Fresh Vegan Spring Rolls with Satay Sauce Recipe
Ingredients
For the spring rolls:
100g vermicelli noodles
10g fresh coriander (finely chopped)
10g fresh mint (finely chopped)
1 tbsp. light soy sauce
8 sheets round rice paper
Water
1 carrot (peeled & julienned)
½ cucumber (julienned)
1 yellow pepper (julienned)
1 red pepper (julienned)
¼ red cabbage (julienned)
Handful lettuce leaves
For the satay sauce:
125g All-Natural Peanut Butter (if you have a nut allergy, try switching this for tahini!)
1-piece fresh ginger (peeled & minced)
2 tbsp. lime juice
2 garlic cloves (minced)
1 tbsp. sweet soy sauce
1 tbsp. sesame oil
4 tbsp. hoisin sauce
1 red chilli (finely chopped)
Method
First, prepare the noodles by adding them to a large bowl and mixing through the chopped coriander, mint, and light sauce soy sauce. Set aside.
Julienne (chop into thin strips) the different vegetable fillings into and lay them out alongside the round rice paper on a plate and the prepared noodle mix, so you are ready to build your spring rolls. You'll also need a shallow bowl or dish of water prepared too.
Next, fill a shallow bowl with water and soak a single sheet of rice paper briefly for 30 seconds.
Remove the paper gently, being careful not to tear it, then place it on top of a damp, clean tea towel. This is a good surface to build your spring rolls on as it helps to prevent the rice paper ripping or sticking.
Now you're ready to build your spring rolls. Lay some of the fillings in the centre of the rice paper. Make sure to leave about a 2cm gap at either end of the fillings to give yourself room to fold the paper over. Top your veg with the lettuce leaves and noodle mix.
Carefully fold over the paper so that the ends of the filling are covered up first, then roll from the bottom to wrap up  the filling into a tight parcel.
Repeat for the remaining ingredients until you have 8 spring rolls. Cut them in half and set aside while you make the satay sauce.
To make the satay sauce, mix together the peanut butter, ginger, garlic, lime juice, soy sauce, hoisin sauce, sesame oil and chilli in a small bowl until the consistency is smooth and thick.  Y
Serve the fresh spring rolls with the dipping sauce and enjoy!
If you liked this recipe, then check these out next: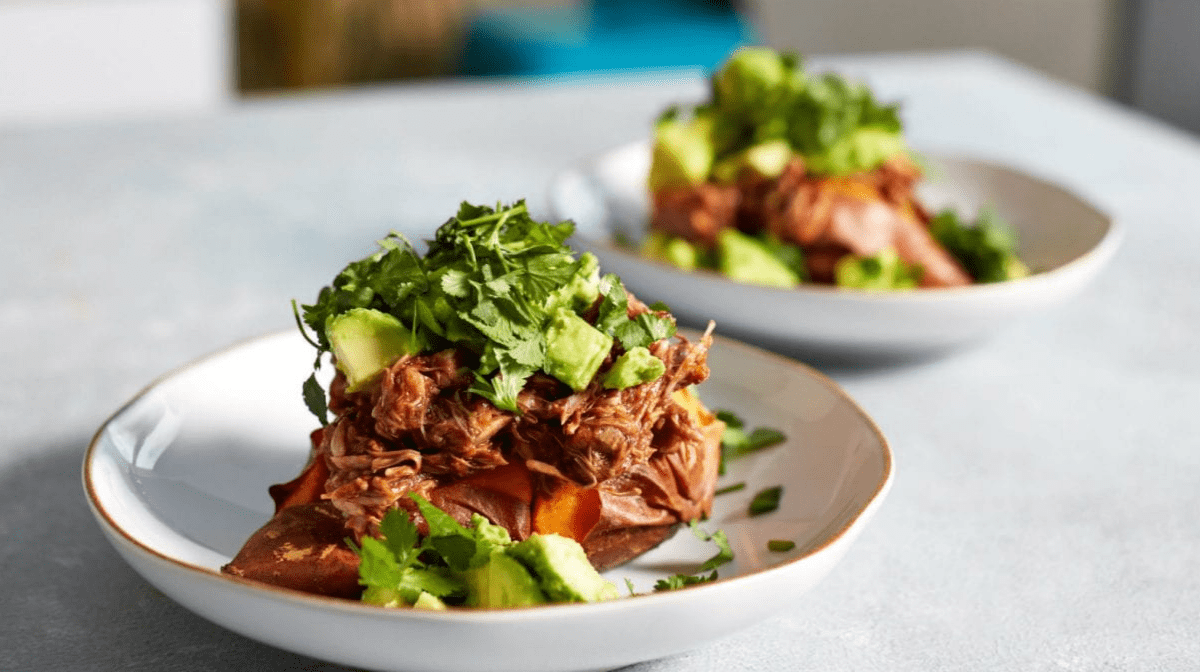 This delicious pulled jackfruit recipe is the one to impress friends and family. Combined with sweet potato - this is the perfect winter warmer.