To celebrate our birthday, we've teamed up with Swizzels to bring you two limited-edition flavours of our bestselling Clear Vegan Protein. That's right – your favourite childhood sweets remade into a juicy drink that delivers on both taste and nutrition!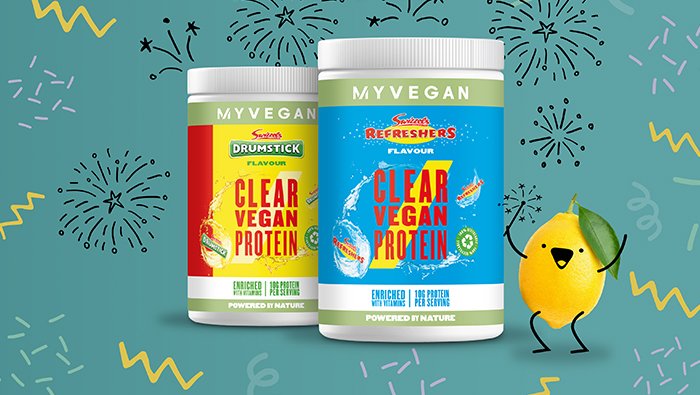 Clear Vegan Protein Refreshers 

Flavour

 
Refreshers were always the prized sweet to pick out of Swizzels party bags – and you can now enjoy the nostalgic flavour in the form of a light and fruity drink. Not only will this flavour whisk you right back to your childhood, it will satisfy your sweet-tooth and fitness goals all in one. Why not make an ice–cold slushie for a truly sweet and refreshing post-workout treat? 
Clear Vegan Protein Drumstick 

Flavour

 
A set of Swizzles-flavoured drinks wouldn't be complete without this iconic flavour! Loved by generations around the world, not only is Drumstick the perfect mood-booster after even the toughest of workouts, it's super-versatile too. Enjoy this refreshing flavour shaken up with ice-cold water, or get creative and make a delicious, protein-packed mocktail. It'll taste incredible either way! 
What are the benefits of Clear Vegan Protein? 

 
If you're new to Clear Vegan Protein, then you're in for a treat. Harnessing the power of pea protein, each delicious serving is low-sugar and packs in 10g of plant-based protein, making it the sweetest way to hit your daily requirements and support your fitness goals. And, if that wasn't juicy enough, Clear Vegan Protein is infused with 50% of your recommended daily intake of essential B vitamins – providing vital support to both your mental and physical health.  
Best of all – if traditional creamy protein shakes aren't your thing, Clear Vegan Protein makes a great alternative. The powder fully dissolves into a light and refreshing drink that can be enjoyed at any time of the day.  
Summary
There's no better way to celebrate our birthday than with the launch these two nostalgic Clear Vegan Protein flavours. We know it'll be hard to choose one, so why not try them both? After all, they'll only be around for a limited time only!