We've all been told about having a 'healthy balanced diet', but what we're not told is how this relates to building a healthy plate at each meal. It's common sense to reduce processed foods and foods high in sugar in fat. But what are the best food combinations for building a balanced meal? Let's explore this further…. 
Protein
Protein is an important nutrient for muscle repair and recovery. If you are hitting the gym in time for summer, it's essential to make sure that your protein intake is high enough to make sure you're seeing results. The minimum recommended protein intake per day is around 0.75g per kg of body weight. This means that that a 60kg woman needs around 45g of protein per day as a minimum. If you are particularly active or trying to build muscle, you should really be aiming for 1-1.5g per kg of body weight. Another perk of increasing protein intake means you are more likely to stay fuller for longer as protein is an incredibly satisfying nutrient. A portion of protein is generally about the size of the palm of your hand, although this does depend on the type of protein – generally aim for at least 15-20% of your plate as protein.  
Do you struggle to get enough protein? Or maybe you've had bad experiences with gritty tasting protein powders in the past? Clear Vegan Protein Powder comes in a variety of flavours and is designed to be added to water rather than drinking as part of a smoothie or shake. Find it here.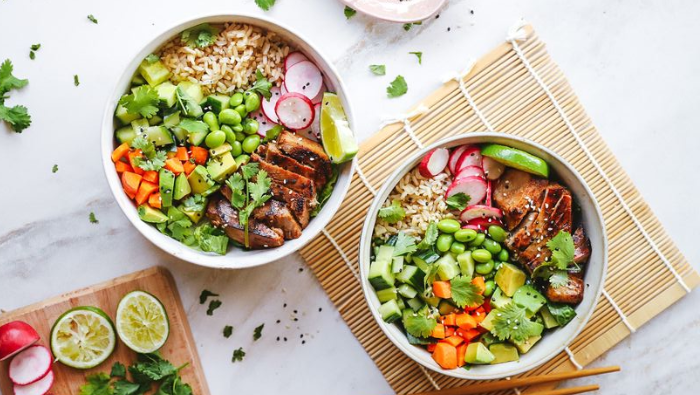 Carbohydrates
These group of macronutrients has been particularly controversial over the years. Paleo, keto, Atkins… all these diets have vilified carbohydrates and have claimed our energy should come from simply proteins and fats. However, carbohydrates are the preferred energy source for our body, as it can be accessed and used quickly. Furthermore, the main source of energy for the brain is glucose from carbohydrates and it requires a constant supply of energy in order to function properly. Alongside being an easy energy source, carbohydrates are usually a good source of fibre, which is important for a healthy gut.  
Carbohydrates should make up around 1/3rd of our plate. Opted for lower-processed or unprocessed sources for the maximum nutritional value: Quinoa, rice (white or brain) and potatoes are all great healthy sources of carbohydrates that can be added to most meals. Oats are super versatile and can be used as the base for an oatmeal bowl, to bulk up smoothies or ground and used in place of wheat flour. Rolled oats add another texture dimension if you want to try something new.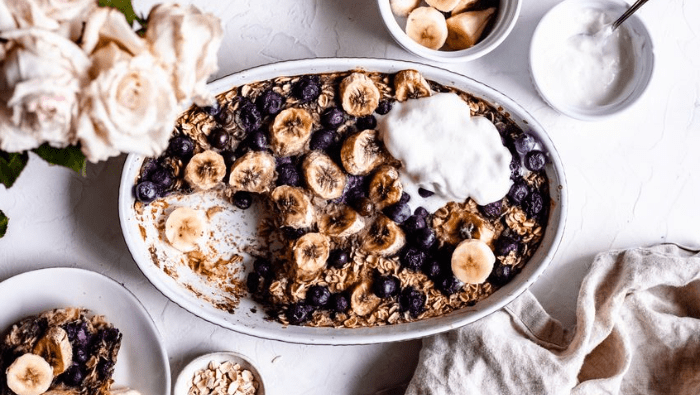 Fat
Whilst recommended in moderation, fat should still be included as part of a healthy diet. Fat is needed for healthy skin, hair and joints, and it also helps to balance out blood sugar levels after eating a meal. Most plant-based fat sources are unsaturated fats aka the 'good' fat choices. Examples include olive oils, avocadoes, nut butters, and seeds. Completely eliminating fat can have a detrimental effect on hormones, and in some women can lead to the loss of periods, which could lead to fertility problems and poor bone health. Try to have around 10-15% of your plate as a healthy fat source – a peanut butter based dressing on a salad or drizzles over your meal is perfect!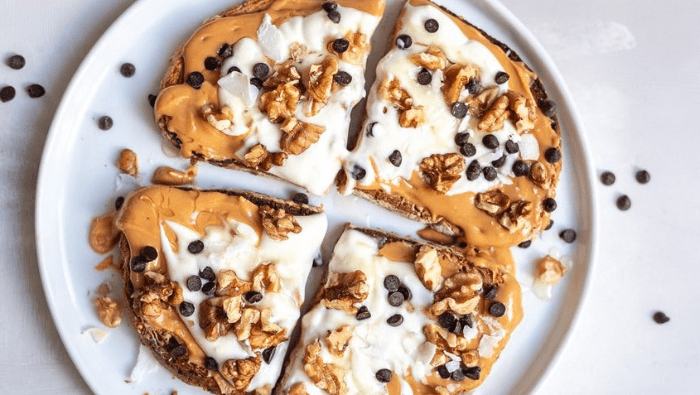 Fruit and veg
The last food group, fruit and veg are there to increase the micronutrient value of a meal as well as providing plenty of fibre. Micronutrients refers to vitamins and minerals (iron, selenium, magnesium, vitamin C) and deficiency in any of these can lead to symptoms such as tiredness, 'brain fog', or generally not feeling right. Vegetables are great for increasing the volume of a meal without having a significant impact on the caloric density, which is a helpful weight loss tool if you usually need a larger meal to feel full. Personally, I like to aim for at least two different colours of fruit or veg per meal, as this is more likely to diversify mineral intake. Orange and red coloured foods are more likely to be higher in vitamin C and vitamin A, whilst dark leafy greens are higher in iron and selenium. Fruit and vegetables should generally make up around 1/3rd of a plate, but feel free to add more!  
It's not always achievable to have a 100% balanced plate for every meal; however, having a rough idea of the guidelines can help you if you aren't sure where to start and can also help you to get the right amount of nutrients to function optimally.