What is Whole Fuel?
Whole Fuel is a nutritionally complete shake which contains a healthy ratio of the core macronutrients (carbohydrates and dietary fibre, protein, and fats), as well as essential vitamins and minerals, including vitamin B12. This plant-powered powder is an extremely convenient way to stay fuelled whilst following a busy schedule, and helps to prevent indulging in unhealthy snacks or ready-meals in attempt to quickly curb hunger and cravings when there is no time to prepare something more substantial. With approximately 50 servings in each 5kg bag, you can dramatically reduce your food and packaging waste by substituting a standard meal for Whole Fuel.
Whole Fuel has 29.8g of vegan-friendly protein – a combination of pea and brown rice protein which provides the body with a source of complete protein. Protein is an important part of any balanced diet, and especially important for those training towards any fitness goals, as protein is known to support the growth and maintenance of muscle mass.
The carbohydrates in Whole Fuel come predominantly from the oat flour it is made with. Whole Fuel is also made using flaxseeds, which are proportionally very high in fibre and are also a great source of healthy fats including omega-6 fatty acids and the omega-3 fatty acid alpha-linolenic acid (ALA). The blend also delivers between 20-40% of your recommended daily reference intake (RI's) of essential vitamins and minerals per shake – it ticks all the nutritional boxes!
Who is Whole Fuel for?
We don't expect people to be trying to impress a partner with a three course meal of Whole Fuel – it wasn't made to look good. Whole Fuel was designed as a convenient option for people wanting quick, simple, and most importantly nutritious, food. It has a balanced nutrient profile that provides the body with what it needs to tackle day-to-day life.
It's for those students who wake up 20 minutes before their lecture and know they still need to fuel their brain to learn.
It's for the adventurers who want to rise early to hike a mountain and eat their breakfast on-the-go.
It's for business-savvy entrepreneurs who want to maximise productivity and save time making or buying lunch.
It's really for anyone that understands the importance of a healthy diet, and appreciates a drink that will save them time, money, and unnecessary packaging waste.
How to make the perfect Whole Fuel shake
Everyone has their own preference when it comes to flavour, consistency, and even temperature of their Whole Fuel, however this is our recommended standard guide:
Step 1: Add approximately 350ml cold water to your shaker
Step 2: Add 3 scoops (100g) and shake well
Step 3: Top up with an additional 250ml of water
Step 4: Add any ice/flavourings
Step 5: Shake well for 10 seconds
Adding the water in 2 separate steps stops the Whole Fuel powder from floating at the top of your shaker and getting stuck in the lid. If you like to use a shaker ball to remove lumps, add this to the water before adding the powder and not on top of it; this will prevent any Whole Fuel getting stuck inside the shaker ball.
If you want to reduce the number of calories per shake, adjust the number of scoops and water accordingly. As a general rule, we recommend around 200ml of water per scoop.
To get an accurate scoop and to minimise powder spillage, fill the scoop in the bag and flatten the top against the inside. This will make a compact scoop of powder that you can easily tap into your shaker. You can also use kitchen scales to measure out you preferred quantities.
Make sure the lid is screwed tightly on before shaking, and shake at different angles so that all the powder is mixed well.
Give your shake a taste test as you go and try out some of our top tips below to find your perfect Whole Fuel.
Whole Fuel tips and hacks
The beauty of Whole Fuel is in its simplicity – you just add water – however there are some tips and hacks that can really make your experience of Whole Fuel even better. We've listed 6 of our tips for making the perfect Whole Fuel shake below: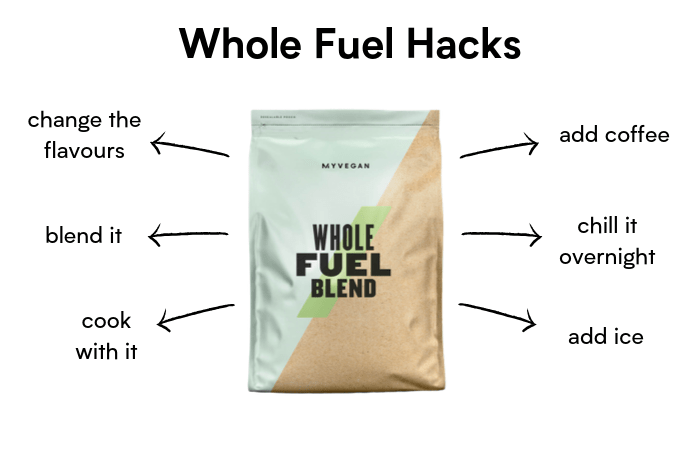 Chilling
Preparing your Whole Fuel the night before mean that, not only do you just have to pick it up in the morning, but it can also be chilled overnight. Once you've made your Whole Fuel, pop it in the fridge for a few hours or overnight and you'll find it tastes even better. Some people find that chilling their shake overnight can make the consistency thicker, so we recommend adding a little extra water during preparation if you choose to chill it.
Add ice
Alternatively, if you don't have time to chill your Whole Fuel overnight, you can pop a few ice cubes into your shake to cool it. Even better, pour some Whole Fuel into your ice cube tray for some Whole Fuel cubes!
Blend it
Our Whole Fuel blend is already pretty smooth after it's had a good shake, however preparing your Whole Fuel in a blender can make it especially smooth and creamy. You can also use more or less water if you prefer a thinner or thicker consistency respectively.
Change the flavours
Our Whole Fuel comes in a subtly sweet Vanilla flavour, which you can easily adjust by adding your own flavour boosts, for example:
a teaspoon of Organic Cacao Powder
half a banana
a handful of berries
cinnamon or turmeric
matcha powder
coffee
One thing to be aware of is that adding berries or flavourings will change the consistency and nutritional profile, so work through trial and error to find what works best for you and be sure to watch out for additional sugar in sweeteners.
You can also enjoy our Whole Fuel in a Natural Chocolate or Natural Vanilla Raspberry flavour.
Whole Fuel with coffee
If you have Whole Fuel for breakfast, you may also want to add a shot of coffee or some coffee granules to it for a boost of caffeine. If you choose to add liquid coffee, wait for the liquid to cool before adding.
Cooking
Whole Fuel may seem like a one-shake-wonder but it is, in fact, surprisingly versatile. You can use it as a flour substitute in baking and cooking!
Can I use Whole Fuel as a meal replacement?
Whilst Whole Fuel can be used as a nutritionally viable substitute for a meal, it is not to be confused with all other meal replacements which tend to be made and marketed to suit a low-calorie diet or weight loss programme. Meal replacements tend to be specifically formulated for use in energy restricted diets to aid weight loss, and typically contain between 200 and 400 calories per serving. At a maximum of 1,200 calories a day, most meal replacements aren't practical for someone looking to maintain or gain weight, especially if accompanying exercise. If you are thinking of trying a very low calorie diet, we definitely recommend consulting a medical professional first to check how long it may be suitable for you to do so.1
Whole Fuel differs from standard meal replacement formulas as it contains approximately 423 kcal per shake, which can be adjusted for by adding additional scoops and water to give the desired calorie amount.Whole Fuel is low in sugar and saturated fats, has a good proportion of fibre, and is a complete protein source thanks to the combination of pea and brown rice protein. It also provides you with a blend of essential vitamins and minerals, including vitamin B12 which can be hard to source naturally in a plant-based diet.
Whilst it isn't what people tend to imagine when they think about food, Whole Fuel works in the same way as food in that it nutritionally supplies the body with what it needs to function. As a nutritionally complete blend, Whole Fuel can be used as a quick and easy substitute for breakfast, lunch, or dinner.
Summary
Whole Fuel isn't your average protein shake or meal replacement blend. It contains a healthy balance of protein, carbohydrates and fats, as well as essential vitamins and minerals. Whole Fuel is one of the easiest, quickest, and cost effective ways to ensure you are fuelling your body with the nutrients it needs.  A 5kg bag contains around 50 servings, meaning you are dramatically reducing your food and packaging waste by substituting a standard meal with Whole Fuel. With zero preparation or cooking time, a shake of Whole Fuel is perfect for those living a busy lifestyle who want to save time but stay healthy.